See more articles
Atlantic 55: Capetown to Trinidad Sea Trial
Atlantic 55 catamaran on a transatlantic shakedown cruise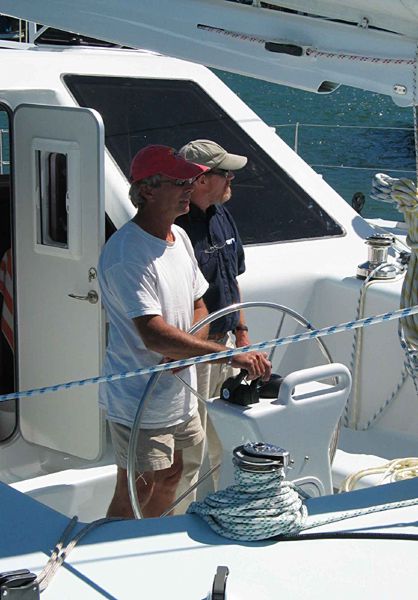 Famed multihull designer Chris White and family sailed a brand new Atlantic 55 catamaran from the builder in Capetown across the Atlantic to Trinidad from late December to early February. Here is his log:

12/31/03
Position, 27 19 S, 07 23E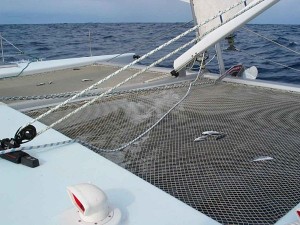 Well we're 700 miles from cape town having quite a nice sail. Currently wing and wing with the jibs, 18-20 wind behind. Seas moderating. We had a raucous start on Sunday, wind 30ish just aft of the beam. The bigger waves were 10 to 12', lots of banging and crashing, some surfing at 15 to 20 knots. All in a boat that had never left the harbor. It was our first sail of any kind! Duh. We could have gone back or sailed 50 miles up the coast if there was a problem but things looked okay, the boat steered well, autopilot worked great so we set a course for st. helena, 1800 nm away. Did 240 nm the first 24 hrs. Monday was still pretty rough, the crew was all fairly queasy. By Tuesday the large swell started to even out and the wind dropped some. Water temps were 60 deg. at Cape Town, gradually coming up but still cool, keeps the nights chilly but the pilothouse is fantastic. Been in here watching the "sailing movie". Today we all spent some time on deck as it is sunny and warmer.
Wind dropping off to trade winds, I hope. Promises to get very light in the area past st helena.

Kirk, our crew, just remarked "this has got to be one of the longest sea trials on record".

Javelin has been very comfy, even in the rough stuff. Now at 9 to 11 knots she's just coasting along. No one has steered at all from the beginning, the autopilot has been doing such a good job of it. Now that it's warming up we'll probably start steering for fun in the cockpit. more to follow. Had some trouble getting sailmail up and running, this is our first outgoing message.

Happy New Year!

C,K,B,R, and Kirk


---


Jan. 1, 2004
MS Word just ate my letter so I'll do it again...

Javelin is coasting along under jibs wing and wing. Mostly 8 to 10 but occasional surfs to 14 knots. It is a great sailplan for trade wind type conditions, very very comfortable motion, little noise. The sails are very stable. The jib boom is vanged hard to the port bow locking it firmly in position. The genoa sheeted to starboard rail where it sits very nicely, seldom collapsing. We have a scrap of mainsail, down to 3rd reef, which is left over from a couple days ago when the wind and waves were much larger and the wind just aft of our port beam. The main isn't doing much but doesn't seem to hurt either.

We are crossing Walvis Ridge, about 900 miles from Cape Town. This is about the half way point to St. Helena. Been an amazingly comfortable ride so far, particularly after the large swell settled down from the big storm way to our south. The first 2 days were a rough ride to check out a new boat but it was time to get out of Cape Town. I was fearing a mutiny if some major change of scenery wasn't forthcoming.

The NKE autopilot has been a real hit. Consumes very little power, 31 watts average over the last hour running off in 5' waves. Wheel turns about a _ turn at most and our track is quite steady. Even in the rough stuff no one had to steer. I could still tweak it some but so far the NKE pilot and instruments get high marks- though the manuals stink.

Electrical system has been very good so far. Port side batteries do fine under solar alone. The stb side runs the refer/freezer and needs some engine time. So far an hour a day seems enough. We have been off shore power for over a week and have only run starboard engine 8 hours.

Freezer is a success. Everything is rock hard inside. Fridge is cold too. I can't yet figure out the amp/hour draw but it is very reasonable. Been eating very well. Kate has, by default, been doing most of the cooking but we will try to change that. Everyone now has their appetites back and the boat is very well stocked. What we don't have yet is fresh fish but we are trying (14.4 knots boatspeed now as I type) and hopeful that Walvis Ridge will yield something tasty today.

Our daily runs have been 240, 210, 195, and 220 n. miles. We have been holding back, trying to sail conservatively. After we get to St. H and I can get up the mast to do some tuning and check out things I'll feel more comfortable about pushing a bit harder.

I fired up the desalinator for the first time yesterday. A reassuring trickle of very tasty water comes out. Our tanks are filled with dock water which isn't nice to drink plain and should be diluted with rum!. Having the ability to make pure water is a novelty for me and a real plus. We will slowly replace the dock water with r.o. water and then be living the high life.

The SSB/sailmail connection was difficult to get up and running due to the USB/serial port problems but now seems to be functioning. Although connecting with the relay stations has been sporatic. I'm looking forward to using it to get weather info and updates from folks ashore.

Billy is in sports withdrawl so if anyone has sports news to pass along please feel free. Kirk Ward, our friend from Bermuda, has been invaluable on this adventure. Aside from helping out in a big way getting the boat ready he is one of the best sailors I've ever been on a boat with and good company besides. Without him I doubt I would have had the nerve to take a "new out of the box" boat anywhere much less across the South Atlantic.

We have a few plumbing bugs and have some drawers without catches that need to be taped shut. Otherwise all important systems are functioning. We are gradually stowing gear away in a more organized fashion and getting things ship shape. It was a battle to get the boat completed to leave when we did. S. Africans take their vacations very seriously and Cape Town was shutting up tight from the week before Xmas. Some businesses not to reopen till Jan. 5th or later. It was getting very hard to buy or accomplish anything. Fortunately all the critical items were bought just before shut down. More to follow...

Current position 26 05 S, 05 04 E

CW


---


Updated position Jan 2, 0700, 24 22S, 02 42E, 687 nm from St Helena.


---


Javelin #3 Sun. Jan 4,04
Position 19 07 S, 2 31 W
about 260 miles from St. Helena. Wind been dropping steadily for 2 days, now motoring with 6-8 kts wind dead astern.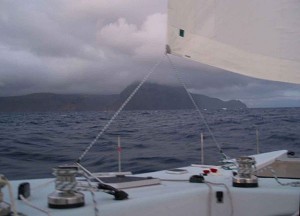 Extra, extra, Javelin has been attacked. In the wee hours last night with only one person on watch the attack of the kamikazi flying fish began. They were bouncing off the topsides, crashing on deck, one even made it to the top of the pilot house (nearly 10' above sea level) where they flapped and jumped trying to do what fish do at night. In the morning the carnage was evident. Eleven dead, mostly in the bow nets, untold fish with headaches swimming around, and various scale patches let on the pilothouse windows and on deck.

Everything is fine but the crew is ready to take a walk ashore. Progress, once very good now seems very slow. We have plenty of fuel and can burn whatever we need to get there.

Have discovered one problem with the high output alternator on stb. engine. The voltage starts to run away as the batteries get fully charged. We saw this happen on port side before departure and replaced the original Yanmar alt which does fine. Will have to do the same on stb side later when engine cools off.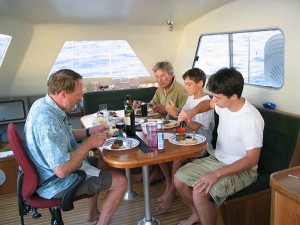 Fishing has been a bust. With the exception of some bent hooks the first or second day there has been scant action. However this morning, with a bucket of fresh flying fish we rigged a couple lines with live bait rather than the lures we've been using. I even put the rod out (we had been using handlines only). WIZZZZZZZZZZZZ, within 5 minutes the rod was screaming, line peeling off at high speed. I grabbed it and put the drag up higher and higher but the line keep peeling off. The crew was unable to slow the boat quickly as we were rigged wing and wind all snugged down with preventers. I watched the spool run dry, hanging on to the rod for dear life. When the end of the line fetched up the hook must have pulled out of the fish's mouth and it was gone. Who knows what it was but it sure was big. I never got an inch of line back, just spooled the whole reel. Encouraged, we rigged more flying fish and have pulled them all day without any hits!

We have seen only one vessel of any type in the last 6 days! A very deserted stretch of water.

Water temp is still a cool 67, but air getting warmer, now in the 80's. Been cloudy but when the sun peeks thru it gets hot quickly. We passed under the sun today so it is now south of us rather than north.

cw


---


13degrees 35' South
16 degrees 39' West
About a third of the way from St Helena to Recife.

All's well with Javelin and crew. Email difficulties have prevented updates since our stop at St Helena. Which was fabulous. Nothing like being the only 5 tourists in a perfect tourist destination. People friendly and helpful, island beautiful and interesting, climate about perfect. Lots of great stories to tell about the place, but I need to keep this brief. Good thing the place is 2000 miles from anywhere or it would have been overrun long ago.

We're enjoying day after day of spinnaker runs, rolling along at 8 to 11 knots. Good thing I brought along some good books!
The boys are both doing some schoolwork every day.

Ocean water temperature is gradually increasing, the need to wear a fleece on night watches is long past. The sky was clear last night, and Robert and I spent some time stargazing. It's fun checking out the southern horizon in the southern hemisphere, although I still haven't picked out the Southern Cross.

PLEASE if you reply, keep your message very short (just a sentence or two) as we are still having troubles with email.

Best to all,
Kate, Chris, Bill, Robert, Kirk


---


1/20/04
Hi all,

We arrived in Brazil yesterday after a safe 10 day passage from St. Helena. Our 4,000 mile "test sail" is over. All in all a nice trip. Crew was good, boat was great, conditions nearly ideal tho the wind was pretty light for the last half of the trip.

We are at the Cabanga Yacht Club in Recife. Brazil is interesting, 3rd world to be sure. Spent much of today in the clearing-in run around. But we had a nice dinner in the historic section of town at low cost...

A few boat chores to do here. Need to get a Yanmar guy to have a look at the stb. engine which I think has a bad injector, change crew, tidy up a few loose ends and then shove off for points north, i.e. Trinidad.

C


---


1-22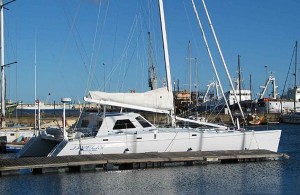 Recife. we arrived Monday after a fairly slow trip from St Helena. Lots of spinnaker sailing. We were over 100 miles out when we first had signs of the continent ahead of us. A squall came through about 11PM and brought with it the smell of land (a shock after so long on the open ocean), and left some bugs on the deck. After the squall, with an overcast sky, we saw a distinct loom of Recife on the horizon. We didn't actually see the coast until after lunch. The first sight was the tall square sides of high rise buildings, stretching a long way up and down the coast. Then it took most of the day to get to the coast and into the city. We did have the best fishing of the trip on our last day out. Small tuna, one after another, for the whole day were taking our line. We have several in the fridge, and released the rest.

Javelin is now tied up at the Cabanga Iate Clube. the club has a large basin, surrounded by a wall topped with chain link and barbed wire(quite a shock to be fenced in after the expanse of the South Atlantic). The water is foul and stinks, but for $6.00 per day, and a swimming pool, restaurant and showers ashore, it's not too bad a situation.
Recife is a large, not very attractive city, but it has an international airport, (where Bill Robert and I will be leaving from this afternoon) and almost certainly any supplies that the boat might need. Chris was delighted to find the "mother of all hardware stores" yesterday within walking distance of the boat.

We did find the old city yesterday. It's up a hill, a maze of narrow cobble streets, old buildings, some very well kept, others quite decrepit. We found a wonderful restaurant that specializes is local food. The specialty of the house is pumpkin stuffed with a selection of meat or seafood. Delicious.

Javelin has a crew change today and tomorrow. I leave with Bill and Robert this afternoon (Chris might just have to drag me kicking and screaming to the airport). New crew Robert Wolaver arrives today, and Kirk is off to Wales tomorrow. The next leg along the South American coast to Trinidad is usually fast.

Stay tuned for more updates from Chris.

Cheers,
KSW


---


1/27/04
Hi Yall,

Be glad you're not here. Been a tough trip the last couple days. The first part from Recife was light air, lots of motor sailing, lots of traffic, big and small. Then we got round the corner and into the ITCZ (the doldrums) with frequent rain, torrential at times, squalls from this direction and that. Sometimes just appearing overhead, major wind shifts, and lots of traffic (brazilian sail fishing boats with meager lights and other weird things). For the most part the squalls had no wind. After weathering dozens like that one came this morning with a real punch. Blew harder and harder. We were motorsailing with single reef main and staysail. At 40 knots I stopped looking at the instruments and focused attention completely on keeping the rig in the boat. An awful lot of shaking and banging as I kept her head up enough to bleed it off while Robert dumped sails.

No damage that I can see but it was close. Must have gusted to 50 knots briefly. Then it settled in at 35 to 40 from the WEST!!!! That was 6 hours ago, it is still blowing 30 and we are sailing north slowly with reefed staysail. I just can't make sense of this weather. We had lots of light headwinds yesterday and the day before. No ENE to SE wind as I'd expect here. We are 90 mi south of the equator, I'm gonna sail north till we get some easterlies.

After the big squall we had to get the aft awning down, that was easy but only after we rigged preventer lines to the dinghy tie down points to pull it down then we cut the lashing at the corners. Conditions now are not all that bad just very contrary to where we want to go with no indication that things will improve (wind from the east).

I saw a wave chart in Recife that showed large NW swells in all of the northern S.atlantic. And I heard that the docks at Fernando de Narhrona were wrecked. I guess there is something unusual going on.
current position
1 30 S
39 53 W

C


---


1/29/04
Hi,

Well 24 hrs ago the big Westerly blow had died off to a breeze and was shifting around to the NE. We tacked over from 30 to 300 deg during the night. Morning was very civilized, patchy blue sky, light winds and a normal trade wind appearance.

As we approached the equator the wind built slowly and at crossing we had a nice 12 kt breeze from the NE, full main and genoa. Bruce, the delivery skipper in Cape Town, said the wind would come back at the equator. Well he was wrong. Three miles past the line (we did see a line- it is yellow) we entered under a light squall line, wind picked up, then up some more. Swap genoa for staysail, 25 kts, reef the main, 30 kts. furl the staysail. Seemed like an instant replay from the day before except this time we could lay our course, and it wasn't quite so intense. Anyway we had some real nice sailing until the waves built, long bursts of 15 to 16 close reaching. Robert got some video. But the waves did build and before long were bouncing along with thumps and occasional great crashes- sort of like the first day out of CT.

Now at 4 a.m. things have settled down again, 18 to 22 kts wind. Unfortunately the wind is more northerly than NE so we are low our course. I suspect it will haul around e'ward as we get deeper into the trades.

With just two onboard sleep seems always short. We take 4 hr watches at night but the offwatch seems lucky to get 3 hrs sleep each time. Meals have been much simpler than they were when Kate was running the South Atlantic Cafe. I will loose some weight on this part of the trip!

We are a couple hundred miles from the mouth of the Amazon. A long way to Trinidad still, at least now we have steady wind and can make good progress. Might take a pit stop in Cayenne, see how we feel in a day or two.

Robert, asleep now, says hi to Michelle.

position
00 43 N
043 25 W


---


2/1/04 20:30 hrs.
07 52N, 055 05W

Having a nice sail today. Wind 25 kt on the stb quarter. Making a steady 10 to 11 knots, on a 320 deg course for Tobago, 390 mi away. Ride now is mostly silky smooth with an occasional thump. Waves are fair sized and at times confused (me to) . There is an 8 to 10' swell from the north which is well ahead and occasionally mixes with the current and east wind induced seas to make some lumpy going. Last 24 hr run was 265 nm. Could have been more but were staying very comfy by sailing several notches below max. A 15 kt surf just now...

The Equatorial Current is a mystery, now we have it, now we don't. Have yet to see it very strong. Last night we were on the shelf so when the sun came up the water was very green from the usual blue. Amazon water, shelf water, mixing with ocean water. Patches of different colors, with different textures. Pretty ugly looking if you had to sail to windward thru it.

The great rain of two days ago ended around mid night after about 12 hours of torrential downpours. Yesterday was looking tradewind like, mostly clear, a few small showers and pretty strong NE breeze. We had a single reef in the main and broke 3 clew lines in 10 hours. Now have a double reef in and well backed up. Genoa is rolled up to half its area. Autopilot coping very well, occasional slight rounding up yields some speed but the correction is swift.

Boat has been fine. Blew up a snatch block this morning. No big deal but I had just gone to sleep after my 1 am to 6 am watch (we've been taking long watches so the other can get a good rest) and the block was on deck right above my bunk. BANG!

Seen a bit of traffic the last 2 days but still pretty quiet part of ocean. Moonlight the last 2 nights has been nice, stars too- first clear skies since Recife. We're looking forward to getting in. Neptune willing we will make landfall at Scarborough, Tobago. Should be in before dark Tuesday assuming all holds together.

Love to Kate and da boys.
C


---


2/2/04 22:00 hrs.
10 06N, 058 32W

Well today is the day I get to really rub it in. It's been a perfect tradewind sailing day- all day. This is the Caribbean weather that I remember. 18 knots wind from ENE, mostly clear sky with a few little clouds. The air reasonably dry, temperature warm in the sun but nearly perfect "skin temperature" in the shade. The large N'ly swell is gone and that settled things down to a great degree, seas are 4-6 from the wind direction and it's much more comfortable.

We are currently 140 miles out of Tobago, still making nearly 10 knots, tho the wind has backed off quite a bit. Almost put the chute up but then decided to wait a bit. No real rush from here as we will arrive early morning as it is and I don't want to arrive in the dark.

An hour before sunset Robert and I had our dinner on the aft deck. Our first barbeque for this leg of the trip; grilled chicken, cole slaw, and a tall rum/mango juice with ICE CUBES. Just as were finishing up the rod starts to sing- slow the boat, reel in da fish. 'nother small tuna. Oh hell- I'm really hungry for the mahi-mahi that keeps getting away...

Still have enough food to make Galapagos. Freezer contains some choice items which we'll either eat in the next few days or have to give away- or else go to the Galapagos.

I've had 3 "sails" in Javelin all of them near 2,000 miles. I'm ready to try some daysailing between nice anchorages. It's right around the corner!

C


---


2/4/04
Hi,

We got into Tobago yesterday morning. Sailed into King's Bay on the east end for a look then along the s. coast to Scarborough where we cleared and spent the night. As always, town seems awfully dirty and chaotic after being at sea. And it is not a wonderful anchorage so we'll go someplace where we can swim later today.

Ran into some cruising people here who left their boat in Trinidad while they went home for a few weeks; they had lots of trouble finding a place due to boats coming in for Carnival. I think I'll find something but it might take longer than I thought. We will probably sail over there tomorrow and start the search.

Everywhere Javelin goes people want to know more, they are all thinking about cats. Watching the mono's roll in this placid anchorage makes the point.

The NKE log says 5900 trip miles. Feels good to stop for a bit. Had a nice grilled SA steak dinner onboard last night and 8 hours of unbroken sleep.
love,
c


---


2/5/04
K,

Sailed around to an anchorage on the lee side of Tobago yesterday. Nice place, a dozen boats (nearly all new arrivals from europe)with clear water over sand, had a swim, first in a very long time. I needed to have a look at the bottom so went up to get my mask. On the way back down my foot slipped right out on the top transom step. A very awkward fall followed where I went feet first down the next two steps and into the drink. Banged both feet pretty hard and suspect I broke a toe on the port side. I don't need your crutches yet but this morning it was pretty sore. The non-skid on that step is somewhat less but feels okay to the touch. There might have been some soap residue on it. will have to be more cautious there.

Went ashore before dark to check out the "town". Pretty sleepy place but found a reasonable dinner of Callaloo soup and fried flying fish which was very good.

Would have been nice to spend a bit more time at Tobago but seems like Trinidad will require more time that I expected so we are sailing over there now. Wind 20-25 behind, sailing wing and wing, sloppy waves. Will be a real bitch to sail back to Tobago unless the wind lightens up. Can probably fetch it okay from Grenadines, if we wanted to go back. Trinidad is out the window to port now. Fairly tall mountains (3,000') and probably lush but due to the haze I can't see the color yet. Pretty large island, the north coast is 45 nm long. Will be in the marina district late today and will check into possibilities tomorrow. Robert has a flight on Sat. he may stay longer if that will help. Hopefully we can find a parking space soon and work on doing laundry and pack up the boat. I've got my fingers crossed that it will not be brutally hot there, but it is only wishful thinking.

C


---


2/6/04
Kate,

Got lucky here. Found a slip at the Trinidad YC, well protected and secure from theft. Probably not the cheapest but not the most either. Moved over to the YC this afternoon, will do some laundry tonight. Robert leaves early tomorrow and I found a seat for early sunday (8th. American Air from San Juan to Boston #1334, arrives Boston at 3:31pm.

868-633-7420 is the phone at the YC office. They are pretty organized and can probably get me a message if necessary. Will you be able to pick me up at the airport? Is is StupidBowl sunday? Maybe that's why there are seats?

see you soon,

Chris

Chris White Designs
5 Smith's Way
S. Dartmouth, MA 02748
508-636-6111
cwdesign@ma.ultranet.com
www.chriswhitedesigns.com