See more articles
Carolina Cat 18CC: Ferocious Fishing Feline
This little powercat may be bred in North Carolina, but it's ready for fishing along any coastline.
Owners of powercats like the Carolina Cat 18CC know that the best cure for a boater's aching back isn't pain-killing drugs, a risky operation, or a long rest in bed. It's getting a second hull under your feet. Powercats compress air in the tunnel between their two hulls, softening landings and reducing the blows as you run through heavy seas and big wakes. And at the same time, a pair of sharp, narrow entries take less of a wallop than a single wider entry does. Want to sail over a two-foot chop at 30 mph in an 18-footer without having to visit the chiropractor? This is how you get the job done.




This little kitty has some other advantages over common 18-footers, including a beam of over eight feet, which is carried for the entire boat's length. Since the bow doesn't curve into a V, you get gobs of forward casting deck area—33 square feet in this case—along with the fishing accoutrements that will help you make good use of it. Eight vertical console rodholders, four transom flush-mounted rodholders, a 94-quart swing-back cooler seat, a 24-gallon livewell, and an integrated three-tray tackle box are all standard features. In fact, there aren't any other angling-oriented options, so the MSRP price of $32,851 (with a 90-hp Yamaha four-stroke; up the ante by $1,300 to get a 115) gets you a ready-to-fish boat. One caveat: if you plan on casting with kids aboard, you'll probably want to add stern and bow rails, because the gunwales are only knee-high.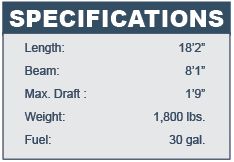 Like most boats of this size, the Carolina Cat's construction is simple and straightforward: a foam-filled fiberglass stringer grid is methacrylate-bonded to the hull, the transom is packed with high-density composites, and hardware is backed and bolted with nylock locking nuts. But there are also a few high-end touches most small-boat builders don't apply. That stringer grid, for example, utilizes steel production fixtures to ensure a perfect match with the hull. And the hull-to-deck joint is not only screwed and glued, the screws are tipped with an epoxy that cures from the heat of friction as they're driven in place. Carolina Cat backs it all up with a seven-year hull warranty.

With the 90-hp powerplant, you can expect a cruise of about 20 mph and a top end in the low 30s. The 115 will get you a cruise in the low to mid 20s, and a top end of about 35 mph. What about handling? Cats do turn, drift, and maneuver a bit differently than V-hulls, and you should take one for a sea trial—preferably in nasty conditions—to feel it for yourself.

The best part? When that rough-water sea trial is complete, your back will be none the worse for wear.

For more information, visit Carolina Cat.

- Lenny Rudow