See more articles
Catalina 385: The American Way
Catalina keeps tradition and functionality in mind with their new 5 Series and the 385.
"The new Catalina 385 looks like a boat should look," said Tony Duni, as we headed out for out test sail on the fourth new boat in the all-new Catalina 5 Series. Duni is president of Heritage Yacht Sales in Newport Beach, California, and he was commenting on Catalina's bucking of the current industry trend toward beamy, angular, Euro-styled production boats, most of which look identical. Catalina chief designer Gerry Douglas launched his new design concept with the introduction of the first model, the 445, followed by the 315 and the Catalina 355.





Douglas started with a clean sheet of paper when he set out to create a new design standard for the company. His goal was to create a low maintenance, comfortable boat that would look good and sail well. The result was what Alvah Simon has called "a return to reason" with a vessel of moderate freeboard but good volume, a reasonable beam so she fits in a standard slip, a boat that sails fast but is safe in all the traditional measurements. Once the basic specs were down, Douglas loaded up the boat with the kind of well-laid out systems and thoughtful details that owners will appreciate for years to come.

The 385 displaces 15,500 pounds and has the option of a deep fin or a shoal draft lead keel. She has a low cabin profile, a long waterline, a moderate 13-foot beam, and much lower freeboard (and therefore windage) than her predecessor, the 375, so she's sleek and even fast-looking. Like the 445, the 385 is built from a three-piece mold with a transom that is actually part of the hull mold rather than the deck mold—which eliminates a vulnerable joint and makes the hull stronger. Also, like her sisters, the 385 has a watertight StrikeZone compartment, a space below the anchor locker that is completely filled with foam and designed to reduce the risk of grounding or hitting a submerged object.

There are forward and aft lower shrouds and in-line uppers that allow for tight sheeting angles and good upwind performance. Added safety comes in the form of twin backstays that terminate independently at the masthead and make for more headroom at the helm. A removable bowsprit forward can be stowed in the anchor locker and makes flying a gennaker a snap. On deck, an aluminum toe rail provides options for securing blocks. And the 28" stanchions are a return to sanity, because they're higher than on other production boats and add a real element of safety.



As on all Catalinas, the T-shaped cockpit is huge. Angled benches, an insulated folding table, and the walkthrough transom that leads to an ample swimstep combine to make the cockpit very functional and liveable. A nine-inch bridge deck will keep the interior dry even if a wave comes aboard, and the folding wheel makes room when moving from the swimstep forward to the companionway.

Below, the 385 shares common features with her sister designs as well. The master cabin is forward with a queen-sized island berth that has an articulating mattress, with an electric ram at the head so you can adjust it to read or watch TV at a comfortable angle. There's a private entrance to the enormous head, which has a very spacious separate shower stall and a glass vessel-style sink.

The saloon has 6' 6" headroom, which is a lot given how low she looks from the outside. A port side L-shaped settee is fronted by an optional quad-leaf folding table that accommodates a sizeable dinner party or shrinks neatly to provide more room in the cabin. The settee forms the seat to the aft-facing nav station, which has a dedicated laptop bin built-in. Across to starboard, two seats with a small cocktail table can be converted to a straight settee for an additional sea berth.



The galley, also to starboard, has a top- and front-loading reefer, a two-burner stove, and two deep sinks on an angle to the rest of the saloon. There is a bit of a pinch-point between the foot of the companionway steps and the sink counter, which makes getting into the galley somewhat of a squeeze—but the galley itself is a good size, with everything a cook will need to turn out great meals at anchor or under way.

All the way aft and to port is a second cabin with a small settee. The berth is wide and long, but still leaves room for huge starboard side stowage compartment accessible via a gull-wing door from the cockpit.

The finish throughout is clear varnish on light teak and teak veneer surfaces, and the doors are solid wood so small scratches and dings may be sanded out. The sole is Catalina's proprietary teak and holly-like finish that has integrated non-skid properties to make it safe even when heeling. The overall feel below is of simple elegance, and a more traditional styling than many of the recent Euro-designed interiors with hard angles and dark veneer surfaces.



With the 100% genoa, the 385 carries 675 square feet of sail area. But that increases significantly to 870 square feet with the 155% genoa. An 800 square foot 135% jib is standard as is a furling mainsail, and the Selden 19/20 fractional rig is deck stepped with a compression post. The wind was light to practically non-existent when we tested the 385, which gave us the chance to try this design in challenging conditions. In a paltry seven knot breeze, we squeezed out four knots at 45 degrees apparent wind angle with the mid-sized genoa. That bumped up to five when we had a gust to nine knots. When we tired of testing our light air skills, we turned on the 40 hp Yanmar diesel and scooted along nicely at seven knots all the way home. With 40 gallons of fuel, the 385 will have a range of just under 300 nautical miles depending on speed and sea-state.

No matter how many times I sail a new Catalina, I'm always surprised by some of the clever details and thoughtful system arrangements that are packed into each boat. It's a testament to how well Gerry Douglas understands his target owners and how they use their boats. For example, in a compartment behind the engine there's a locker that provides easy access to filters and thru-hull valves in one convenient place. The electrical panel is well-laid out and grouped by function with an easily accessible electronics bus, so a laptop can be used for navigation. And all the plumbing and wiring is neatly loomed and labeled so maintenance or troubleshooting is a breeze. These may not be the flashy features that sell a boat but they're definitely Catalina's secret sauce to keeping their owners happy.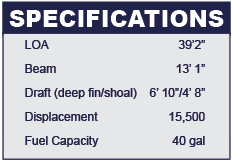 There are several production boats in the mid-30 foot range that may compare to the Catalina 385 but one in particular stands out: the Jeanneau Sun Odyssey 379. It's close in length, price point, and amenities, and offers a comprehensive package. The main difference is that the Catalina is a more traditional-looking cruiser, which should have lots of appeal to a North American audience.

The Catalina 385 has a base price of $209,000, but with multiple options and a complete suite of Raymarine electronics including an E90W touchscreen multi-function display at the helm, our test boat was closer to $280,000. That means this boat isn't merely traditional it's also competitive, proving once again that the 385 does things the American way.

For more information, visit Catalina Yachts.