See more articles
Caymas 28 HB Review
The Caymas 28HB is one big, beefy, bodacious, beast of a bay boat.
If you're looking for a new high-end hybrid bay boat that can prowl the shallows for specks and reds but also take on big seas when there's a hot bite in offshore waters, the new Caymas Boats 28HB belongs on your short-list. We got the chance to hop aboard one with our reviewer Lenny Rudow and shoot a short video in order to bring you a glimpse of what happens when a marine industry icon (Earl Bentz, of Hydra-Sports, Triton, and Stratos fame), comes out of retirement to start a new boat company.

Take a look at the walk-through video below and then we'll delve into some of the key features we noticed below.


One thing we certainly hope you noticed as we went through the boat: the 28HB is designed for some serious hard-core fishing. As the boat review video shows, this model is loaded with great fishing features that will make any angler happy.

Take the livewell, for example. Beyond the healthy 35-gallon capacity, it's baby-blue inside so the baits stay calm and don't smash into the sides; it's lighted with LEDs for those evenings when you want to try some night fishing; it's fed by an 800-gph pump; and it has a high-speed pickup. We also love how it's double-protected against spilling over, with both a gasket and a drained recess under the hatch.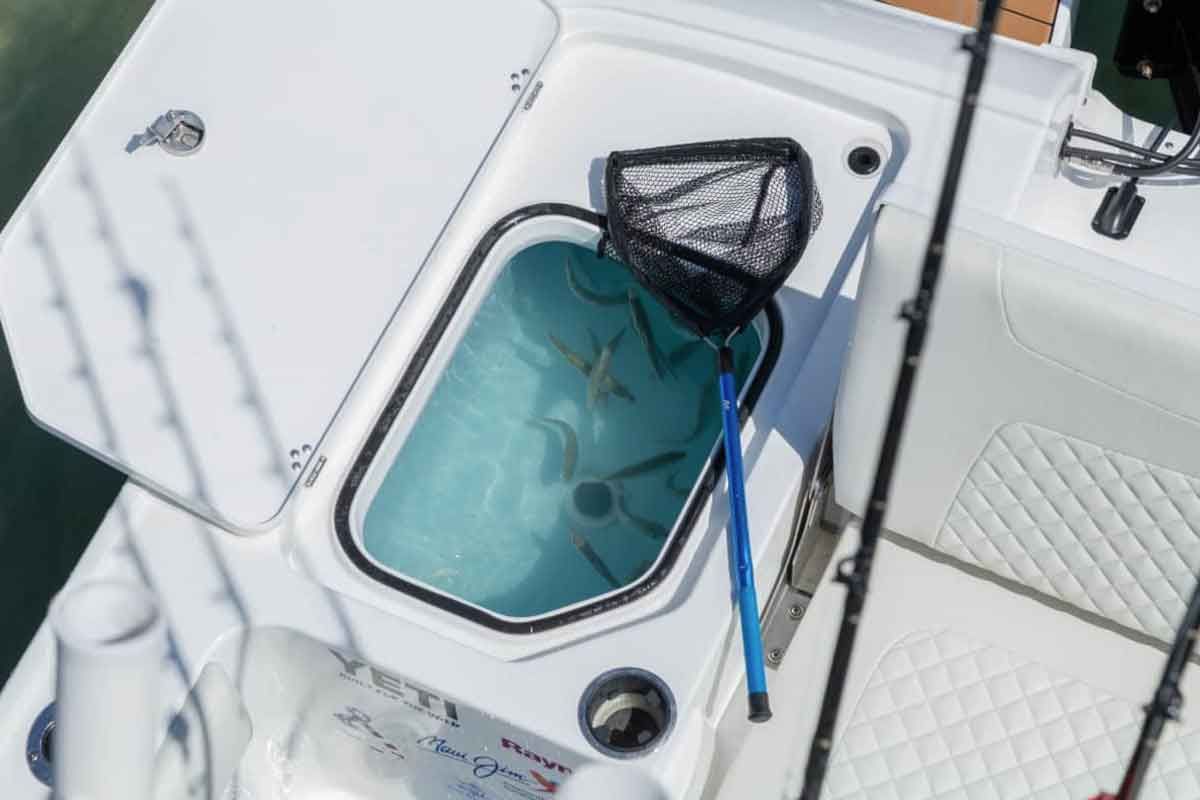 The livewell on the Caymas 28HB is a case-study in livewells done right, and if you want double wells, having the other side plumbed is an option. Photo by Caymas Boats.

Fishability from the foredeck is even more of an eye-opener. Sheer size comes into play in this case, because 28 feet is rather huge for a boat of this type and as a result there's copious space both in the bow cockpit and atop the flush bowdeck. On some bay boats just one or two people can cast from positions forward of the console, but on this boat, three or even four won't be an issue. And since there's plenty of standing room excluding the forward seating, you won't have to be removing and replacing the forward cushions to change between fishing trips and family cruises, like on many other boats. True, the Caymas does have those drop-in forward seatbacks which can be clunky and tough to stow. But they found a nifty way to deal with this issue: pop open the forward deck hatch, and you'll discover a pair of slots integrated into the stowage area, where the seat backs securely slide in place.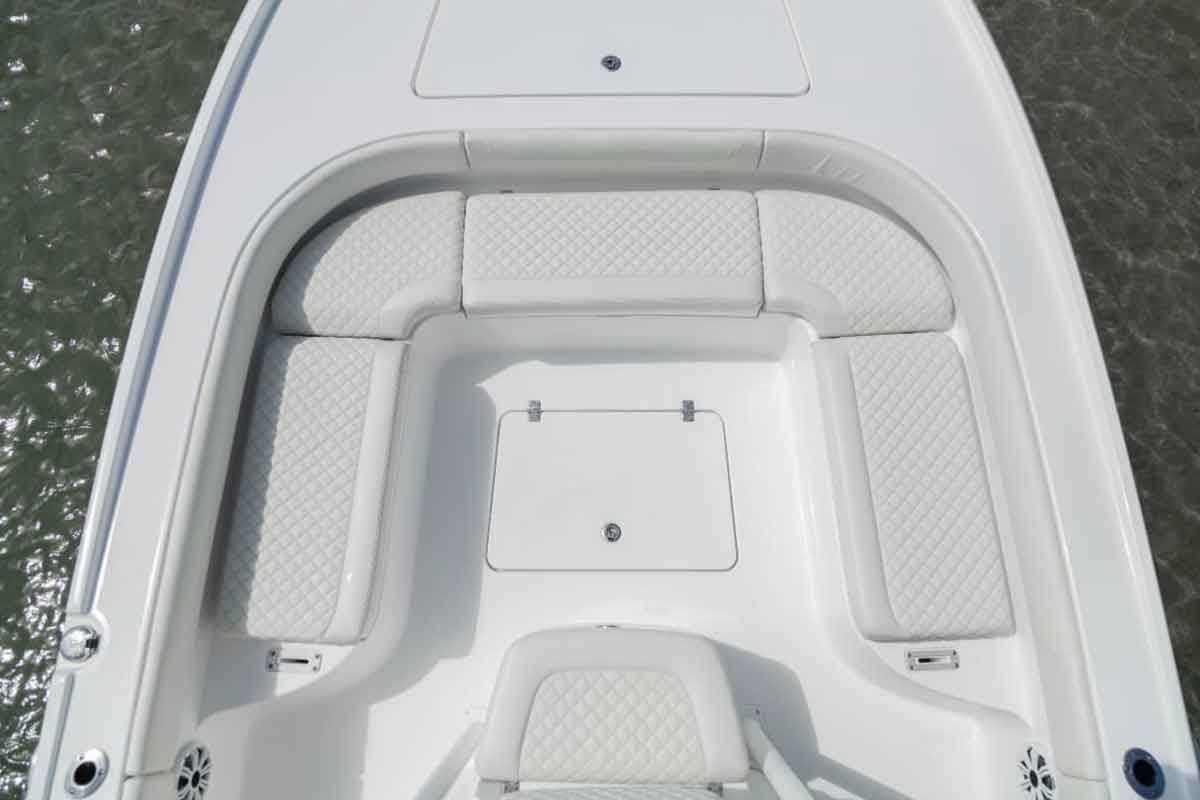 Thanks to the sheer size of this boat, the bow cockpit and bowdeck offer gobs of casting space. Photo by Caymas Boats.

Providing a dedicated spot for those seatbacks is a good idea, but it's not the only place you'll spot stowage smarts on this boat. The bow seat hatches rise forward on gas-assist struts, allowing you to access the large opening without having to remove the cushions first. That also makes it possible to slide in rods, and the port-side compartment houses a rack for four rigs up to eight feet long. Of course, there are also under-gunwale racks for additional rods. You say you like to haul a complete arsenal with you each and every time you fish? No problem—there are also eight vertical holders on the console, four rocket launchers in the leaning post, four flush-mounts in the gunwales, and six (including two outward-angled kingfish-style launchers) on the T-top.

Still, despite all this stuff the most interesting part of the Caymas remains hidden from view. No, we're not talking about the foamed-in, "Zero Flex" stringer system, the hand-laid hull, nor the Tri-Core cored transom. Those construction perks give the boat a solid feel as you charge through the waves, but it's the unusual hull design that lets you do such charging faster and more efficiently than on the average bay boat. This is a double-step design, which reduces drag and boosts efficiency and top-speed to the tune of 15-percent. In fact—and remember people, this is a 27'7" long, 9'4" wide, 4,300-pound boat we're talking about—the 28HB can cruise easily in the mid-30s and rocks a top-end breaking 50 mph.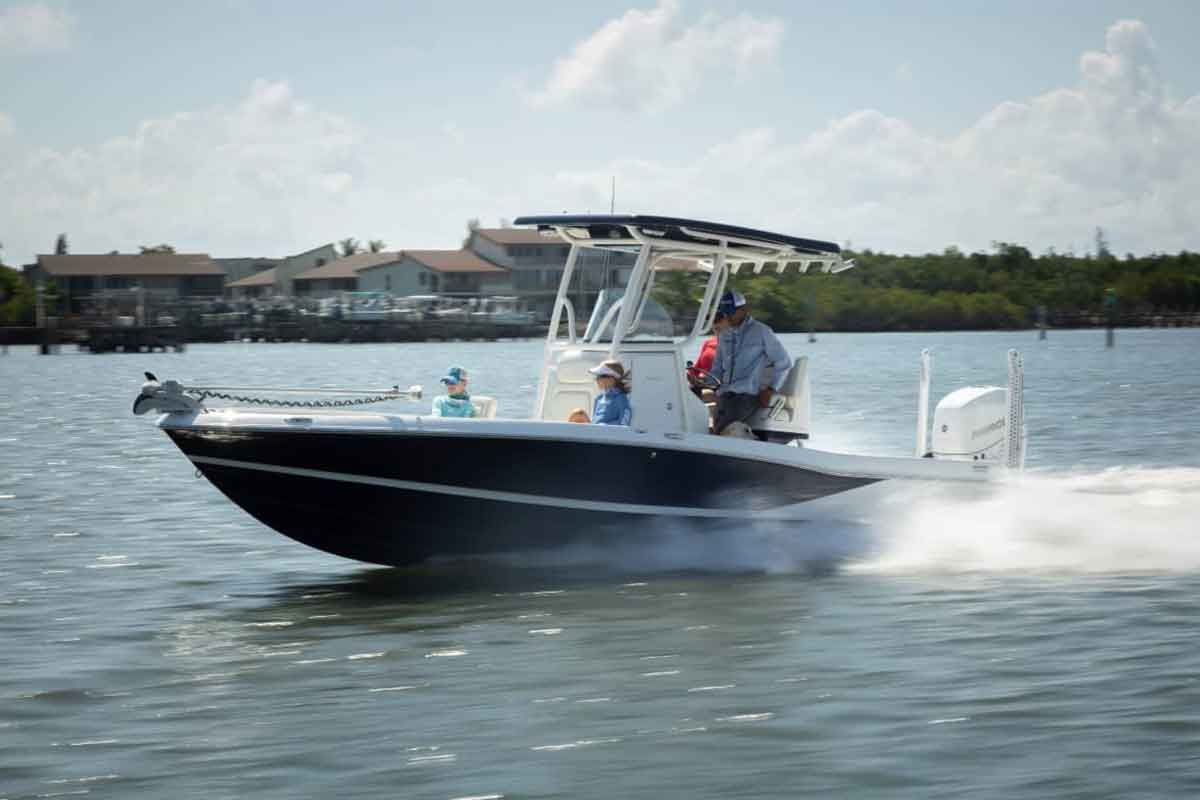 Speed is not a problem, on the Caymas. Photo by Caymas Boats

Hold your horses—can't stepped hulls handle strangely and potentially spin out? Much less a hull with twin steps? Yeah, sure, but every design is different and this one addresses the issue with an aft tunnel that has vertical sidewalls. They grip the water in turns, eliminating the light and difficult-to-control feeling some other stepped hulls suffer from. In fact, at this point we've run a half-dozen different boats utilizing this design (called the SVVT, for stepped vee ventilated tunnel) and can attest to the fact that it's a total winner. But don't just take our word for it. How about taking the US Navy's, instead? This just so happens to be the same design they chose for their fleet of Vigor Fast Interceptor boats.

If you're going to go deep into the backcountry one day and far offshore out of the sight of land the next, naturally, you'll be needing a serious electronics package. And this is another area where the Caymas excels. Most bay boats have helms designed to house a single MFD, some larger than others. Generally speaking, a 12-incher is considered pretty big. But the 28HB has room for not one but two 12-inch units to be flush-mounted at the dash. And the tech doesn't stop there. The helm also houses 12-V and USB charging ports, LED lighted push-button switches and cupholders, Lenco LED trim tab indicators, and a Kicker stereo system with speakers in the inwales and molded into the hard top.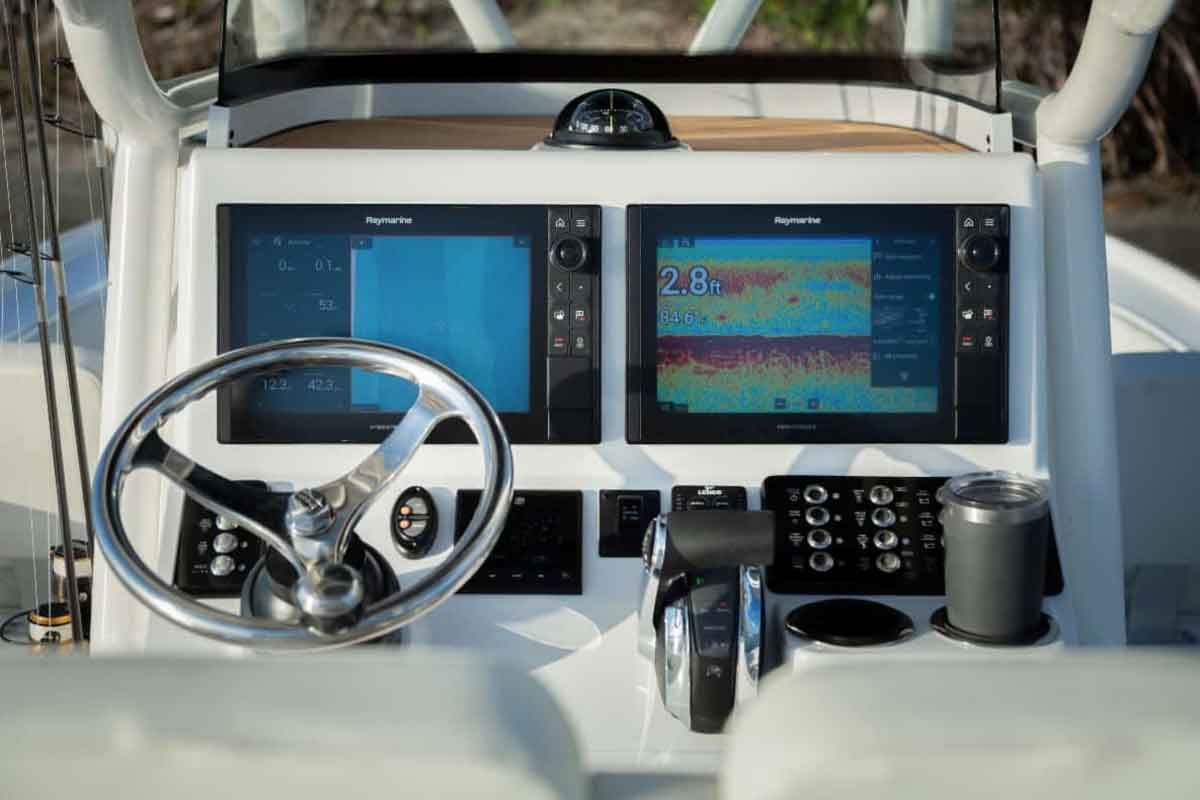 You like lots of electronics? That's most certainly not a problem, on the Caymas 28 HB. Photo by Caymas Boats.

So, do you need a boat that's suitable for both prowling the shallows, and hunting pelagics on occasion? Do you like the idea of going faster and farther on a gallon of fuel? Do you want maximum fishability? Like we said right up front: short list.

Caymas-5 caption: Point the bow for the hotspot and hit the throttle, whether that means cruising across the bay or punching through the inlet.

Other Choices:

Another very large bay boat that reaches for the brass ring is the Pathfinder 2600 HPS. It's not quite as roomy as the Caymas but is proven to have offshore chops, and it also runs on a twin-step hull design. The same can be said of the Sea Vee 270Z.

In both of these cases, forward seating is sacrificed in favor of more space for the elevated casting deck (though Pathfinder offers a TRS version that does add forward lounger options).

For more information visit Caymas Boats.

See Caymas 28 HB boats sale on Boat Trader.

Specifications:
LOA – 27'7"
Beam – 9'4"
Draft – 1'5"
Displacement – 4,300 lbs.
Transom Deadrise – 18.5 degrees
Fuel Capacity – 35 gal.