See more articles
Chaparral 246 SSi: Well Thought Out
Chaparral's new-for-2011 runabout exhibits the company's rigorous attention to detail.
Chaparral's new models are always a treat. The company has been building boats for 44 years, and the company's experience shows in the details of the finished product. Nothing seems rushed, and the boats always feel well thought out.

Take the new 246 SSi. A flip-up bow light might seem like a small detail. However, when you consider how seldom people go boating at night, and how often you can stub your toe on a fixed bow light, it makes perfect sense. The same can be said for a ski locker that is molded in as part of the deck, or locker lids that are supported with stainless-steel gas struts, or a head compartment fitted with a removable rod for hanging up wet clothing.





At first blush, those might seem like minor design touches, but they are worth noting because they make a boat more enjoyable to own and use. What's more, the same kind of thoughtful touches can be found throughout the boat.

The bow platform is fitted with pull-up cleats (again, kinder to your toes) and a nonskid surface. The forward locker not only contains a four-rung telescoping stainless steel ladder, but also a Danforth anchor that snaps into its own rubber mounts so it doesn't bounce around in rough water. The bow lounges are long enough for an adult to stretch his or her legs and feature angled backrests for comfort—as well as ample stowage underneath. There's also a built-in cooler (molded as part of the deck), fully padded coaming panels, grab rails, cupholders and stereo speakers.

As you walk through the cowl, you notice the one-piece cockpit door mates up with the windshield to form solid wind barrier, which is handy on chilly mornings or those dusk runs back to the dock.

The 246 SSi also boasts some interesting new design flourishes. The dashboard seems to take a page from watchmaker Tag Heuer, with chrome-bezeled square instruments rather than the usual round gauges. The steering-wheel styling borrows from motorsports, with contoured thumb grips at the 9 and 3 o'clock positions, a flat bottom and a band at the 12 o'clock position, so you know at a glance you are tracking a straight line.

Of course both driver and observer seats feature a swivel design with flip-up thigh bolsters. To port, the head compartment can be fitted with an optional porta-potty or a pump-out commode. A port hole is optional.

Stowage beneath the U-shape lounge in the stern is bountiful, and there are even more compartments flanking the engine compartment. The port-side compartment is fitted with a removable Igloo cooler, which is another thoughtful touch; it's located right where you board the boat, and it's one the first items you want to put down when loaded with ice and beverages.



Engine and drive options range from a 260-horsepower 5.0-liter small-block V8 to 320-horsepower 5.7- and 6.2-liter small-blocks from Volvo-Penta and MerCruiser, with choices for buyers who prefer a single prop or dual, counter-rotating propellers. With the 246 tipping the scales at 4,400 pounds, the smart money is spent on the upper end of the engine option list.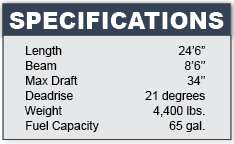 We could go on about the rubber matting on the swim platform, or the padded armrests for driver and passenger, or how the liner and all lockers are self-draining, or the sound-deadening material used throughout the interior, but you probably get the idea. From bow eye to prop nut, Chaparral's new 246 SSi is well thought out—and well worth a serious look.

Base MSRP is $60,980 without a trailer.

For more information, visit the Chaparral website.



Editor's Note:
Brett Becker
is a freelance writer based in Ventura, CA. He covers the marine, automotive and racing industries for various print and web titles.