See more articles
Chris-Craft Carina 20: Don't Call it a Bowrider
This classic builder designed the Carina 20 to serve as a launch for larger vessels, but it has plenty of appeal all its own.
Chris-Craft is one of the truly legendary names in the marine industry, yet even though they've been around for well over a century, they continue breaking new ground with red-hot retro runabouts like the Corsair 22, classy center consoles like the Catalina 26, and dreamy day-boats like the Catalina 29 Sun Tender. Their latest attempt to mix classic design with modern performance and dedicated utility, however, cruises down a different path—although the Carina 20 may look like a bowrider at first glimpse, this boat is intended to be a tender for owners of much larger yachts.





Although Chris-Craft already had a 20' launch with similar dimensions, the Carina gets a huge styling upgrade. With a plumb bow, glistening teak in the deck and swim platform, and gobs of custom-designed polished stainless-steel, it's pure eye-candy for the nautically inclined. A frame-less windshield seems to naturally grow out of the fiberglass, and diamond-patterned upholstery adorns the cockpit. The boat's looks are stunning enough to put it in the running with other work-of-art runabouts like Hacker-Crafts, or the Cherubini Classics.

The Carina's overall LOA comes in at 21'2" (since the boat is designed to give mega-yacht owners the option of parking in their mother-ship's garage, the swim platform is included in the measurement), and beam is 7'11". And since it weighs in at a beefy 2,913 pounds and carries an 18-degree transom deadrise, running through a chop to get from the yacht to shore and back should be no problem despite the boat's relatively small size.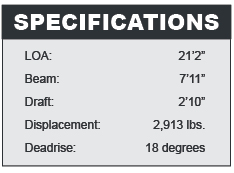 Could you, would you, should you get a Carina to use simply as a day boat? It will serve as a fully-functional bowrider, although the full-beam enginebox doesn't leave a heck of a lot of space in the cockpit, and the bow cockpit is similarly small. On top of that, you can bet that this model is going to cost a pretty penny. Chris-Craft hasn't set pricing for it just yet, but some of their other runabouts can cost over $4,000 per foot of LOA. If, on the other hand, your plans are to use the Carina as a tender for your mega-yacht, you probably couldn't care less about the MSRP. Besides, don't they say that a true work of art is priceless?

For more information, visit Chris-Craft.