See more articles
Chris-Craft Catalina 29 Sun Tender
Non-fishing families will welcome this center-console, which is rigged for picnicking, fast voyaging, swimming, and just plain lounging in both style and comfort.
Many center consoles make excellent day-cruisers and family boats even though they're designed and rigged for fishing. But leave it to Chris-Craft to refine the idea with a boat like the Catalina 29 Sun Tender, which brings center console versatility to day-boating for non-anglers. Stow the fishing rods at home, grab a cooler of refreshments, and let's see just what this boat has to offer.





Refined Comfort
When we tested the 29 Sun Tender it was under the blazing-hot Florida sun, and that made one new feature on this boat immediately appreciated: the extendable sun shade. The "Sport Top" (similar to a T-top but with supports on the sides, secured to the gunwales instead of the center console) has an awning which slides out and aft, providing much-needed shade for relaxing in the cockpit. And relax you will.

One of the biggest differences between the Catalina fishboat (read Chris-Craft Catalina 26: Classy Casting) and the Catalina Sun Tender is the addition of a huge wrap-around U-seat in the cockpit. There's room for a half-dozen passengers to sit in comfort, and additional crewmembers can find seating at the helm, on the bowdeck (with stowage compartments underneath the seats), or forward of the console on a two-person bench seat. Grab the handle at the base of the console seat, pull up, and the front of the console swings open on gas-assist struts to expose a fully-enclosed head with a sink and pull-out shower faucet, plus access to the batteries. There are no opening ports, however, so it's a bit stuffy and claustrophobic down there. Adding a couple of ports would be a bonus.

Another sweet fisher-cum-cruiser change is found in the leaning post. Where one would expect to find hook holders, rigging trays, and bait splatters, instead there are cruising amenities. Flip the passenger's seat forward, and you'll be popping open a top-loading refrigerator waiting to be packed with drinks and snacks. Open the compartment beneath, and there's a bulk stowage area. Swing down the glove box hatch, and there's a 12-volt outlet and an MP3 jack. Rodholders? Not!





Robust Construction
Below deck level, the 29 Sun Tender is nearly identical to the Catalina's fishboat incarnation. The hull and deck are foam-filled and the liner is molded with the stringers, secured in place with Weld-On adhesive, then foamed in place. Net result: the deck is structurally integrated with the hull. The solid feel that results from these construction techniques can be felt underfoot, when you start smashing through waves. There are no rattles, no vibrations, and no drumming noises, period.

Hatches are vacuum-infused, so they're light and easy to handle while maintaining maximum strength. All fittings are, of course, 316-grade stainless-steel. This beef is built on a 21-degree deep-V deadrise, with a flared 54-degree entry at the bow. And that flare, combined with seven-degree-downturned outer strakes, does an excellent job at throwing spray away from the boat. Inner strakes carry a five-degree downturn to provide additional lift. Though it was relatively calm when we tested the Sun Tender there were dozens of boats zipping around, creating countless wakes in every direction. Salt spray never made its way to the helm. When testing the fishing version, on the other hand, it was downright sloppy with a two- to three-foot chop—yet even running at cruising speeds we remained completely dry.

What about fit and finish? In case you haven't noticed from the pictures, this boat is a serious looker. Fit and finish appeared to be absolutely flawless to me, and the copious use of teak in the foredeck, gunwale cap, trim, and transom gives the boat some seriously classic eye-appeal.

There's one thing up on the foredeck that I wasn't thrilled to discover: The anchor locker hatch is hinged aft, which means it's always in the way when you're accessing the compartment from inside the bow cockpit. But the joy returns when you look underneath and discover a windlass with remote control, eliminating the need to do much beyond pressing buttons when you access this area, anyway. And check out that bow light while you're up here; it's curvaceous stainless-steel, custom-designed for Chris-Craft.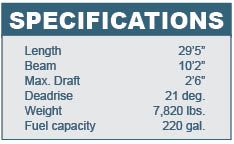 Driving Excitement
Our test boat carried a pair of 250-hp Mercury Verados on the transom, which made for adrenaline-pumping acceleration and a time-to-plane of less than four seconds. With the throttles mashed to the dash we glimpsed 56 mph while chugging down about 54 gph, for a gallop of one mile to the gallon. Trotting reasonably at 4500 RPM we hit 40-mph and burned 24-gph, which works out to almost 1.7 miles to the gallon.

Most boats of this size that are powered with twin 250s won't match this level of efficiency. An average 29-footer with a 10-foot beam and 500 four-stroke horses is apt to get closer to 1.5 or 1.6 miles to the gallon when running at 4500 rpm.

It's about time someone built a day-boat around the center console design. Their wide-open attitude and versatile nature makes them perfect for all kinds of boating activities, not just fishing. So ditch the rods and grab a cooler—you'll find out exactly what the Catalina Sun Tender 29 has to offer.

Other Boats to Consider
The vast majority of center consoles are designed and outfitted for fishing, but others of the breed that can be found with additional style, seating, and amenities include the Jefferson Marlago 28, Scout 282XFS, and Intrepid 3000 Open.

For more information, visit Chris-Craft.



Lenny Rudow has been a writer and editor in the marine field for over two decades and has authored five books. He runs his own web site at HookedOnFishingBoats.com and writes weekly for Boats.com reviewing new models and covering marine electronics.