See more articles
Chris-Craft Corsair 22: Runabout Royalty
For speed, solidity, and stunning good looks, it would be hard to beat this design.
Do you prioritize quality over quantity? Do you put superiority before size? If you're the type who would rather drive a Mercedes C-class than a Ford anything, you'd probably sacrifice a few LOA to get a boat that exudes excellence, as well. Case in point: the Chris-Craft 22 Corsair.





This boat may be the smallest in the Corsair line, but it's big when it comes to style and strength. The boat's look is magnificent, with extensive, eye-warming teak decking covering the bow and swim platform. Teak accents also grace the gunwales. Even the step from the cockpit to the swim platform, hidden beneath a removable seat cushion, is covered in sole-gripping teak. And this glowing woodsy look doesn't come from a cheap veneer or a faux teak—this is the real stuff, every inch of it solid-planked decking that's epoxied in place.

Now check out the grabrails. They're polished stainless-steel, sure, but they're also twice as thick as those you'll find on this boat's competitors. Gauges and the throttle are custom-designed for Chris-Craft; the ski-tow pylon is a pop-up; windshield framing is beefy stainless-steel; hatches are RTM-molded so they're finished on both sides; and the cabin entry hatch opens with gas-assist struts that do all of the work for you.

These majestic looks and unique details rest upon a frame that's constructed of foam-filled fiberglass stringers, which are bonded to the hull with Weld-On adhesive. Screws are chrome-plated to extend their lifetime, upholstery is double-stitched, and electrical connections are made with environmentally-sealed Deutsch connectors.



The result of such construction techniques becomes clear when you pass out of the no-wake zone, nail the throttle, and start hopping waves. During our test I managed to hit a series of three-foot boat wakes at top speed; when re-entering the water after aerial maneuvers, the Corsair feels rock-solid. Vibrations, hollow drumming sounds, and rattles are essentially non-existent, and the hull comes down with a solid ker-chunk!

Speaking of top speed, our test boat was powered with a 5.7-liter 350 Mag coupled to a Bravo III stern drive, and this package provided red-hot performance. With the throttle mashed to the dash we darted up to 55 mph. At a mellow 3500 rpm, we cruised at 36 to 37 mph. And thanks in no small part to the Bravo III drive the boat leaps out of the hole. Dockside handling is excellent, too.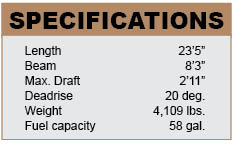 Of course, every boat is a trade-off, and in the Corsair's case, the downside is price. This kind of quality doesn't come cheap, and depending on options and power packages you could easily end up spending $70,000, $80,000, or even more for a new Corsair 22. But what a boat you'd have…

Boats like this are few and far between, but comparison shoppers should also have a look at the Cherubini Classic.
For more information, visit Chris-Craft.

—Lenny Rudow