See more articles
Cobalt 220: Upward Mobility
This new 22 footer is quickly becoming a best-selling model for builder Cobalt Boats.
Launched with the 210 and 230 models, The Cobalt "10 Series" of runabouts includes the 200, 210, 220, and 230 models—but the 220 has emerged as a crowd favorite.





"The 10 series came from a vision at Cobalt that we needed something like a 3-series BMW or a C-class Mercedes," said Gavan Hunt, Cobalt's vice president of sales and marketing. "We needed a boat that would be affordable, but still the ultimate in performance, handling and quality."

Lots of high-end manufacturers employ the strategy of offering products at a lower price point to capture customers who otherwise might not be able to afford them. It works with appliances, electronics, automobiles and, in this case, stern-drive runabouts. As the strategy goes, once a manufacturer gains a customer with one of its value-leading products, it stands a better chance of keeping that customer when he or she wants to move up to something larger or better. Many S-Class Mercedes-Benz owners first purchase a C-Class, for example. As a luxury builder, Cobalt can accomplish the same thing by offering the 220 at a price point you don't expect on a Cobalt. The customer who starts with a 220 could easily step up into a Cobalt 242, and then end up in the luxurious Cobalt A25.

The base 220 is advertised for sale on the Cobalt website for $43,995. The asterisk is that it's a "promotional" price from participating dealers, for base 220 excluding freight and dealer prep. The site also lists a 220 with a single-prop Volvo-Penta 4.3 GXi with non-catalyst exhaust for $52,622.



"Essentially, smaller boats need to be competitive," Hunt said. "If there is too much put into them, they won't sell. People just won't pay that much for them."

At either price, it's less than we have come to expect, but the 220 is every bit a Cobalt, from its first-rate trim, hardware, and build quality, to some clever engineering. For example, the 220 comes standard with cockpit carpet and digital gauges set in Cobalt's signature French-stitched dashboard. Combined with the handsome steering wheel and a flip-up thigh bolster, the driver's environment is top shelf. The 220 also comes with in-gelcoat colors and the extended swim platform with a flip-down swim step, a feature Hunt called a game changer. "Once you have a boat with that swim step, you could not imagine having a boat with a ladder anymore," he said.

There's a nice deep walk-through to the swim platform on the port side, with a small stowage compartment on the flank, and a large stowage locker to starboard that houses a removable cooler.



Inside, the boat feels bigger than the average 21-foot runabout, but it's difficult to put a finger on just what it is that makes the difference. Cobalt calls it "free space reclamation," which doesn't exactly roll off the tongue, but Hunt explained they enlarged the cockpit primarily in two ways. First, they made the gunwales and coaming panels as narrow as possible and gained six inches of width. Second, by using what's become known as a "blade style" windshield, Cobalt was able to gain cockpit length as well. A curved windshield, Hunt said, encroaches on cockpit space.

220 buyers run the gamut from those moving up from other brands, to existing Cobalt customers, to first-time buyers. The increased sales have allowed Cobalt to vault from a five percent market share to 12 percent, making it the fastest growing boat company in the industry today. Given the state of the economy, that's a staggering accomplishment.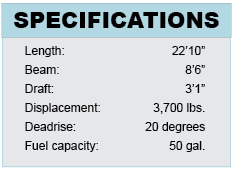 "It has been well received at boat shows in Dallas, Chicago, New York, Atlanta, all the major shows," Hunt concluded. "We had tremendous sales this year. The 220 is fast becoming the best-selling Cobalt."
Hunt seemed to take it in stride. "There are a lot of things people don't need," he said, "but when you think about how many summers you have with your children, maybe you really do need a boat. So need becomes a different thought-process." Clearly, the crowd agrees.

For more information, visit Cobalt Boats.

-Brett Becker