See more articles
Cobalt 242: Classic Runabout Looks
Cobalt's 242 has become a company mainstay, thanks to its uncommon luxury in a refined runabout package.
The A25 runabout from Cobalt introduced last year has been grabbing headlines and awards ever since. In terms of mold work alone, the A25 was a major milestone in boatbuilding methods (read Boats.com's Cobalt A25: Unprecedented).

But it's the Cobalt 242 that embodies the understated elegance we have come to expect from this runabout line. It's the kind of boat that makes you look over your shoulder at it as you walk away.





Settle in behind the wheel, and all the familiar Cobalt design cues are present. The sculpted dash features just the right amount of padding and French stitching at the surface breaks. Switchgear is brushed stainless, and the trim used for the dash appliqués came from an actual tree.

As rich as the boat feels inside, its ergonomics and cockpit space are also top shelf. For example, the cockpit is laid out so that seating can be optimized whether the boat is on plane or at rest. Driver and observer seats swivel to face forward or to the rear to form a "conversation pit." They also feature standard flip-up thigh bolsters. To port and starboard, there are small lounges with stowage underneath, and the rear bench is fitted with an adjustable backrest that also forms an aft-facing lounge.

It's worth noting that the backrest operates easily with one hand. The rear sun pad also has a unique stowage compartment on the port side at the rear, which would be ideal for a ski rope and gloves. To starboard, the walk-through leads to the swim platform.



"The 242 is like the ultimate SUV on the water," said Gavan Hunt, Cobalt's vice president of sales and marketing. "From the award-winning ride to the fit and finish, the 242 answers every need that a day-boater could have."

If one of those needs is the call of nature, the 242 can be equipped with a surprisingly nice head compartment. Options include everything from a Porta Potti to an electric porcelain commode with a macerator.

For a boat with a base price of $76,554, it doesn't seem like much to ask that Porta Potti be standard. It also would make sense if a bimini top were standard. However, as offered, the least expensive head option is $3,881 and the bimini adds $1,606.

Those nits aside, one of the neatest places in the boat is the bow. Normally, bow lounges are set on full-length bases with stowage beneath. In the 242, there's some stowage under your bum, but the forward cushions—beneath your calves—are removable, which can create more floor space and room for additional passengers. Even with the cushions removed, forward-facing adult passengers can still put their feet up in a lounging position. The approach is a refreshing new take on bow seating.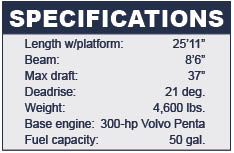 In base trim, you get a 300-hp 5.7-liter Volvo Penta small block and DuoProp drive, which pushes the 4,600-pound boat on plane easily. For additional oomph, Cobalt offers big-block engines with up to 430 horsepower, but they can push the price tag north of $90k.

The Cobalt 242's classically elegant lines and design cues are hallmarks of the company's products, and a big part of why the 242 is a mainstay in the company's line. Should you end up with one tied to your dock, don't be surprised if you find yourself looking over your shoulder as you walk away.

For more information, visit Cobalt Boats.