See more articles
Cobalt 336: Dual Console Bowrider, or Cabin Cruiser?
Inside the consoles on the new Cobalt 336 is so room and so much comfort, you will wonder if this bowrider could really be used for cruising.
The Cobalt 336 caught our eye at the Ft. Lauderdale boat show because it's one of the biggest dual console bowriders around, it looks sleek, and it's finished with aplomb—so naturally, we shot a Cobalt Short Take Video. But even after the camera stopped rolling, this boat held our interest. The surprises it hides inside the consoles are only part of the story.





When you pop open the passenger's console, you find a head; nothing too world-changing, there. But when you swing open the driver's console door you'll be shocked at the copious appointments: a nine-foot leather settee that converts into a berth, an entertainment center with stereo, a Blu-Ray player, and a 27" flat-screen TV. And why is it so chilly down here? It's air conditioned, of course. Added bonus: there's plenty of natural light, streaming in from a large hullside window and an overhead skylight.



Now set aside the fact that you can have a roomy cabin and a separate enclosed head, inside of a bowrider. There are a few other details you'll find on the Cobalt 336 that are just as attractive, and just as rare in a boat of this nature. For starters, the engines—yes, engines. Few bowriders run on twin powerplants, but the 336 has a pair that provide between 600 and 860 horsepower and can propel the boat as fast as 60 mph. You can also opt for the Axius joystick-steering system.

Also consider the boat's construction. You won't find many bowriders with Kevlar reinforcing the hull, but Cobalt does it on the 336. You won't find many bowriders with arches, engine vents, rubrails, and boarding ladders all made of stainless-steel, but that's what Cobalt uses in this case. And you won't find many bowriders that have honeycomb-cored decks, 32-oz. vinyls, pre-tapped aluminum backing plates, and hand-stitching in the upholstery. Yup—Cobalt does all of this, too.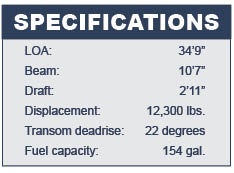 But wait, there's more!

Another real stand-out feature on the 336 is the aft cockpit, which benefits greatly from all of that LOA. The sheer volume of seating is off the charts, with a full aft and port-side lounge, a separate starboard-side lounge, plus helm and passenger's seats. Want more stretching-out room? The passenger's side seat-back flips back to turn it into a lounge. In-deck water-toy stowage, a wet bar, and a hide-away cockpit dinette table round out the aft cockpit's features.

Of course, when you're looking at one of the largest and best-equipped bowriders around, you'll also have to expect to be looking at one of the more expensive ones on the market. The MSRP starts at $230,000, jumps to about $270,000 if you opt for maximum power, and can go up by over $100,000 more when you start adding options. That's a pretty steep price to pay for a day boat. Then again, even though it looks like a day boat from the outside, a close examination proves it's a whole lot more. It's not just a dual console bowrider, it's also a sport boat. And a cruiser with a cabin.

So put down the camera, and climb aboard for a closer look—there's a good chance the 336 is going to hold your interest.

For more info, visit Cobalt Boats.

-Lenny Rudow