See more articles
Cobalt A25: Unprecedented
This new runabout blends innovative features with elegant design.


Putting aside prevailing wisdom about assumptions, it's probably safe to assume no other manufacturer could have pulled off a boat like Cobalt's new A25.

First, if you have even a rudimentary understanding of how boats are built, you look at the hullsides and ask yourself, "How did they do that?" The sculpted sides of the new A25 would be impossible in the one-piece molds in which most boats are laminated. With the concave hullsides, the hull would never pop out of a conventional mold. Cobalt achieved this engineering feat by using a five-piece mold developed in its yacht designs.

The hullside cove is accented beautifully by three polished stainless-steel "gills" at the trailing edge. The navy blue gelcoat and mocha accent also set off the crisp white of the deck and soft tones of the interior, which is where this boat really distinguishes itself from other runabouts on the market.



In terms of seating versatility, the A25 is unbeatable. For example, the rear bench seat features an adjustable backrest that forms a rear bench, a forward facing lounge and a rear-facing sun pad for when the boat is at rest. It functions easily, by releasing one latch to slide it to any of the three positions, where it locks in place automatically.

The observer seat also makes good use of an adjustable backrest. Operable with one hand, the backrests moves to create a forward-facing upright just behind the port windshield or an aft-facing lounge. Interestingly, Cobalt elected not to include a head compartment beneath the portside cowl. A day boat by nature, the A25 likely will never be far from a land-based restroom.



Bow seating also demonstrates a lot of thought. In this case, the forward-facing lounges are in one form individual jump seats. However, lift the seat cushions and flip out hinged filler cushions and they become genuine lounges. The setup is nifty because it frees up a lot of floor space when they are stowed.

Seating aside, the A25 also boasts some functional features experienced boaters will appreciate, chief among them a dedicated anchor locker on the bow with a lid supported by a gas strut. Also, just forward of the windshield to either side, Cobalt built in fender lockers. Buyers also can get as an option dedicated hardware for pin-and-locking-ball fasteners and a retractable quick-tie line system. As with many Cobalt models, the A25 also comes standard with bow-walk through doors, which are great for blocking onrushing wind on chilly mornings and damp evening cruises.

However, the coolest optional feature is at the stern in the form of a hydraulic swim platform and ladder. The rearmost portion of the platform drops 10 inches on a pivoting bracket system driven by the same type of hydraulic rams used to adjust drive trim. Very cool.



Some of the more standard Cobalt fare includes the company's extended-plane running surface with 21 degrees of deadrise, which is plenty sharp for splitting lake chop. The dash comes padded and wrapped in thick, French-stitched vinyl, with contrasting thread colors. The stereo is equipped with iPod and MP3 connectivity, and the all-digital gauges are data-linked and feature backlit fiber optics.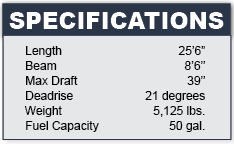 In addition to snap-in marine-grade carpeting, Cobalt is offering snap-in sisal matting, a natural fiber that sheds moisture quickly, offers high traction and is easy to clean.

Now for the price: Powered by Volvo Penta's 300-horsepower 5.7 GI DP, the Cobalt A25's base MSRP is $82,268. The attractive price kind of makes you wonder how Cobalt pulled off such a boat for that kind of money.

For more information, visit the Cobalt website.





Editor's Note:
Brett Becker
is a freelance writer based in Ventura, CA. He covers the marine, automotive and racing industries for various print and web titles.