See more articles
Cobalt R5: Runabout Reawakening
The new R5 bowrider from Cobalt is more a culmination then a revolution.
No boat company, not even a heavy-hitter like Cobalt Boats, can really reinvent the runabout without having to call it something different. The genre has held fast to certain tenets of design and function for nearly a century. Stray too far toward utility and you end up with a deckboat. Stray too far toward the sporting edge and you end up with a performance boat.

Cobalt designers and engineers know that — and, obviously, a thing or two about runabouts in general — so their new R5 doesn't try to start a revolution. But it doesn't have to. Instead, it is a culmination of the best of every Cobalt bowrider built to date, which is what makes it one of those aspirational products, something you buy after having owned a series of lesser products.





"We used to be at five percent market share. Now we're at 12 percent," said Gavan Hunt, Cobalt's vice president of sales and marketing. "We're the fastest growing boat company in the industry today, and we've done it with fresh new product and the best dealer network in the world."

In terms of product, Cobalt has been introducing all-new models when other companies are standing pat with refreshes of existing models. The introduction of the A series of boats was a sensation at the Miami International Boat Show two years ago and the new R5 promises to create the same stir.

For example, the bow seating area boasts some creative thinking. Not only is it spacious, with seating for three, but it's also equipped with a full-featured anchor locker that has a notch to let you close and latch the lid when the anchor is out, and rubber stanchions and an eyelet inside to attach the rode.



At the stern, the R5 comes with a reversible backrest that lets you face forward while in motion or to the rear while at rest. The passenger seat backrest also articulates fore and aft for the same reason. Cobalt designers re-imagined the swim platform with its innovative swim step, which functions much the same way a "swim out" does on an in-ground swimming pool. The swim step swings up, out and down to create a comfortable underwater platform.

"The swim step has been a huge hit," Hunt said. "It's a game changer. Once you have a boat with that swim step, you could not imagine having a boat with a ladder anymore. Ladders have always been an encumbrance on boats, but this is just a fantastic tool to put skis on, everything."



In the cockpit, Cobalt's use of the blade-style windshield is key to the spaciousness of the interior. It's a design that creates less of an intrusion into the interior space than traditional wraparound glass. That spaciousness extends to the head compartment on the port side, though it's hard to see how Cobalt accomplished it when looking at it from the outside.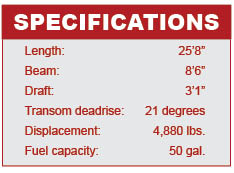 Standard power is a 300-horsepower Volvo Penta 5.7-liter V8 with a DuoProp drive.

Base MSRP for the R5 is a whopping $87,333. Of course, anyone familiar with the runabout market knows that Cobalts aren't entry-level boats, and they don't come with entry-level price tags—but maybe that helps explain Cobalt's sales gains over the last couple of years.

For more information, visit Cobalt Boats.