See more articles
Com-Pac 23 Pilothouse: Pocket Sailboat
This tiny but cleverly designed cruiser packs much into its interior.
"Cute as a button" is one way to describe Com-Pac Yachts' 23-foot pilothouse sloop, but the emphasis on the diminutive is misleading because the CP 23 PH is much more than just loveable and small. It's actually an innovative and serious trailerable cruiser, enhancing Com-Pac's reputation for building tough boats with well-thought-out details.





Stepping aboard, you'll find that Com-Pac's standard 23-foot solid FRP hull has been fitted with a new, tall pilothouse. This enclosed space, combined with the nearly 12-foot beam, now creates a very livable interior. The large sliding windows and four hatches light up the inviting cabin, just three steps down from the cockpit. To starboard is an enclosed compartment with a Jabsco marine head and a sink that slides out when in use or tucks away to make more room for the head the rest of the time. Forward, and also to starboard, is an inside helm station that will be appreciated in inclement weather. It includes wheel steering, engine controls, and a place to mount basic electronics like a VHF.



To port is a dinette for two with a cantilevered table that drops down to make a third berth. Just ahead is a small icebox with some counter space for meal preparation, and a sink. The V-berth forward makes an ample bunk for two, although you can't quite sit up in it. Two hanging lockers and lots of small cubbyholes provide good storage. The cabin has six-foot headroom and is finished in a white laminate with teak trim. Clever additions include manually-operated windshield wipers on the forward windows, and a bulkhead between the helm and head that drops down to provide visibility from the inside steering station, through the aft head window, all the way to the transom.



On deck, the CP 23 PH has a sizable six-foot cockpit with tiller steering, and a small bowsprit forward with a tack attachment for the furling headsail as well as a built-in anchor roller. Good stainless steel (or optional teak) handholds on the cabintop help get you along the side decks from one end to the other. The masthead sloop rig rises 30 feet above the waterline and the shoal keel draws just over two feet, so it's perfect for skinny-water gunkholing. The rudder is an aluminum blade that kicks up in case of grounding, and the tabernacle-stepped mast folds down to pass under low bridges (or for trailering), which really extends the range of this compact cruiser. The boat is powered by a Yanmar 1GM10 freshwater-cooled diesel that pushes this 3,500 pound boat with ease. It's easily accessible under the fold-away companionway steps. There's tankage for seven gallons of diesel and 25 gallons of fresh water, as well as a five-gallon holding tank, so the CP 23 PH will be welcomed in zero-discharge zones.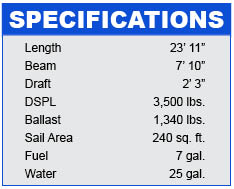 The only thing that's not small about the Com-Pac 23 is the price, which is $70,000 base plus another $4,000 for the optional trailer. However, the price tag doesn't seem to be hindering those who are looking for an innovative pocket cruiser—nearly a half dozen are already under construction. The design's cruisability and livability are finding a foothold in a market where bigger boats stumble. For more information, visit Com-Pac Yachts. —Zuzana Prochazka