See more articles
Farr 36 One Design: Coming Soon to a Racecourse Near You
Farr 36 One Design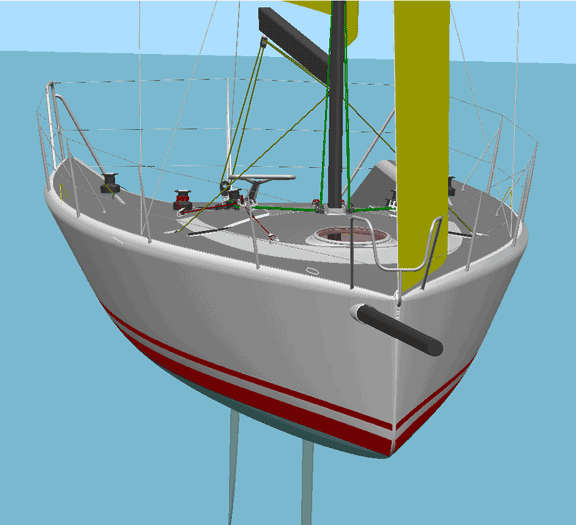 While some One Designs live on for decades (the Star, Etchells, International 14, 470 and 505 spring to mind), that simply does not happen in the Grand Prix level in offshore or inshore racing. The Mumm 36 has faded into obscurity after losing its Admiral's Cup status after the 1997 event. The 1D35 has stalled, with no new boats built for well over a year. The Farr 40 goes from strength to strength, but it sails in a rarified atmosphere, with base boat pricing at nearly a quarter of a million dollars -- and it's a boat that cannot be towed to an event by normal means. One must remove the keel and hire a transporter. Campaign costs are thus far higher than with anything even remotely trailerable.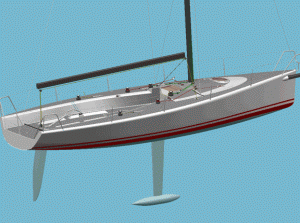 Thus it's natural that the builder of the Mumm 36, the 1D35 and the Farr 40 would be interested in a modern design to fill the 35-36', trailerable, Grand Prix racing niche. Carroll Marine has again partnered with Farr International and Farr Yacht Design to design, market and manage the new Farr 36 One Design.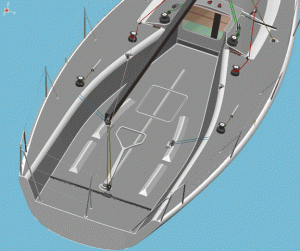 This will be the first foray into a canting keel for Bruce Farr and his design team. The canting keel serves several important functions here -- in addition to increasing the righting moment and upwind performance (see the Schock 40), it also permits the height of the boat on a trailer to fall within legal interstate highway minimums. At 6700 pounds, you'll need a serious V8 under the hood of your tow vehicle, but that's almost 1500 pounds lighter than the Mumm 36. The weight savings are due to the amount of carbon used in construction, which includes the keel. Builder Barry Carroll found that the cost of a forged steel keel to be nearly as high as carbon, the lighter weight material allows for lower center of effort, a greater percentage of the ballast weight to be placed in the keel bulb.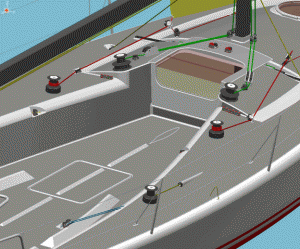 Hull #1 has yet to hit the water, however, and design discussions are still ongoing between Carroll, Farr International and Farr Yacht Design. Several revisions have been made to the current design iteration, most notably the addition of a solid backstay in favor of running backstays. This changed the sailplan, eliminating some roach and adding 18" to the rig height. Manageability won out over flat-out racing considerations, but this will doubtless add quite a few more interested buyers to the boat's potential sales. The fixed backstay also allows for a smaller crew. The initial projected sail area for the asymmetrical spinnaker has been raised from 1319 to 1614 square feet, the upwind sail area was originally designed at 877 square feet, that too has increased. Current specs put it at 945.

Cabon fiber will also be used to build the mast, boom and bowsprit. The latter is not articulated or deck mounted, it's retractable through a hole in the bow.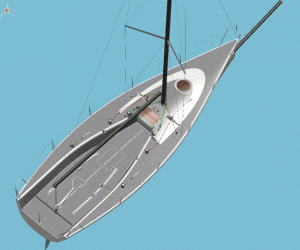 The first boat is expected to debut at the Annapolis Boat Show in October. Production in the US will be at the Carroll Marine facility in Bristol, Rhode Island. Building for the Asian and Oceania markets is DK Composites of Malaysia, licensed builders for the Farr 40. Class management will be handled by Annapolis-based Farr International. Preliminary class rules call for owner/driver and will limit the number of professional sailors aboard -- a formula proven by the unprecedented success of the Farr 40.

Initial pricing with standard specs is $188,500.

For more information and build pictures as they become available, see www.farr36.org .

Dimensions
| | | |
| --- | --- | --- |
| LOA | 11.00m | 36.1 ft |
| LWL | 10.00m | 32.8 ft |
| Beam | 3.49m | 11.4 ft |
| Draft | 2.6m | 8.5 ft Empty |
| Displacement | 3,036 kg | 6,695 lbs |
| Ballast | 1,475 kg | 3,253 lbs |
| Fin | 105 kg | 230 lbs |
| Bulb | 1,300 kg | 2,866 lbs |
| RMC | 106 kg/m | 767 lbs/ft |
| LPS | 137° | |
| Stability Index | 130° | |
Rig Dimensions
| | | |
| --- | --- | --- |
| IM | 14.26m | 46.78 ft |
| J | 4.02m | 13.19 ft |
| P | 15.22m | 49.93 ft |
| E | 5.68m | 18.64 ft |
| ISP | 16.78m | 55.05 ft |
| TPS | 6.42m | 21.06 ft |
| Mast Height WL | 17.9 m | 58.73 ft |
| Mainsail Area | 55.9 sq m | 602 sq ft |
| Jib Area | 31.9 sq m | 343 sq ft |
| Spinnaker Area | 150 sq m | 1614 sq ft |

Farr International
613 Third Street
Annapolis, MD 21403
Phone: (410) 268-1001
Fax: (410) 268-1137
info@farr-int.com
www.farrinternational.com

Carroll Marine
91 Broad Common Road
Bristol, RI 02829
Phone: (401) 253-1264
Fax: (401) 253-5860
www.carrollmarine.com