See more articles
Contender 39 ST: Triple Threat
Canyon fishing boat, speed demon, wow-factor, all rolled into one.
Our Contender 39 ST test boat is pointed towards the Atlantic City inlet, all three 350-horsepower Yamaha V-8s are growling with glee, and the eyes of countless high-rollers are watching from the nearby high-rise hotel balconies. When a center console this big and bodacious blasts past, people notice. Add in the facts that we're flying a huge Simrad flag (the Contender test boat was rigged with their latest and greatest gear for a press intro) and we have a half-dozen camera-toting journalists onboard, and it's no wonder this boat draws so much attention. Still, even among a fleet of custom sportfishers, the Contender 39 ST (which we gave you a glimpse of last fall) is going to be an attention-getter.





First to the Fish

Just in case this boat doesn't hold 100 percent of your concentration already, it has a top speed of 70 mph, and at a 4300 rpm cruise, bolts across the water at 50 mph. Naturally, with 1050 horses at the trough it does chug down a lot of fuel, yet this rig maintains a mile to the gallon or better at all planing speeds up to around 60 mph. Remember, this is a 39-foot boat with a 10'10" beam and over seven tons of fully-loaded displacement. Most boats with this much mass and this many horses have a tough time getting one mpg at fast cruising speeds.

The Contender makes it happen with a twin-stepped hull design. It's based on Contender's standard 24.5-degree deep-V deadrise with reverse-radius chines, and the manufacturer claims that incorporating the pair of steps (which allow air to flow under the hull, breaking adhesion and reducing friction), gain the boat an 18-percent efficiency boost and a 10-percent performance increase.



What does all this boil down to? Contender designed the 39 ST for big-water competitive tournament fishing. Whether your destination is 99 miles from the Ocean City inlet while fishing in the White Marlin Open, or 15 miles from Kona while competing in the Hawaiian International Billfish Tournament, you can be pretty darn sure no one else is going to beat you to the fishing grounds of your choice.

On most center consoles a speedy cruise like this can only be appreciated when the winds are calm and the seas are cooperative, but the 39 ST has enough heft that you can blast off at highway velocity even when the wind's blowing hard enough to blast the hat off your head. The sheer mass is backed up with solid construction techniques, including the use of hand-laid multidirectional bi- and tri-axial fiberglass supported by a fiberglass stringer system that's cored with PVC foam. Balsa and PVC corings are sandwiched in throughout the boat. Strakes and mounting points are reinforced, the fuel tanks are foamed and fiberglassed in place, and polyurethane foam is pumped into virtually every remaining belowdecks cavity to deaden sound while boosting flotation.

We had a 10- to 15-knot breeze and a two-foot chop when we cleared the inlet. That's not exactly sporty, but there were some larger rollers loafing around from a blow the day before. The ride was smooth enough that I was able to operate the touch-screen on the Simrad NSS chartplotter without using the back-up buttons; on a smaller boat, there would have been far too much motion. The 39 ST also proved exceptionally dry, which is a bit surprising for a Florida-bred deep-V center console with a razor-sharp entry and relatively little flare.

Hooked Up

A more desirable trait that's common to Florida fishboat designs is an added emphasis on the ability to keep large numbers of live baits alive, and in this regard the Contender far exceeds expectations. It boasts a pair of 40-gallon wells with clear hatches in the transom, plus an optional 68-gallon well in the deck. Those large transom wells will extend the reach needed to clear lines around the outboards, but this is true of most multiple-engine outboard boats built in this day and age. Particularly with triple-engine rigs, if you want to work a line around the props you'll have to do it from outside the cockpit. So it's a good thing that the outboard engines are spread far apart, giving the captain a handling boost he can use to outmaneuver those pelagic predators.



What about the fish that tried to eat your poor little livies, and found a hook instead? They can be stowed in a number of places -- the monstrous 260-gallon forward-deck fishbox, the 145-gallon in-deck fishbox, or the port or starboard 105-gallon fishboxes. All are fully lined and insulated, though I discovered a nitpick when I lifted the hatches on them: They weren't supported by gas-assist struts, and they were finished with painted gelcoat on the underside rather than the shiny, smooth finish common to RTM or vacuum-bagged hatches.

Want even more fish-stowing capacity, and some additional furniture up forward? Then take advantage of Contender's optional deck-mounted coffin boxes in the bowdeck.

The 39 ST's wide walk-around gunwales hold four Lee stainless-steel flush-mounted rod holders, which come standard with the boat, but you can add as many as you like and our test boat sported eight per side, running from bow to stern. Other options that all serious anglers will want include the raw water washdown, under-gunwale rodracks, and one of several T-top configurations that include rocket launchers, outriggers, and spreader lights.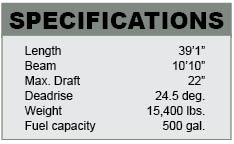 My favorite angling features are the small yet important details which Contender has learned to incorporate in their boats, thanks to years of experience. Check out how the T-top legs are secured, for example. In most cases, you'll see pipes running down to the deck, where they're bolted in place. Fine. Until, that is, a hot sailfish crosses under the boat and you run forward to try to work the line around the bow before it rubs against the hull and breaks off. As you try to scoot past the console, there's a darn good chance you'll stub a toe on one of those pipes—ouch! Contender has been down this road before, and instead of securing the pipes to the deck, they've bolted them to a flat section molded into the bottom of the console, leaving the deck completely stub-free.

Another example of experience-driven angling equipment can be found in the coaming bolsters. They're significantly taller than most, and they cover the entire gunwale, so they catch your knees no matter how tall or short you may be. They're also thin enough that you won't accidentally hook them, but firm enough to provide plenty of cushioning.

After our jaunt through the inlet, I took stock of these fishing features while we were tied up to the dock, in the shadow of the Trump Marina hotel. And I couldn't help but notice once again that even here, where megabucks pass from hand to hand in the blink of an eye, everyone who walked past stole an envious glance or two at the Contender 39 ST. An attention-getter? You betcha—even The Donald himself would agree.

For more information, visit Contender Offshore and the Contender owner's forum.