See more articles
Cranchi Fifty 6 Soft Top: Hot Yacht
With Italian design sense, this 56-footer flaunts signature styling and IPS propulsion.
It is the smallest model in the Cranchi Yacht Class series, yet the Fifty 6 Soft Top lays claim to something its 64- and 66-foot siblings don't have: Volvo Penta IPS propulsion.





While the larger models are powered by conventional straight-shaft MAN inboards, this Italian sport coupe with the Mediterranean-style sexy lines is offered with Volvo's 600-hp IPS 800s as well as the new 700-hp IPS 900s. "The pod-drive propulsion makes the 56 incredibly easy to maneuver, which means this boat is a great choice for those who are often short on crew, as well as for owners who don't have a ton of boating experience," said Ryan Jacobsen of Yacht Works, a Cranchi distributor in Ft. Lauderdale, Florida. "Plus, performance is amazing -- the boat drives like a race car."



According to Cranchi, the 56 will produce an impressive top speed of 33 knots and cruise at 27 knots when powered by the larger engines. Like any IPS-powered boat, this Cranchi boasts excellent mileage (about 30 percent more fuel efficiency than a similar-sized boat powered by conventional inboards), brisk acceleration, a quiet ride, and easy maneuvering thanks to the joystick installed at the helm. The helm is interesting too, as it's set on centerline and features two slick bucket seats.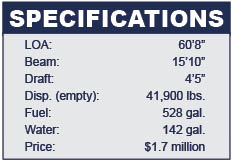 Although reportedly a true driver's boat, the Cranchi is also set up for serious cruising, with three cabins belowdecks and a wide-open saloon and galley on the main deck, where windows and multiple sunroofs draw plenty of salt air and ocean breezes into the area. Like the other boats in the Yacht Class series, the Fifty 6 is offered without a separate options list: It comes fully fitted out for luxury cruising, ready to leave the harbor.

For more information, visit Cranchi.



Jeanne Craig has been covering powerboats since 1988. She spent ten years as a senior editor at Boating magazine and ten more as executive editor at Motor Boating. She's now an independent writer based in Rowayton, Connecticut, where she's close to the cruising grounds she most enjoys.