See more articles
Cranchi Fifty 8 Fly: Euro-styling Meets Volvo-Penta IPS
Pod drives and Italian styling make the Fifty 8 Fly both racy, and roomy.
At first glance the Cranchi Fifty 8 Fly is your typical Riviera rocket, an Italian import with European styling for the fast lane, more sunning areas than you can shake a Hermes bikini at, and just about every luxury fabric and modern system you can imagine. What makes this boat a little different, though, is the power. This is the first flybridge yacht from the nearly 150-year-old yard with a pair of pod drives under the deck, and it's one of just a few boats in its LOA class that's offered with both Volvo's IPS 800 and the more powerful IPS 900.





Flybridge cruisers in this size range are often powered by conventional straight-shaft inboards. By choosing to design this hull around Volvo's IPS drives with forward-facing props, Cranchi can offer yachtsmen a motor yacht that is large enough to comfortably accommodate a crowd (up to 12 passengers) and, at the same time, remains relatively easy to maneuver. Thus, the Fifty 8 (yes, the builder really does spell it that way) is a good choice for those who are sometimes short on deckhands or for owners with average experience—they'll feel confident at the helm.

The IPS 900 can develop 700 hp at the crankshaft, so with 1,400 hp at its disposal, this boat is equipped for swift runs. According to the builder, the Fifty 8 will hit a top speed of 34 knots and cruise between 23 and 24 knots at 1900 rpm. At cruise fuel burn is about 44 gph, and because fuel capacity is relatively light at 528 gallons, range is about 245 nautical miles with a 10 percent fuel reserve. When powered by twin 600-hp IPS 800 diesels, the Cranchi is a knot or two slower at both the top end and cruise but burns a hair less fuel. Both configurations have a joystick as standard equipment.



While on the subject of equipment, it's worth noting that the Fifty 8 comes with almost everything an owner needs to cruise in luxury and style: a hydraulic swim platform, Humphree Interceptor trim tabs, a water maker, teak soles, a wine cellar, and a washer/dryer. You will want to invest in a few key options, though, such as the reverse-cycle air conditioning system. There's an impressive amount of redundancy on the Fifty 8 Fly, too—extra water pumps so you can always take a hot shower, multiple bilge pumps in a single space, and four automatic fire extinguishers in the engine room.

As far as sleeping arrangements go, the Cranchi has three staterooms, including an amidships master with en suite head and queen-size berth. The VIP cabin also has a private en suite head. Also on the accommodations level is a small breakfast nook, the type popularized by Italian builders in recent years.

On the main deck level, the helm and C-shaped settee are forward and the galley is located aft, near the triple glass saloon door that smoothly slides back and opens this space to the cockpit. The cockpit is one of three roomy outdoor areas on board.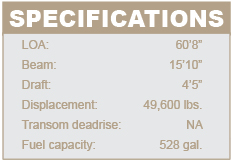 At its core the Fifty 8 is a born entertainer, and that predilection is most obvious up on the flying bridge where there are sun lounges forward and aft along with settees, tables, a wet bar, and grill. By design, many Italian builders arrange the flying bridge as a social space, as the place passengers most want to be just before the sun sets and the hook goes down. By comparison, more traditional American motor yachts place an emphasis on the helm station and use a good deal of the space behind it for stowage and for hauling things around, such as the yacht's tender. That's just not the Cranchi's style—here's a boat that knows the real meaning of social networking, and it has nothing to do with Facebook.

For more information, visit Cranchi.

-Jeanne Craig