See more articles
Cranchi Sixty 6 Flybridge: High Flyer
Cranchi crowns a new queen of the fleet, and flagship of its Yacht Class Series.
The third and largest boat in Cranchi's Yacht Class series, the Sixty 6 Flybridge, is also the newest model from this Italian yard. The yacht made its debut in Genoa, and will have its first public showing in the U.S. at the Ft. Lauderdale show in October 2011, where it will definitely create a lot of buzz.





For decades, Cranchi was best known as a builder of stylishly bold midsize cruisers. Then it launched its Yacht Class series with the debut of a 64-footer that was clearly built to a different standard than other Cranchis. The mission of the Sixty 4, and the Cranchi Fifty 6 that followed it, appears to be "spare no expense," as the yachts come equipped with every luxury system and feature imaginable, from hydraulic swim platforms to satellite dishes and watermakers. The Sixty 6 is equipped the same way, but on an even bigger scale.



"When we unloaded the first Sixty 6 to arrive in the U.S., I jumped up on the ship, cut off the shrink wrap, dropped the boat in the water and drove it to a slip," said Ryan Jacobsen of Yacht Works in Florida, a Cranchi distributor. "To prep it for delivery, we only had to wash it. It was 100-percent ready to go, with more gear than you can imagine, including the electronics suite. Cranchi likes to do all the installations in the factory to be sure everything is done right."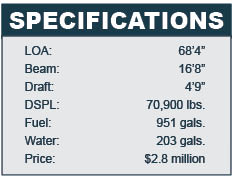 The Sixty 6 Flybridge boasts the same modern, Med-style lines and styling of the other yachts in the series, along with their brisk performance. When powered by twin MAN 1400-hp inboards, the boat will cruise at 29 knots and deliver a top-end speed near 33 knots. As for accommodations, there are four cabins, with a full-beam owner's suite amidships and a VIP stateroom forward.

For more information, visit Cranchi Yachts.

Also see the Boats.com reviews of the Cranchi Sixty 4 Hard Top and the Cranchi Fifty 6 Soft Top



Jeanne Craig has been covering powerboats since 1988. She spent ten years as a senior editor at Boating magazine and ten more as executive editor at Motor Boating. She's now an independent writer based in Rowayton, Connecticut, where she's close to the cruising grounds she most enjoys.