See more articles
Crestliner 1750 Pro Tiller Boat Test Notes
Our detailed notes from this aluminum fishing boat.
Watch the Crestliner 1750 Pro Tiller Video Boat Review

I would not claim to be an expert angler by any stretch, but I do know that no walleye hunter is going to drop a leech on structure using a bait-casting rig, like the one in my hand in this video. A spin-casting set would be appropriate, but I didn't have one on hand to use as a prop at the video site, so consider that "for demonstration purposes only" and accept my apologies for looking like a dork.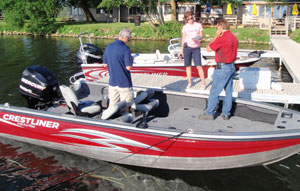 Crestliner makes some significant changes to this boat that don't get discussed fully in the video due to the limited time available. Deadrise at the transom goes from 17 degrees to 12 degrees (note that the larger Pro Tiller models are still 17 degrees). Crestliner says the flatter bottom increases top speed by about three mph. The shallower bottom also moves the deck up a little, and the hull sides were made lower (reducing "freeboard," or the distance from the gunwale to the water), all towards a goal of reducing cockpit depth by three inches, from 25 in last year's model to 22 inches for 2011. The desired result is that it's now easier for the angler to work a rod over the side while sitting in the aft seat, and it's also a shorter reach to the water. The downside, I suppose, is a little less security in really rough water.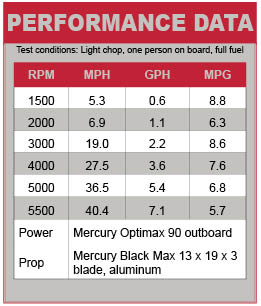 The OptiMax 90 on our test boat weighs 24 pounds less than a Mercury FourStroke 90. With the boat operator in the stern already, this weight savings helps the Pro Tiller get out of the hole. There's still room in this world for a two-stroke outboard.

The max rating on this boat is 90 horsepower, but this same hull with remote controls rather than tiller steering could be rated for about 125 horsepower, according to Crestliner. Power rating is determined by a formula that penalizes tiller-steer boats. That said, I was happy with the performance of this package, and 40 mph with a tiller is clipping right along. But this is why almost all pro anglers run a remote-control boat – so they can get a big motor and go faster.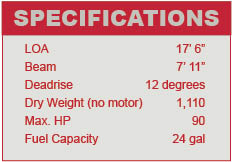 Fishing electronics, the trolling motor, and the stereo on our test boat are options.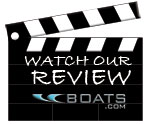 Like most of the V-bottom Crestliner models, the 1750 Pro Tiller features an all-welded, four-piece hull (two panels form the running surface, and two more form the hull sides) which are joined with aluminum extrusions with tongue-and-groove channels, then welded together. The extrusions double as spray rails and the keel. These boats do not have additional welded or riveted strakes, but seem to get on plane and handle just fine. Another construction feature I like are the wide gunwale caps, which are big and stout enough to mount accessories, but also have a very attractive, smooth shape. Crestliner says the caps are extruded in a softer aluminum alloy to get that shape, and then heat-treated for hardness. They also have a "J-hook" groove that secures canvas instead of snaps.

This boat comes with a painted ShorLand'r trailer.