See more articles
Crestliner 1850 Sport Fish Boat Test Notes
Details from our video boat review of this family-friendly fishboat.
Watch the Crestliner 1850 Sportfish Video Boat Review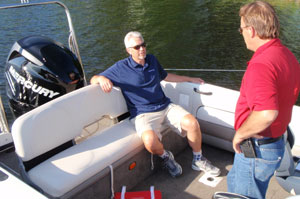 A Mercury Verado outboard always puts a smile on my face. I don't think there's a motor on the market that delivers more mid-range thrust – you can really feel it when you nail the throttle. That holds true for the four-cylinder 150 Verado on this test boat. The boat is rated for a 175, but you don't need to spend extra for anything more than the 150, in my opinion. The Verado does cost $2,600 more than a two-stroke OptiMax Pro XS 150. That would buy a lot of bait.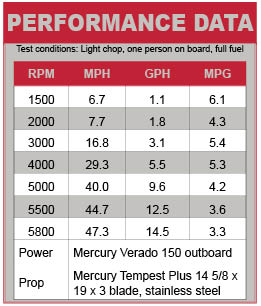 The Verado also comes with Digital Throttle and Shift (DTS), which you really appreciate after a couple of days running other boats with cable shifting. DTS replaces those mechanical cables with a wire that carries an electronic signal from the throttle lever to the computer on the motor. The action is smooth and every shift is perfect. This boat is really set up for family use (that big tow bar on the transom is a $784 option) and DTS is really sweet to have if you do a lot of towing, because it makes it so easy to modulate the throttle.

I was disappointed this boat did not have the optional SST (Space Saver Transom), which is supposed to improve performance while offering more cockpit room and security. Apparently SST is more popular on the 19- and 21-foot Sportfish models.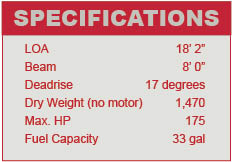 Fishing electronics and the trolling motor on our test boat are options, but the stereo is standard equipment.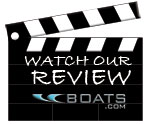 Like most of the V-bottom Crestliner models, the 1850 Sport Fish features an all-welded, four-piece hull (two panels form the running surface, and two more form the hull sides) which are joined together with aluminum extrusions with tongue-and-groove channels, then welded together. The extrusions double as spray rails and the keel. These boats do not have additional welded or riveted strakes, but seem to get on plane and handle just fine. Another construction feature I like are the wide gunwale caps, which are big and stout enough to mount accessories, but also have a very attractive, smooth shape. Crestliner says the caps are extruded in a softer aluminum alloy to get that shape, and then heat-treated for hardness. They also have a "J-hook" groove that secures canvas instead of snaps.

This boat comes with a painted ShorLand'r trailer.