See more articles
Crestliner TC 18: Video Boat Review
Boats.com tested this aluminum panfishing boat and found a versatile, well-made boat just right for a Sunday adventure.

Read Charles' Crestliner TC 18 Boat Test Notes

VIDEO BOAT REVIEW TRANSCRIPT

When we talk about fishing boats, it seems like the big bass rigs get all the glory. They get the TV shows, they got the tournaments, they're running around with big outboards. But sometimes you just want to go out and catch fish, and if your idea of a good time is to go out on Sunday afternoon and fill a bucket with sunnies and crappie, this new Crestliner TC 18 is a boat worth looking at.

Crestliner's been building high quality aluminum fishing boats since 1946, but they're new to this mod-vee market. Now this boat is made with all-welded construction and it's all aluminum—so there's not a splinter of wood anywhere in the boat that can rot. Let's see how it measures up.

FEATURES
The TC 18 is what they call a panfishing boat. What does that mean exactly? When they designed this boat, the forward casting deck is set down a little deeper in the hull. Let's see how it measures. We're about seven inches below the gunwale. On a bass boat it would be almost flush. By lowering this deck it gives you a little more sense of security when you're up here, and drops the center of gravity. That's especially nice if you're gonna be fishing with kids.

One feature I really like on the TC 18 are the seating options that are offered on the forward deck.

Here's a feature I really like on this boat…three positions for the pedestal seats on the bow deck. You can put one seat in the center, like we usually would. But there's also a left and right socket for a seat pedestal that allows you to put two seats up front. Now this is a great setup if you're going to be doing some jigfishing and you want to be a little closer to the edge of the boat. It's also perfect if you're going to be fishing with kids, because it lets you sit up front here side by side with the junior fisherman, ready to help.

When you're panfishing if you're having a good day, you're catching a lot of fish. And you might also keep a lot of those fish. So the TC 18 is equipped with two 22-gallon live wells. We've got one up here on the forward deck… nice step up here, and another live well here in the aft deck. Both live wells are equipped with these pull-out bait buckets.

There's also two storage compartments in the aft deck here, and each holds three of these Plano tackle boxes, so you can keep a lot of that gear handy.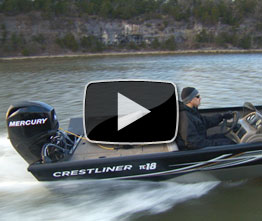 In order to accommodate this forward live well, Crestliner put the rod locker over here on the port side. That's fine, but it also takes up a little bit of your seating space. So we've still got three-across seating, but the bolsters are a little thinner than on some other boats. There's room for two adults and a child here but it's going to be tight for three adult people.

The console is forward and nice and high so I've got great leg room. The tradeoff for that is the way they've rigged this, the steering wheel blocks my view of the instruments.

We're here with Steve Rock from Crestliner Boats looking at the TC 18. Now Steve, one of the features of this boat is it has a pair of 22 gallon live wells. One here in the foredeck, and one aft. Now what's the advantage of that?

Steve: It allows you to keep fish separate. My brother used to always claim fish that weren't his at the dock. And then also just ease of putting fish in the livewell from anywhere on the boat.

Now Steve, both of these live wells are equipped with these bait buckets. Can you keep leeches in these?

Steve, laughing: Yup, sure you can put leeches in there, minnows, crawdads…

All the creepy stuff my wife won't touch.

Steve: That's right, Charles.

PERFORMANCE
The first day of our test I had an opportunity to run the TC 18 in some really rough conditions. Over two days of testing, this Crestliner performed well in a variety of water conditions. Top speed was 36.6 mph. Fuel economy was outstanding. We got 9.5 to 9.2 mpg, from 18 to 28 mph.

WRAP UP
Crestliner has packaged the TC 18 with a Mercury outboard and this custom trailer. The black painted finish looks classy with the contrasting interior. This is versatile, well-made fishing boat.

For more information, visit Crestliner Boats.