See more articles
Crestliner VT 17: Video Boat Review
Boats.com's video boat review of Crestliner's entry into the modified-vee bass boat market.

Read Charles' Crestliner VT 17 Boat Test Notes

VIDEO BOAT REVIEW TRANSCRIPT

Crestliner has been building aluminum boats in Minnesota since 1946, and up in the North Woods it's earned a reputation for building a really premium-quality fishing boat.

Now this company is making a move to a new market, with a line of modified-vee fishing boats that are more popular in Southern states.

The VT 17 is a 17-foot 7-inch bass boat that's all welded and all aluminum. There's not a splinter of wood in this boat to rot. In fact one of the only components of the boat that isn't aluminum is this nice molded console. There's plenty of room under this console for even my long legs, and on the dash we've got a full set of instruments and a Lowrance X-50 fish locator that's standard equipment. On the transom this boat comes with a Mercury 60 Fourstroke engine.

Now yesterday we ran this boat in some really rough water. But as you can see it's a beautiful day today here on Lake of the Ozarks. So we're gonna go out and see how the boat feels on some smooth water.

PERFORMANCE

We ran the boat in a combination of very rough water, and also some very nice glass calm water. In the rough water the boat offered a good ride, and tracked well in any direction. It skipped around a little in the rough water, but that's to be expected with this type of hull.

In calm water it carves nice graceful turns, and handles very well.

Top speed is 35.9 mph. We registered the best fuel economy of 9.1 mpg at 4500 rpm, or about 26 mph.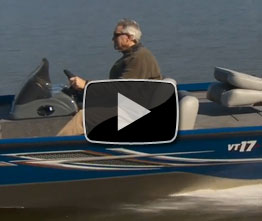 FEATURES

Now on a bass boat the fishing action takes place on the forward casting deck. One nice thing about this Crestliner is that they carry the beam pretty far forward on the bow, which allows the deck to be wider and gives us more elbow room up front.

We've got a big rod locker that will hold a seven and a half foot rod. There's a step up to make it easy to get on the deck, and under that step is a built-in cooler. And here we've got a really big storage compartment, large enough to hold a mooring cover, fenders, all your bulky gear. Notice here they've done a nice job reinforcing the hatch so it doesn't flex.

We're out here on Lake of the Ozarks today with Steve Rock from Crestliner Boats. Steve, one of the features I really like about the VT 17 is the setup you've got for the trolling motor control. Why don't you tell me about that?

Steve: Bass fishermen are on their trolling motor all day, and whether you're seated or standing when the pedal's on the deck it forces you to keep your foot in a really uncomfortable position. So what we've done is we've created a little recessed pocket area that the pedal slips in, and now you can control the pedal at a much more comfortable position.

The other thing that we've done is created two different base locations for your pedestal up at the bow. So for someone who might be a little taller than myself, they're going to be a lot more comfortable in that back position.

We mentioned that this boat is all-aluminum, and when you're shopping for a new boat a hatch like this offers a good opportunity to look under the deck. Notice how Crestliner braces and supports the aluminum decking.

WRAP UP

Doesn't this boat look great in this pretty blue paint? This is a tough, baked-on finish that's going to last a long time, and that's how Crestliner has always built its boats. That quality and an easy price make the VT 17 an outstanding value in this very competitive mod-vee bass boat market.

For more information, visit Crestliner Boats.