See more articles
Crossover 216V, with a Dash of Salt
Correct Craft's new Crossover 216V lets you get the most from living near the coast.
Let's be honest. Tow boats can be somewhat limiting in terms of where you can go boating. Typically, lakes and rivers far from the ocean are about the only places you can use a tow boat. Athough you might have friends who live on the coast, and the Intracoastal Waterway is a wonderfully sheltered and often glassy-calm body of water, most tow boats aren't designed to be exposed to saltwater.





So that means you end up spending your days on the Intracoastal aboard your friend's pontoon boat. Not cool. At all.

Correct Crafts are built in Orlando, Fla., which is near enough to the coast that this dilemma must crop up all the time, and the Crossover 216V Coastal Edition seems to have been built to address the problem.



Even without the Coastal Edition package, the 216V offers an uncommon amount of freeboard for a V-drive tow boat, which makes it better at handling the larger waves that can be present on the Intracoastal. Yet it has all the features you expect in a high-line tow boat. For example, it has a folding tower that tucks behind the windshield when stowed. Tower speakers also can be rotated to face forward or backward. It is available with side-mounted board racks and a clever bimini top with another rack that holds wakeboards and skis up and out of the way of passengers. The bimini drops down in the rear to let you stow and retrieve your boards and skis.



Other cool stuff includes a freshly styled wraparound windshield and a transom walk-through treated with nonskid rubber. The rear sunpad, is divided into two hatches. The starboard hatch, which is accessible from the interior or the swim platform, is a great place to stash ropes and vests. The forward starboard corner of the sunpad houses a nifty little cooler. There is also a built-in cooler beneath the stern bench seat and removable Igloo cooler beneath the port-side lounge.

Beneath the port-side walk-through lies more stowage. The ski pylon also drops out of sight when not in use. No more bruised thighs when climbing onto the sunpad for a little tanning.



With the swim platform, the boat measures 23 feet 2 inches long and 7 feet 11 inches abeam. It carries up to 12 people, 770 pounds in its ballast tanks and holds 46 gallons of fuel, great for long trips along the Intracoastal. A mere 29 inches of draft also is helpful for coastal day-tripping.

What inks the deal for brackish boating is the optional new Coastal Edition package, which provides saltwater protection not normally found in a tow boat. The Crusader Watersports engine is fitted with a freshwater cooling system, which means the saltwater never enters your power plant. But the Coastal Edition package also includes such things as sealed steering cables, a stainless-steel steering tube with lubrication fittings, zinc sacrificial anodes and a tinned copper wiring harness.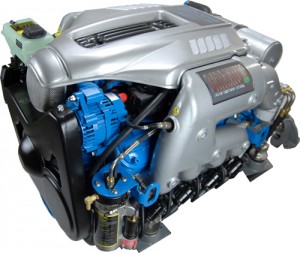 Buyers also can get the new LINC system, which is offered exclusively on Coastal Edition boats. LINC's digital display system integrates the boat's many features and can include cruise control, GPS mapping and chart-plotting, stereo controls and content level of the ballast tanks.

Correct Craft doesn't publish its retail prices. The company instead prefers that customers call 407-855-4141 or visit Nautiques to find a local dealer. And if those dealers are near the ocean, odds are they'll have a few Coastal Editions in stock.