See more articles
Cruisers 41 Cantius: Entertainment Value
Cruisers Yachts expands the Cantius line to include this 41 foot sedan bridge/express cruiser.
The  Cruisers Yachts 41 Cantius got me thinking about self-reinvention. In our culture, there's an awful lot of pressure to transform oneself. After all, who can't be fascinated by stars like Mr. Wahlberg, who somehow morphed from Marky Mark and underwear ads to a major player in Hollywood? Game-changing moves are hard work, but when executed well they equal success, in any industry.





In the boat business, Cruisers Yachts has proven itself adept at the reinvention process. This Midwest company opened shop back in 1953 as a humble builder of lapstrake runabouts. It quickly pushed into new markets (fiberglass the first among them). It also made a few daring moves with propulsion—Cruisers was one of the first production builders to popularize V-drives—and steadily grew its line, which today ranges from 31 to 56 feet.

Most recently, this Wisconsin-based manufacturer took its engineering and design savvy to the next level with the launch of the Cantius line.

The 48 Cantius powered out of the factory in 2011, breaking new ground as the company's first model to combine the climate-controlled comfort of a sedan bridge with the sporty handling and sexy good looks of an express cruiser, all in a package designed to be among the best entertaining platforms in its class. On the heels of that model's success is the new 41 Cantius. It's a smaller and less expensive version of the 48, but it has the same good genes.



At first glance you might make the mistake of categorizing the 41 as a coupe and assume it competes with models like a Regal Sport Coup or Sea Ray's 410. But unlike those cruisers with their three-sided enclosures, the helm deck of the Cantius is surrounded on all four sides, with a three-piece sliding door aft. The addition of that glass wall transforms the helm deck into a saloon of sorts, one with plush lounges and a wood sole that make for a clubby atmosphere.

Thanks to this protected area—and its reverse-cycle air conditioning system—you can kiss your canvas cares goodbye and extend your cruising season by weeks, possibly months. If you're accustomed to running an express-style boat with an open bridge, you might wonder if the Cantius feels confining on a sensational summer day. Not by a long shot. There's a sunroof overhead and an opening section in the windshield, plus large windows that make passengers feel as if they're part of the outdoors even as they're protected from it. All of that glazing makes for good visibility from the starboard-side helm, too.



Cruisers designed the Cantius to be a great entertainer and the potential for social networking is obvious in the deck layout, with lounging areas that are separate but also seamlessly connected. From that enclosed saloon, for instance, you step out into a cockpit with lounges, grill and icemaker, which then leads out to the swim platform. It too is set up to indulge guests. It's more than four feet long and supports a fiberglass console that's both bar and buffet table, and faces two removable pedestal-mount stools. The feature may seem frivolous at first, until you realize the console doubles as a massive lazarette with dedicated stowage for the stools, cockpit tables, fender, lines and more.

The 41 is designed to entertain up to 12 guests by day. For overnighting, there are two private cabins and two heads below. There's an owner's suite with queen-size berth and an impressive 6'9" of headroom, plus a guest cabin with two single bunks that convert to a queen. This guest space also has a vanity with sink that's separate from the head compartment with shower. That's a nice arrangement for a couple, although children will be more than happy here, too.

The galley is also on the accommodations level, and it's unique because it's located just below the windshield. As a result, the space is much brighter than hte shadowy food-prep areas found on more traditional boats.

The captain will take delight in piloting this nimble cruiser.  The 41 Cantius is offered with IPS pod propulsion, so it's both fuel efficient and maneuverable, particularly around docks and especially when wind and current are at odds. The 41 is available with 370-hp Volvo D6 diesels that produce a top-end speed near 35 knots. At cruise, the Cantius will move along at 24 knots and burn about 24 gph for a range close to 269 nautical miles.

Now, if IPS isn't your style, the 41 can also be powered by conventional Volvo diesel sterndrives, which are matched to the Volvo joystick. This is a good choice for those who prefer the trimability, shallower draft, and efficiency of sterndrive power.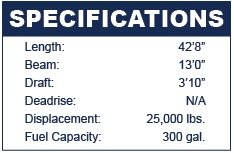 Aboard the Cantius, it's easy to get sidetracked while admiring the thoughtful layout or trailing your fingers over a buttery-soft helm seat. But when you put on the thinking cap of a hardnosed boat buyer, you'll see there are well-done engineering details here, too. The standard 13.5 kW-genset, for instance, provides more than enough power to run most of the appliances and lights while on the hook, and also delivers enough reserve output so that breakers won't blow when the refrigerator compressor kicks on. Then there's dockside power, which is 50-amp rather than the 30-amp systems more common aboard other cruisers in this class. As for air conditioning, three units pump 44,000-Btus—ample power to keep all of the comfortable indoors spaces all the more comfortable.

With its modern propulsion, robust systems, efficient floor plan and crowd-pleasing entertainment features, the Cantius 41 represents the next generation of cruising machines—a power player unto itself.

For more information, visit Cruisers Yachts.

-Jeanne Craig