See more articles
Cruisers Cantius 45: Video Boat Review
The latest model in the Cantius series is the middle child, a 45 foot sport boat with an open layout.




Read Lenny's Cruisers Cantius 45 Boat Test Notes





First there was the Cruisers Cantius 48, a new type of sport boat that brought a whole new attitude to sport cruisers. Then came the Cruisers Cantius 41, a younger newer sibling. Now there's the Cruisers Cantius 45, the middle child. They say that middle children don't like being compared to their successful older siblings, but in this case, the 45 has got some tricks of its own up its sleeve. I don't think it'll mind.

The engine room is usually not the first place you're going to look, but on this boat there are plates on every accessory and every mechanical to identify the units. Even the welds are well done, on the top of the fuel tank where no one usually looks.

The power panel is located right by the door, and it's easy to access.

Performance: With a pair of IPS 600s, we cruised at over 22 knots. And the boat handles well in rough conditions.

A large skylight overhead lets in even more light than all the big windows.

The galley is up in the main salon, not down below.

The mid cabin has lots of room to kick back, and there are loungers for watching TV in comfort.

The forward cabin isn't as massive, but it does have a separate head with a standup shower.

The cockpit has a lot to like, including an electric grill, a sunshade, transom stowage, and a sunlounge.

Up forward there are sunlounges that make me think of only one thing: "Waiter, a glass of Merlot and some lobster tails, please!"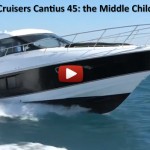 Interview with John Viestenz, Cruisers Production Manager:

Jon: The aft bulkhead was designed so you have light coming in from everywhere. And if you open the door and flip up the aft window, you can join the cockpit and the upper living salon area together.

Lenny: What can't we see?

Jon: The fiberglass liner that runs all the way from the engine bulkhead to the rope locker.

So the Cantius 45 lets you be outside while you're inside. This boat stands on its own merits; you don't have to compare it to its older siblings.

For more information, visit Cruisers Yachts.