See more articles
Cruisers Cantius 45 Boat Test Notes
The newest addition to the Cantius line is sized to fill a gap between the 48 and the 41. Here are some detailed notes from Lenny.
Watch the video: Cruisers Cantius 45: A Middle Child Stands on her Own





Overview: The newest edition to the Cantius line, filling in between the existing Cantius 48 and Cantius 41.

Concept:
-Bring the outdoors into the boat's salon, while connecting the cockpit and cabin into one large entertaining area.
-Enhance natural lighting with 360-degree glass and a huge overhead sunroof.

Construction: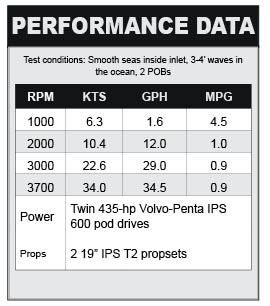 -The boat's structure consists of three main parts, including the hull, deck, and a single-piece liner running from the engineroom bulkhead to the anchor locker.
-Hatches and lids are RTM molded for the most strength and the least weight, most are supported by gas-assist struts, and are hinged with beefy stainless-steel.
-All mechanicals, wiring harnesses, and even individual wires are clearly marked and labeled.

Performance:
-Cruises in the mid 20's.
-Top end creeps close to the 40-mph mark.
-Rough-weather seakeeping is excellent; vibrations and water noise are minimal.

Handling:
-IPS pod drive powerplants make dockside handling a breeze.
-Carves out and leans into turns like a standard deep-V.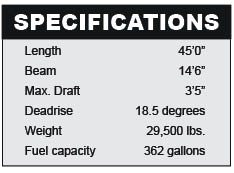 Unique features:
-Mid-cabin stateroom is shockingly large, and in addition to the berth, has a second berth that converts into a settee, plus a third sitting area.
-Natural lighting in the salon is unequalled.
-Aft salon bulkhead window swings open, turning the galley into a cockpit bar.

For more information, visit Cruisers Yachts.