See more articles
Cruisers Cantius 48: Video Boat Review
The Cantius 48 from Cruisers Yachts has stood the test of time, as Lenny Rudow explains.

Read Lenny's Cruisers Cantius 48 Boat Test Notes

A few years ago, when the Cruisers Cantius 48 was first introduced, I reviewed it for YachtWorld. Today, we're here to test it and review it for a video on boats.com. And every time I see this boat it reminds me of just how innovative it is.

At the time, I said that this boat would set design trends that would last for years. Since then I've seen a half dozen boats that tried to mimic this design. The Cantius 48 is the original.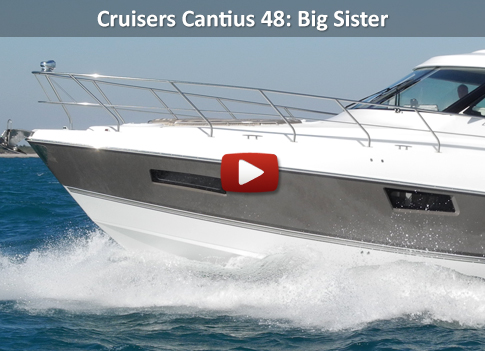 Lenny: So Jon, it's been few years. What's changed on the 48?

Jon Viestenz, Cruisers Production Manager: We haven't changed a thing on the 48.

Lenny: What about owner feedback?

Jon: Yes, but anything that an owner wants over and above our standard or optional features, we handle through a special order request process to meet their needs.

Lenny: So it's almost available on a semi-custom basis.

Jon: Absolutely, yes.

One thing that hasn't changed: 360 degree sunshine, plus a huge overhead sunroof that opens at the press of a button.

Another thing to love is this beautiful table and comfortable seats with ultraleather. Sunshades for every window protect the ultraleather from wear.

There's a wet bar in the upper salon, and a real galley down below. And how many boats have a lower cabin with enough space for jumping jacks?

The full galley has a double sink, two burner stove top, microwave, and an upright refrigerator and freezer with aircraft locking latches. I do wish these plastic latches were a little beefier.

There's also a dinette in the lower cabin. And since the upper area is open, I can sit here and have a conversation with someone seated at the helm, or at the upper dinette.

A day head is right across from the galley, and it's also accessible from the forward stateroom. On the port side of the stateroom is an enclosed shower.

The aft stateroom has a lot to look at. It's full beam so very roomy. There's a washer-dryer, and a separate vanity. It has its own private head with a stand up shower.

On a lot of boats like this, the mechanicals are really buried. But on the Cantius there is easy access to your air-conditioning unit. And under the floor you can get access to the fresh water pump, and the shower sump. And I know exactly what they are because they're marked. Just like every mechanical throughout the boat.

Jon: The transom storage on the 48 was designed to handle 4 12 inch fenders, and all the lines and cleaning supplies needed for extended cruises on a yacht this size. Access it by pressing a button and it goes up on an actuated motor.

Lenny: Wouldn't some owners prefer a garage to carry a tender?

Jon: To accommodate a tender we've designed a high-low swim platform.

The Cantius 48 carries a pair of Volv0-Penta IPS 600s in its belly. Those IPS pod drives make the boat handle wonderfully. We cruised in the mid-20s.

We're running out of time. And we haven't even talked yet about the roomy engine room, the big cockpit lounge, or the outside grill. It's hard to work it all in. One thing that isn't hard? Figuring out that this boat is a real original.

For more information, visit Cruisers Yachts.

—Lenny Rudow