See more articles
2014 Cruisers Sport Series 258: Video Boat Review
We reviewed the Cruisers Sport Series 258 for 2013, and according to Lenny Rudow a few key improvements have made this 2014 model even better.







For more details, read Lenny's Cruisers Sport Series 258 Boat Test Notes

Watch the 2013 Cruisers Sport Series 258 Video Boat Review

Read Cruisers Sport Series 258: Bowrider with Bling



Today we're reviewing Cruisers' Sport Series 258. Now if it looks a little familar, that may be because you've seen the 258 with the extreme package, which we reviewed last year. But today we're going to look at the boat in a slightly different incarnation.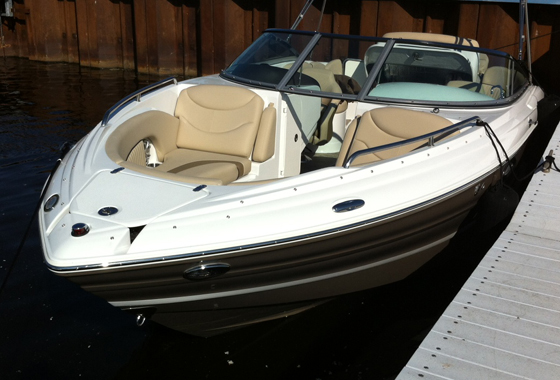 So Jon, tell me what's new about the boat this year.

Jon Viestenz, Cruisers Product Manager: Well for 2014 we took the dash and we enhanced it with a wrapped cowling. We used a material by Diamante, and we ran that right into the shifting cowl to dress up the dash area.

For 2014 we incorporated the new latte colored cockpit seating, along with a platinum seating which is a silver and black. So the two of them together help dress up the cockpits and give them a more elegant look.

Lenny Rudow: You know I noticed from the outside the boat looks really good too. Is something different there?

JV: Absolutely. This particular model that we're on has the classic hull scheme which is a full band with a strip of white or black or red that you can get in this color scheme.

LR: Jon, have there been any more substantial changes made to the boat?

JV: Across all the bowriders, we enhanced the cockpit draining system, so that it drains properly under any load or conditions.

Excellent!

One of the nice features about the Cruisers Sport Series is everything is integrated together. Like this lounge... this cooler, under the seat. Which by the way, when you flip the top up, it stays up for easy access.

The stereo speakers are built into the inwales, and cupholders of course.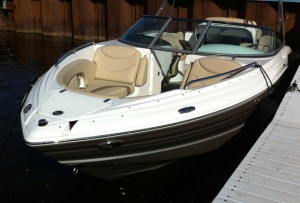 Armrests...

And look at how well the bimini is integrated. Look at this quick release. It's easy to remove, and it's really easy to set up. Boom, all done!

And another great example of integration: look at how the head unit is molded in with the side of the boat and the sink unit, very nice. I do have one little wish here: I wish that when you open the door, there was a rubber stopper so it didn't bang on fiberglass.

When considering this boat, you also want to look closely at the details, because Cruisers sure did. Look at the window, for example. As it opens up, it's grabbed by a magnetic catch that holds it in place.

Now let's look at the ski locker. It locks, opens on a gas assist strut, and look at this great gutter system. Remember Jon talking about working on the deck drainage of the boat and getting all the water out as best they could? This is a great system, it's gasketed, it's got a deep gutter... it's gonna get the job done.

And everywhere you sit, there's a sturdy grabrail.

We tested this boat with a Merc 350 Mag. With that power, we cruised in the mid-30s and hit a top end in the mid-40s.

Note that the 258's hull design includes this notch in the chine. That helps the hull grab in turns and really makes the handling feel great.

Some manufacturers build the same boat year after year. Some manufacturers look for ways to improve their boats year after year. I think you can tell which kind of manufacturer Cruisers is, and if you're looking at a 25 foot bowrider, I think you might want to look at the 258.