See more articles
Cruisers Yachts Cantius 45: Bathe in the Glory
Cruisers Yachts adds a new mid-size Cantius to their line-up, and this boat is more than a mere carbon-copy of the larger (or smaller) sibling.
Cruisers Yachts introduced their 48 Cantius a few years back, and it was unlike any other express cruiser on the market. In fact, it was also unlike any mid-cabin cruiser, aft-cabin cruiser, or—call them what you will—other boats in this size range. In fact, the Cantius was so unique that some of the organizations that classify boats were completely stymied when they tried to label it. Then Cruisers introduced the 41, a smaller, sportier model of similar design, and it seemed like Cruisers had started a new class of boat as well as a new model line. Now, they've gone and created the Cruisers Yachts Cantius 45. Again, those who want to pigeon-hole this boat are going to be frustrated. Because even though it shares the Cantius name, look, and concept, this middle child is noticeably different from its siblings.





From the outside, you'd never know by looking that the 45 is anything but Cantius, through and through. Sure, the transom arrangement is a bit different, with a fore/aft seat that electrically transforms into a sunpad at the press of a button. Yes, that electro-actuated retractable sunshade hiding inside the back of the hard top overhang is new, too. But the lines of the boat still scream Cantius.



Same goes for the engineroom, where you'll find the usual Cruisers construction traits like easily accessible tanks, fittings, and accessories. You'll discover that each and every mechanical item, wire, and hose is clearly marked and labeled. You'll be standing on the same Coremat- and balsa-cored surfaces, and you'll be passing over the same egg-crate stringer/one piece liner system which is bonded with polyester putty and methyl-methacrylate adhesives. In fact, after spending a day on the 45 I found only one thing I didn't like about its construction: the plastic latch on the cockpit refrigerator was on the chintzy side. Beyond that, everything aboard this boat leans towards over-built, as opposed to being merely sufficient.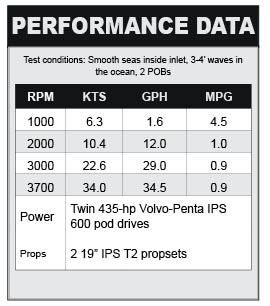 Step into the salon, however, and everything changes. Sure, you're still surrounded on 360-degrees by windows, plus a massive electric sunroof. But the standard wet bar aft/dinette forward/galley down Cantius configuration is gone, replaced by a port-side aft galley that sits against the aft bulkhead. This gives the 45 an indoor-outdoor cooking and dining experience; just swing up the window, and the galley becomes part of the cockpit, separated only by an island counter. Then open up that sunroof and the side windows—all at the press of a button—and you've just succeeded at bringing the great outdoors indoors. Watch for people on the bow, however, when you open those side windows; they stick out into the side-decks, and could present a painful tripping point for someone heading aft.

Naturally, this change in the upper cabin's design also means the lower cabin arrangement is quite different than on the other Cantius models. Instead of a galley-down with a cathedral ceiling, when you walk down the stairs you'll discover a master stateroom with a queen-sized island berth, a built in washer-dryer, and a head. Move aft and you'll be treated to an amazing mid-cabin, which has a mini-settee, a main berth, and a second berth that converts into a pair of recliners. Naturally, they're strategically placed for a view of the swing-out flat-screen TV.



What good is all of this indoor-outdoor space, if you can't use it? None. But the thing that most commonly traps you at the dock – wind – will be less of an issue with the Cantius 45 than it will be with a lot of other boats this size. Part of the reason is the hefty construction, and part is the relatively aggressive 18.5-degree transom deadrise. When we tested the 45 the wind was honking at 20 knots, and the ocean had roiled three to four footers washing across the surface. But eve at wide-open throttle (34.5 knots while turning 4000 RPM), the ride was comfortable and rock-solid. In fact, it was down-right fun to go surfing down the whitecaps and plowing through the moguls. Back at the dock, however, it was even more fun maneuvering into our slip. With just three or four extra feet of clearance between us and the boats on the next dock over plus a stiff cross-breeze, getting in and out of there could have been an absolute disaster; note also that the Cantius's tall profile means it catches a lot of wind. But thanks to the pair of Volvo-Penta IPS 600 pod drives, twisting and turning the joystick to spin the boat in its own length, move it sideways, and jiggle it between the pilings was as easy as playing Pac Man.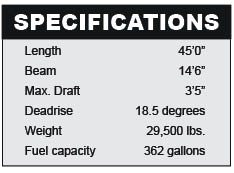 Essentially, this new Cantius design gives you a choice; if you like the Cantius's natural lighting and open-air design but you prefer a galley-up design over a galley-down, the 45 will suit you better than either of its siblings—and when you consider the boat's construction and overall design, it may well suit you better than any of its rivals, too.

Other Choices: Beneteau's Gran Tourismo 44 is a competitor you'll want to check out, along with the Sealine C48. For a more traditionally-styled alternative, see the Hunt 44 Express.

For more information, watch our Cruisers Cantius 45 Video Boat Review, or visit Cruisers Yachts.

-Lenny Rudow