See more articles
Gozzard 31: Cutter for the Cruising Couple
Gozzard 31: Perry Design Review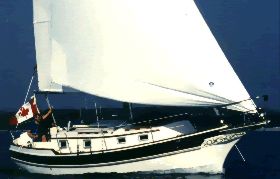 I think it is safe to say that if performance is your prime criteria, you would not be looking at a boat like the Gozzard 31. This little Ted Gozzard-designed hooker has outboard chainplates, weighs 10,500 pounds and has a long bowsprit. But we have discussed the difficulty in defining performance when you apply it to cruising boats. The subjective side of performance can creep in quickly and scrolled trailboards may mean far more to a cruiser than three-tenths of a knot.

The Gozzard 31 has a handsome hull with a D/L ratio of 264. The topsides show some tumblehome and a wide BWL. Beam is generous but not exaggerated. The keel is a long fin with outside lead ballast providing a good grounding shoe. The garboards are hollow, allowing the engine to be mounted quite low with a horizontal shaft angle.

The rudder is small, unbalanced and rather outdated in its general shape. Of course, you could replace this rudder with an elliptical, partially balanced spade on a carbon-fiber stock, but it wouldn't fit the overall picture and the sailor interested in this type of boat is not obsessed by micro-improvements in speed. The rudder is supported with a skeg that is mounted externally. This is an expensive builder's detail but ensures a strong rudder. You won't have to turn your baseball cap backwards when you sail this one, but the hull design is nicely unified and should provide comfortable cruising performance.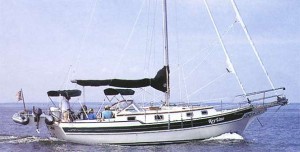 I grew up with the character boats of Bill Garden being a major influence. My doctor had a 42-foot steel Garden gaff-rigged schooner with gun ports painted on the side. Sequin was slow, but to a 14-year-old, the picture was so intriguing that an appreciation of the character type developed that is still very strong in my own current design work. Of the three boats currently on my boards, two have clipper bows. The Gozzard has a handsome sheerline punctuated by a quarter rail and molded-in striping that serves to draw out the lines and sweep the eye along the hull. If this style of design interests you, you might do some research in the old designs of Murray Peterson and L. Francis Herreshoff.

The Gozzard 31 is rigged as a cutter with a big foretriangle to allow plenty of room for both headsails. The shroud base is wide, going to external chainplates so you might try sheeting that yankee inside the uppers when you are pushing to weather. I would guess that with that long bowsprit, the 31 will balance nicely. The mast is stepped on deck and no running backstays are shown. The SA/D ratio is 20.25 and that is enough power to give this design decent light air performance, providing you have a good genoa.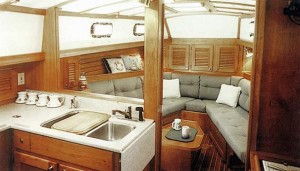 I like this interior. It is clearly designed for a cruising couple with occasional guests. The layout employs some features usually found on bigger boats. The dinette is pushed forward and wraps around to make a very inviting conversation area. The galley is in the widest part of the boat and is adjacent to a large navigation area. There is a shower stall attached to the head with a sliding sink/vanity that pulls out over the head. There is almost a stateroom aft with a large hanging locker. This interior is in stark contrast to the berth-oriented interiors that have been making a comeback lately. Kids could sleep on the dinette settees, but this layout would not work for my family. It is a two-person layout, and a good one at that.

The cockpit has a built-in steering console-table-mainsheet barney post arrangement that will be a convenient place to brace your feet when heeled. There is also a fold-down swim step boarding ladder built into the transom.

There is a fixed windshield option available in addition to stern davits and folding frame Bimini. This is the kind of boat you can dress up. How about a Portuguese water dog on the bowsprit?

Hull construction uses one-half-inch balsa core as does the desk. Exterior and interior trim are mahogany and the interior is built with a GRP liner. A 35-horsepower Westerbeke should punch this 31-footer along quickly. There is tankage for 38 gallons of fuel and 32 gallons of water.

Specifications
| | |
| --- | --- |
| LOA | 36' |
| LWL | 26' |
| Beam | 11' |
| Draft | 4'4" |
| Displacement | 10500 lbs. |
| Ballast | 4600 lbs. |
| Sail Area | 782 sq. ft. |
| SA/D | 20.25 |
| D/L | 264 |
| Auxiliary | Westerbeke W-35B |
| Fuel | 38 gals. |
| Water | 32 gals. |

North Castle Marine Ltd.
197 Huckins Street - P.O. Box 373
Goderich, Ontario. CANADA N7A 4C6
Phone: (519) 524-6393
Fax: (519) 524-9180
Email: gozzard@tcc.on.ca
www.gozzard.com

Find a dealer for this boat.



This story originally appeared in Sailing Magazine, and is republished here by permission. Subscribe to Sailing.