Scheduled for launch just four months after the debut of their new X-43, Denmark's X-Yachts will begin sailing trials of their new X-46 this August in Haderslev, and then present it at the major European shows this autumn and winter.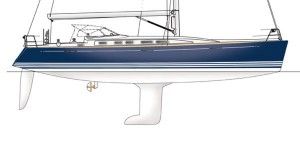 X-Yachts models are known for their very long production life span: the X-412 and X-442 were introduced back in 1990 and 1993, so whenever a new model is introduced, great efforts are put into the project to ensure that the model will meet the demands for quality and performance for many years to come.

In recent years, the involvement with construction of larger models as the X-562, X-612 and especially the new X-Yachts 73 has driven X-Yachts to care even more for the details and carve out a reputation as producer of quality yachts.

X-Yachts has also built a strong and well deserved reputation as a builder of fast racing yachts: the IMX40 and IMX45 have achieved great international success over the last couple of years.

The new X-46 will include features such as: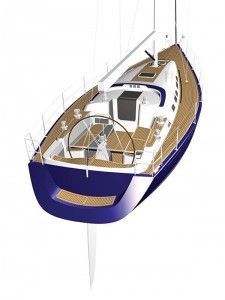 Sandwich construction of hull and deck, steel frame girder, composite keel with low CGF, purpose designed mast and boom sections - all items for optimum sailing performance. Also included are the best deck gear on the market, ball bearing blocks throughout and needle rudder bearings. Safety, high stability and easy handling are key elements ensuring new owners, families and crews enjoyable voyages.

X-46 standard features

Above deck



Recessed spray hood on stainless steel framework


Chrome polished aluminum framed skylights and port lights


Hull recessed port lights and hull recessed sheerline stripe


Rounded off sheer line with teak toe rail


Stainless steel winches


White powder painted mast and boom


Single line reefing system


Deck recessed furling drum for the standard furling head stay


Deck recessed mast control lines


Deck recessed double mainsheet led back on each side to cockpit winches


Deck recessed anchor winch


Teak laid in cockpit and at bathing platform


Below deck


Teak interior using first grade teak veneers


Wooden teak floors with inserted edging decor stripes


Choice between modern or classic, three or four cabin interior versions


Galley counter top in moulded "high tech granite"


Sleeping berths foreseen with battens under the cold foam mattresses for improved comfort


Sky Screen roller curtains/mosquito curtains under skylight in owner's and main cabin


Deep circle gel batteries for the yacht's electrical power consumption


Engine installation with maximized sound insulation with electrical forced air ventilation


Main switchboard with thermo fuses



In addition to the listed details, the X-46 can also incorporate a deck recessed anchor launch system. The 20 kg CQR anchor will be handled by a hinged arm, which is operated by an electrical driven device hiding the anchor below a hatch at the foredeck when not in use, and rising and folding forward when preparing to drop the anchor. This system is normally not seen on yachts under 70 ft.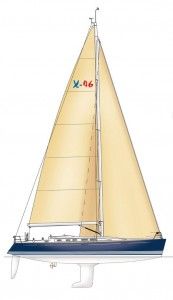 All X-Yachts are built in accordance with the European CE-Certification and meet the requirements of the CE-directive 94/25/CE (category A -"ocean") for recreational crafts. One of the requirements the category defines is that a yacht must be designed to operate in waves of up to 7 m and winds of Beaufort force 10.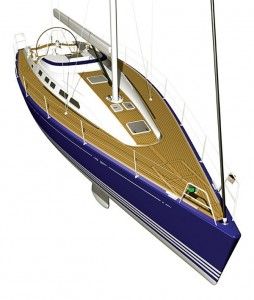 The directive sets a minimum standard for:
Hull and deck strength; structural bulkheads and stringer; keel and rudder and their attachment to the hull; safety and stability; engine and gas installation;
sea-cocks, technical manuals and documentation for all major installations.

The yachts also meet the standards of the ABS (American Bureau of Shipping) Hull Certification that includes the hull, deck, keel, keel attachment to the hull, rudder, rudderstock and bearings as well as bulkheads and frames.

Hull and deck are built in a sandwich construction made up of isolatic polyester resin and biaxial E-glass fabric. Further reinforcements are with positioned biaxial E-glass fabric in high stress areas. Core material is 20-30 mm compressed Divinycell with a density of 100 kg/m2.

Solid laminate is used around keel, rudder and through-hull fittings for maximum strength. The ball check valves for the through-hull openings are chosen to be in durable plastic to avoid corrosion.

The white hull incorporates 3 identical colored waterlines and a single sheer line. The anti-slip at the side decks is white.

The cockpit lockers are fitted with gas struts for easy access and safety.

Hull and deck are glued together using a special polyester resin and bolted together in high stress areas -- pad eyes, genoa tracks.

The X-46 is developed to a very high and modern standard, incorporating features such as a complete deck inner liner, integrated halogen light fittings and complete GRP head compartments including bilge in the floors.

Marine plywood is used, varying in thickness from 12-28 mm, securely bonded to both hull and deck.

The hot-galvanised high-strength steel bottom frame absorbs the loads from keel, mast and rig. It also includes the central hoist attachment.

The keel consists of an antimony hardened lead bulb with a cast iron fin for high strength and low center of gravity. The keel is protected with a layer of GRP and faired with polyester filler for improved effectiveness.



The rudder blade is a sandwich construction made from laminated biaxial fibreglass and 100 kg/m2 Divinycell. The rudderstock is solid aluminum tapered at both ends for weight saving and incorporating three welded wings for improved strength. The bearings for the rudderstock are needle bearings to achieve minimum friction and highest control whereas the lower bearing is of the self-aligning type.

The Jefa steering system consists of a bevel gear box connected via a draglink directly to the quadrant that is securely fitted to the rudderstock.

The stainless steel wheel is 170 cm in diameter with a leather-covered rim.

The X-46 is designed by Niels Jeppesen

Preliminary Specifications
| | | |
| --- | --- | --- |
| Hull length | 14.01 m | 46.0 ft |
| LWL | 12.30 m | 40.3 ft |
| Max. Beam | 4.15 m | 13.6 ft |
| Standard draft | 2.40 m | 7.9 ft |
| Shallow draft 1 | 2.10 m | 6.9 ft |
| Shallow draft 2 | 1.90 m | 6.2 ft |
| Sport draft | 2.70 m | 8.9 ft |
| Ballast - std. keel approx. | 4500 kg | 9921 lbs |
| Displacement std. approx. | 10,400 kg | 22,929 lbs |
| Engine diesel standard | 40 kW | 55 HP |
| Engine diesel optional | 55 kW | 75 HP |
Sail Areas
| | | |
| --- | --- | --- |
| Mainsail | 61.8 m2 | 665.2 ft2 |
| Genoa 1 135 % | 60.9 m2 | 655.5 ft2 |
| Self tacking Jib | 41.8 m2 | 450.0 ft2 |
| Genoa 3 108% | 48.7 m2 | 524.3 ft2 |
| Spinnaker | 155.7 m2 | 1676.0 ft2 |

X-Yachts A/S
Fjordagervej 21
DK-6100 Haderslev
Denmark
Tel. +45 74 52 10 22
Fax. +45 74 53 03 97
info@x-yachts.com
www.x-yachts.com