See more articles
Duffy 42: Used Boat Review
A cruising couple finds this downeast-style single-engine boat a perfect summer home.
Anyone familiar with the used boat market knows that you might start off looking for one thing and end up with quite another. If you're thinking center console, you end up with an express. If you've always had outboards, you find yourself with an inboard. Lifelong sailor? How about a trawler?





Take Doug and Janice Howe. The couple was strolling the dock in Newport, R.I., for a "look-see" at a boat to replace their 36-footer, a twin-engine, modified-vee flybridge cruiser with contemporary lines. They came away the owners of a 1993 Duffy 42, a single-engine, semi displacement Down Easter with an aft cabin and the traditional lines of a husky Maine lobster boat.

"I'd had no experience with Down East boats, no experience with a single-engine, and never had an aft cabin boat before," says Doug Howe, 63, a North Andover, Mass., real estate executive. "We bought the boat — the rest is history."

How do these things happen? In the Howes' case, it was a matter of, if the boat fits, buy it. Start with the aft cabin layout.

"Our boat is our summer home," says Howe. "We're cruisers. We go each season for a week to Nantucket [Mass.] and a week in Maine, and do weekends closer to home. So we wanted a boat with more room than the 36, something with two staterooms and two heads. We often have guests when we cruise, and it's nice for each couple to have their own."

The Duffy's interior — white bulkheads and wood trim, with rounded doorways — had a pleasing, sailboat feel, too. There also was a matter of reputation, says Howe, who has ties to Maine that go back to his college days.

"I didn't know that much about Duffys, except that the word was they were real good boats, ruggedly built and very sound," he says. "There was one at our marina, and it was owned by a tugboat captain, which said something, too. And I had a feel for Maine-built boats."

Other qualities have been revealed with use, says Howe. For example, the aft cabin— quiet and comfortable, well-suited to cruising with company — has been a particular revelation for a couple accustomed to a forward cabin. The large galley down below has proved roomy and easy to cook in, and entertaining onboard — even up to a dozen people dockside — is no problem.

After owning a single-station flybridge boat for years, having twin stations on the Duffy is "wonderful," says Howe. "Obviously, I prefer the bridge for the visibility," he says. "It's a great view from up there. But if it's a lousy day or if it's fall and it's chilly, you can drive from the living room, watching the football game with a cup of coffee. Not bad."

Howe paid around $240,000 for the 42-footer, which he says was "fundamentally sound."



"There was nothing seriously wrong, but it needed some attention," he says. "We did things like adding a full flybridge enclosure, redecorating the interior, and adding a few electronics." The biggest job involved the engine room. The standard 500-hp diesel had been replaced with 750-hp model, which didn't seem to run right.

"It was a larger engine, but with the same engine room ventilation as the 500, and it wasn't getting enough air," says Howe. He tripled the intakes, reconditioned the engine, and the problem was solved.

The 8-cylinder Detroit diesel gives the Duffy a 15-knot cruising speed, running at 1,900 to 2,000 rpm. "I back off a little [from the listed cruise speed], and it seems to run just right," says Howe. "It's a simple, reliable diesel, nothing fancy, no electronic controls. What it lacks in sophistication it makes up for in dependability."

Howe also appreciates the Duffy's semi displacement hull, with its full keel, skeg rudder and protected prop. "I don't seem to pick up those pots in Maine," he says.

As far as seakeeping goes, Howe hasn't tested her in anything severe. But for coastal cruising, and the long passages that sometimes involves, he says the Duffy's ride is hard to beat. "Because it's not a planning boat, it doesn't pound," he says. "It feels solid as a rock."

WALKTHROUGH
The Maine-built Duffy 42 has been built for both commercial and recreational use for three decades, and her Down East roots extend to every part of the boat. A standard single engine propels the "built-down" semidisplacement hull, which has a fine entry with fuller midship sections and distinctly flattened aft sections. There's a full-length keel for tracking and stability, with a skeg and protected rudder to ward off lobster pots and the bottom. Duffy hulls can be either all-fiberglass or cored to the waterline using vacuum-bagging.

Recreational versions of the semi custom Duffy 42 are available in sedan, flybridge and aft cabin configurations, with the galley up or down. In the Howes' boat, the aft cabin entry is on centerline in the cockpit. There's a queen-size berth to port and head to starboard, with a separate shower stall.

The saloon has a port dinette and an L-shaped settee. The lower helm station with nav table is to starboard. Though the galley is down, it's open to the main cabin. Galley gear includes a four-burner electric stove with full-size oven, a microwave and a refrigerator/freezer. The private forward stateroom has a V-berth and standup head-room. The head is adjacent.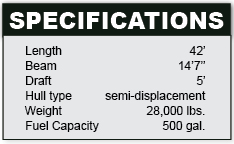 AVAILABILITY
The Duffy 42 can be readily found in the Northeast used-boat market, but the well-known Down Easter can be found as far south as Florida, too. One "very custom" boat, vintage 2000, was listed in the Sunshine State for $595,000, with twin diesels, a 700-gallon fuel capacity, teak and holly sole, oversized saloon with steering station, and such amenities as air conditioning and a standup refrigerator. Closer to the Duffy's roots, a 2000 sedan was listed in Maine for $435,000. The two-stateroom layout features a master cabin with a berth and a second stateroom with bunks, and heads with separate showers. Power comes from a single 660-hp diesel. A 1996 Duffy 42 built for commercial use but convertible to a charter or recreational fishing boat was for sale in Maine at $185,000. The single 800-hp diesel gives it an 18-knot cruise speed, and gear includes a pothauler, heavy-duty snatch blocks and a 25-gallon hydraulic tank. Below, there's a cabin with bunks, a head with a shower, and a small galley with a microwave and fridge.



Steve Knauth is a contributing writer for Soundings Magazine. This article originally appeared in the January 2008 issue.