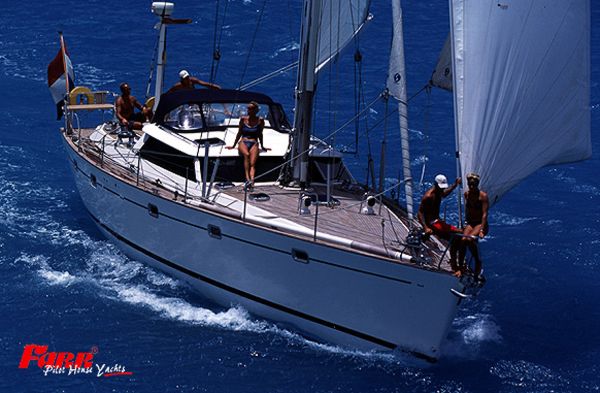 It seemed as though every other boat at the Annapolis Boat Show was some variant on the raised deck saloon concept, with some builders going to fairly outrageous lengths. Views from the saloon through big windows is all well and good, but in some cases it looked as though a smallish greenhouse had been dropped rather unceremoniously onto the deck. You'd either have to keep the back end of the pilothouse open (which many do), pull down some blinds, or run an air conditioner to keep the temperature down below 100F on a sunny day. The heights of the cabins above the deck make many of these yachts look top-heavy, they simply cannot be much fun in a rough seaway.

It takes a good design team to integrate a raised salon into the deckplan without the "greenhouse effect"; Boat Sales International turned to the world's pre-eminent raceboat design team to pull it off. Farr Yacht Designs, headed by New Zealanders Bruce Farr and Russell Bowler, has brought their considerable skills to bear in the line of Farr Pilothouse Yachts. The range includes 50, 56, 60 and 63 footers, and all manage to combine great views with a elegant profile.

The 50 footer is designed to be sailed shorthanded, but can accomodate up to eight persons with either a three or four cabin layout. All the rig controls are accessible from the pilothouse. The designers have managed to combine a warm, cozy interior feeling with expansive views from the large windows. That's no small feat.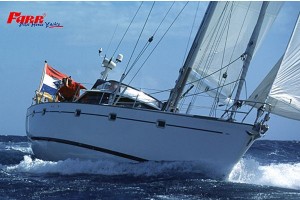 In the three cabin layout version the owners stateroom aft has en-suite heads and the large guest cabin forward, which is of a similar size, also has an en-suite. The third twin or double cabin is placed under the saloon outboard to starboard. Either version provides a good sized day head compartment and a fully equipped galley in the passageway aft of the saloon.

Storage lockers fore and aft are accessible only from the deck. In the case of the forward compartment, this serves a dual purpose: keeping wet sails, dinghies and other gear from being dragged through the cabin, and providing a watertight compartment in the event of a collision.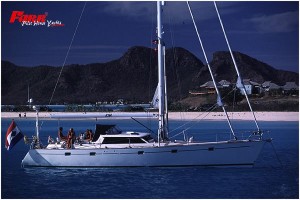 The standard mast is an anodized, keel stepped, three spreader rig from Selden Masts with single in-line lower shrouds and baby stay. A removable inner forestay (cutter stay) is fitted with a manual tensioner. The boom also comes from Selden and as standard is fitted with two reefs, an outhaul and flattener. The Genoa is fitted to a Furlex furling system which has the control led back to the cockpit. Also as standard is the Navtec hydraulic package, controling the backstay and vang from the cockpit.

Many other rig options are available including a fully automated hydraulic furling system for the Mainsail, Genoa and Staysail. Additionally you can specify optional powered winches which will make your Farr 50 truly a push button yacht.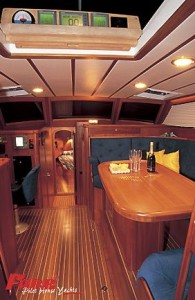 As with most yachts of this size, the interior is 'semi-custom" with a choice of hardwoods available; the standard hardwood is African Khaya mahogany. With an eye towards weight reduction, most non-structural woodwork is veneer over a lightweight core. Countertops and shower floors are in Corian for durability and ease of cleaning.

There's another nice feature about the 50 footer: it sells for well below a million dollars but looks and sails better than others costing far more.

Specifications
| | | |
| --- | --- | --- |
| Length overall | 15.38 m | 50.45 ft |
| Length waterline | 13.37 m | 43.86 ft |
| Beam | 4.70 m | 15.41 ft |
| Draft | 2.30 m | 7.54 ft |

Boat Sales International USA
312 Third Street
Annapolis, MD 21403
Toll free: 877 650 4979
Email: info@boatsalesus.com
Website: www.boatsalesus.com

Boat Sales International Ltd
Hamble Point Marina, School Lane, Hamble,
Hants SO31 4NB, England
Tel: +44 (0)23 8045 7966
Fax: +44 (0)23 8045 7977
Email: enquiries@boatsales.co.uk
www.farr-pilothouseyachts.com