See more articles
Elling E4: Built For Big Water, Big Distance
The Elling E4 is an express trawler that travels efficiently, whether you're running fast or slow.
"Elling owners are more rested people," said Anton L. van den Bos, the bright-eyed director at Neptune Marine Shipbuilding, the Netherlands-based manufacturer of the Elling boat line. "They sleep better aboard our vessels because the engineering makes for one of the quietest semi-displacement yacht designs in the world."





He was talking about the company's 48-foot E4, a proven express trawler design that is just now available for distribution in the U.S. We saw the model at the Ft. Lauderdale Boat Show, where it attracted the attention of serious cruisers. Some of them were intrigued by the impressive sound levels (a luxury-car-like 62 decibels in the saloon at cruise); others were fixated on the boat's distinctive performance characteristics.





With a fuel-efficient single 190-hp Volvo diesel, a 1,500-nautical-mile range at 7.5 knots, and a unique electrically-powered mast that folds down with the push of a button, the Elling E4 seems just right for cruising along inland waterways and under the bridges typically found there. At the same time, its Kevlar-reinforced hull is designed to the demanding CE Category A (Ocean) standard, which means it can stand up to ferocious winds and steep waves. This Dutch-built boat does its offshore work at a nice clip, too, running at a steady 16-knot cruise and topping out near 18 knots.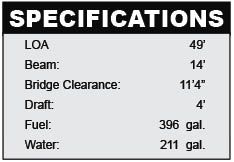 Although this three-cabin/ten passenger boat is a solid choice for the crew planning a long and leisurely Great Loop, the Elling can also fill the bill for the captain who wants to see more blue water. There's a reassuringly sturdy ocean-crossing quality to the E4. It's designed to be self-righting, for instance, and there's a pneumatic seal that inflates around the perimeter of the sunroof to keep water out of the very cozy pilothouse. There are double-glazed windows with multi-speed wipers, as well as an optional wing engine with separate fuel tank for safer sea travel. On the standard equipment list is the flexible Aquadrive coupling that reduces noise and vibration, and makes for a more sound sleep.

For more information, visit Elling Yachting.



Jeanne Craig has been covering powerboats since 1988. She spent ten years as a senior editor at Boating magazine and ten more as executive editor at Motor Boating. She's now an independent writer based in Rowayton, Connecticut, where she's close to the cruising grounds she most enjoys.