See more articles
Enzo 244: Top of the Line Tow Boat
This revised 24-footer from Centurion takes wake surfing to a whole new level.
Centurion debuted its Enzo line of tow boats a few years back, and since then the lineup has undergone continual tweaking and improvement. For 2012 designers extended the 244's cockpit by more than a foot, and threw in a long list of watersports features.





Beginning with the features, the Enzo 244 comes standard with the Gladiator tower and the Quick Fill ballast system, which holds 1,000 pounds of water weight. Centurion says the system fills up in less than a minute and needs no pump. It empties even faster. For tuning wakes, the Enzo 244 features a standard Lenco trim tab mounted in the center of the transom.

For comfort and convenience, the Enzo comes with locking stowage compartments at the transom, a flip-up bolster on the driver seat, and a built-in, self-draining cooler between the driver and observer's cowl. A smoked acrylic drop-in wind dam and snap-in carpeting are included on the standard model, as is the "stainless steel bling bling" package. That's quoted from Centurion literature, which doesn't state exactly what a bling bling package includes…but it sure sounds nifty.



The Enzo hull was built to provide exceptional performance for wakesurfers and wakeboarders, said Sumner Lee, Centurion Boats brand manager. "With the Enzo's deep-V hull it provides a smoother ride than any competitor. With its huge size and extended cockpit, it's big enough to comfortably hold your whole family."

A couple of options might make the checklist for diehard watersports enthusiasts who live in colder climates: heating units can be added to the driver seat, and there's an option for a cockpit heater with twin flexible ducts for directing warm air onto cold passengers. Add a wetsuit or a dry suit to the mix and you can go wakeboarding until Thanksgiving. Another good option to have is the bimini top, something that really should be standard on a boat at this price point.

Base MSRP for the Enzo 244 is $85,700, which includes a dual-axle trailer and Centurion's Pro-Vision II dash system. Almost a must in the competitive high-end towboat market, Pro-Vision II is a digital display that comes standard with rider profiles and speed control, trim tab, and ballast controls. Pro-Vision II also features GPS mapping, water depth and temperature readouts, engine diagnostics, and stereo controls.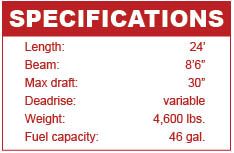 Centurion didn't skimp on power, either. The Enzo 244 comes with Pleasurecraft Marine's 409-horsepower 6.0-liter V8. Based on GM's venerable LS architecture, the ZR409 features "catanium" catalyst exhaust and multiport fuel injection in a compact package that runs on regular fuel.

"This is our flagship boat at the top end of our Enzo line," Lee said. "It is the big daddy of wake surfing, used to tow the World WakeSurfing Championship this past year."

For more information, visit Centurion Boats.

—Brett Becker