See more articles
Everglades 355 T Center Console: Made for the Extreme Angler
With 1,050 of Yamaha horsepower on the transom, a top speed over 60 mph, 31 standard-issue rod holders, locking rod stowage for 12 offshore rigs, and over 200 gallons of fish hauling capacity, the best way to describe this boat is, in fact, "extreme".
I'm hanging onto the back of the leaning post while we blast across a two to four foot Atlantic sea in a 35 foot Everglades at speeds approaching 60-mph, triple Yamaha F350 four stroke outboards are humming out a 1,050-hp tune, and I'm thinking this is one of the hottest center console fishing boats I've been on in years. So naturally, Everglades had to go and top it. My day on their 355 CC was an eye-opener, for sure, but this is a boat-builder that never sits still for long. Now they've come out with the newly-upgraded 355 T, a version designed for the hardest of the hard-core fishers among us. Ready to take one for a spin? You'd better hang on tight.





The 355 T posts a top-end speed of 63.1 mph when running with a light load, and cruises in the mid to upper 40's at around 4500 RPM. The best part about these speeds is that you can do 'em even when the conditions leave most center console owners huddled behind the windscreen, bracing for impacts and ducking spray. Credit goes to both the shockingly aggressive 25-degree transom deadrise (hull deadrise averages 41-degrees) and Everglade's proprietary "RAMCAP" construction method. I hate the name because it sounds gimmicky, but I love the resulting boat: fiberglass is laid around pre-formed foam cores, so they bond together to create a true single-piece monocoque structure. When the hull meets a wave at highway speeds the thump-boom-bang you'd expect is MIA.

After you blast off to the fishing grounds, the 355 T will treat you to just about every offshore fishing accouterment known to mankind. The tackle station aft of the leaning post was designed specifically for this model, to provide a monster-mega built-in tacklebox that can handle the big gear offshore anglers haul out to the canyons, like bowling pin teasers and multi-arm dredges. It has 10 drawers, bulk stowage, four leader spool holders, a raw/freshwater sink, cutting boards, and knife/pliers/tool holders. Want to haul 10 versions of every color pattern for a dozen different skirts and lures? No problem. Fill up the tackle station, and you still have room to hang 40 pre-rigs in the under-gunwale compartments, which also have space set aside for gaff and mop stowage.



Hey—was that a strike? The left short-line popped out of the clip swinging from the end of the standard 18' Taco outrigger? Quick—grab the rod and plant yourself in the gimbaled fold-out fighting chair, which swings out of the back of the tackle station. Yes, this is the only center console around that sports a built-in fighting chair. Need to fight stand-up style, as that hot billfish zings from starboard to port in a fraction of a second? There are 155 square feet of fish-fighting space in this cockpit, so you have plenty of room to do your battle-dance standing up, too.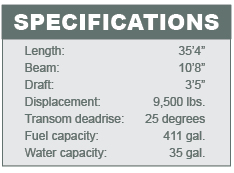 Of course, no boat is perfect. And even though the Everglades 355 T is arguably one of the best center console fishing machines produced anywhere on the face of the planet, owning one has a major down-side: It'll cost you more than a new Lamborghini Murcielago. Literally. Depending on how it's rigged, price can go from around $320,000... and up. If you can live with that, fine—I know I could stand to—but some people are sure to balk at dropping so much cash on a 35-footer, even if they can afford it.

At least, they might until they find themselves fighting from that built-in chair, rigging on that tackle station, and blasting across the Atlantic at over 60 mph. After those experiences, all bets are off.

For more information, visit Everglades.