See more articles
Evinrude E-Tec G2: First Look Video
Here's a quick video close-up of an all-new Evinrude E-Tec G2 outboard.
According to the boats.com Outboard Expert, Charles Plueddeman, "BRP loves design and creating products that offer an element of surprise, and in that regard these new Evinrude outboards do not disappoint." The new engines have been rebuilt from the ground up, with a new profile, new midsection, new gearcase, and 5 years of maintenance-free running. Here's a quick video from the product launch: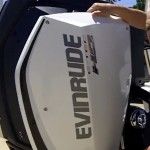 Once you watch the video, get more details by reading the full story: The Outboard Expert: New Evinrude E-TEC G2 Outboards

When can you see one yourself? According to Charles, "BRP expects these new Evinrude motors to be in production by late summer, reaching dealers and boat builders in time for the early boat shows. No pricing is available at this time."

For more information, visit Evinrude.