See more articles
Farr 50 Pilothouse
Farr 50 Pilothouse: An offshore passagemaker with long legs and a restless spirit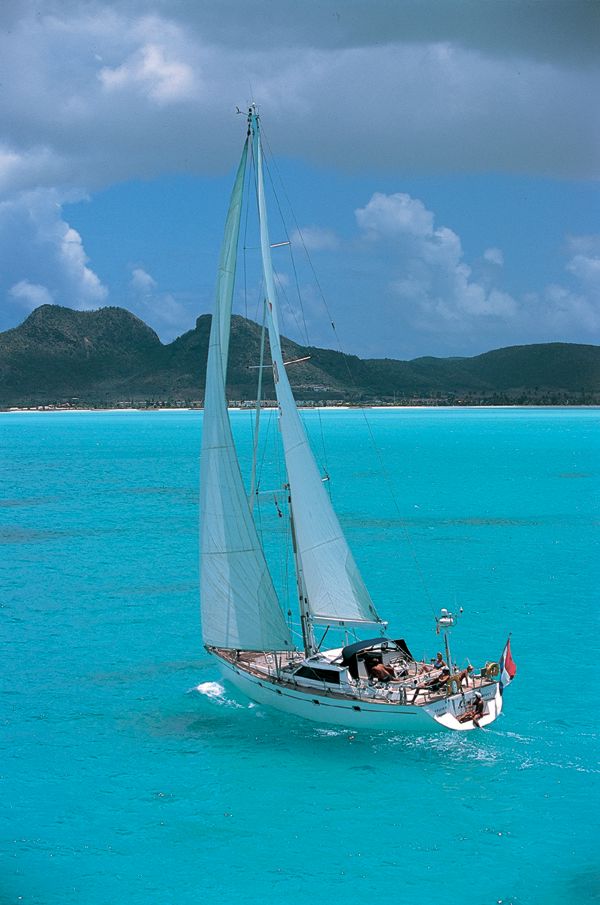 Let's face it. As some of us get older and better able to achieve our blue water dreams, we want room and creature comforts that previously had been relegated near the bottom of the priority list. Because of this phenomenon, a larger platform is needed to house this stuff. Forty-five to 55 feet is, in our estimation, an ideal size for passage making, and the Farr 50 falls precisely in the middle of this range.

The pilothouse arrangement of the Farr 50 has great merit for voyaging, creating a secure, dry and warm space with great visibility that is easily accessed from the cockpit while under way. At anchor, it may be best described as a raised saloon, which not only has terrific visibility, but also is well separated from the sleeping quarters and galley. Boat Sales International in Hamble, England commissioned Bruce Farr & Associates to design the Farr 50 to be built by Sweden's Najadvarvet AB.

Hull Design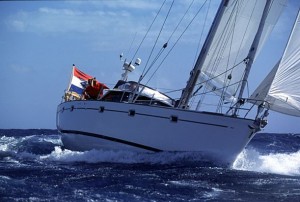 A longtime trend has been to apply the test-bed knowledge gained from cutting-edge offshore racer technology to passagemaking design. Beginning with the IOR yachts of the 1970s and now the current batch of IMS speedsters, the pattern has been to form stable, easily-driven hull shapes with simple, uncluttered deck arrangements. These hull shapes also have a distinct advantage for blue water applications in that they have tremendous interior volume for accommodation and stowage purposes. However, the rub is in not trying to make the vessel too light, and be unable to carry adequate stores for extended voyaging.

The Farr 50 offers a light, but not extreme, hull, which can carry the stores, fuel and water needed for distance sailing. However, the lessons learned from the a long series of successful IMS racers, luxury cruisers, past Whitbread boats, and the current Whitbread 60s guarantee that the Farr 50 Pilothouse will be an exciting yacht to sail. Her larger sister, the Farr 60, which is currently in production, exhibits great sailing abilities on all points of sail.

Clearly, the fine sections forward with corresponding flat panels indicate that she may tend to pound a bit upwind, which is a negative feature of many modern designs. However, most of us do not plan an upwind voyage, so performance with sheets eased, where we spend most of our time, is important, and this is obviously the Farr 50's strong point.

A shallow hull with broad, flat sections aft will give great reaching speed and control. With the wind well aft, she will come into her own. However, one problem with shallow hulls like this is that a very small amount of water in the bilge seems like an ocean. Farr overcomes this with a sump at the keel stub to create a spot for the water to accumulate.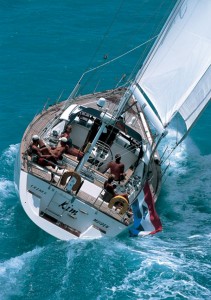 Aside from hull shape, control is achieved with a deep, high-aspect rudder that has clearly been developed from many of Bruce Farr's successful racing designs. The high-aspect keel with bulb keeps wetted area low, yet provides good stability with a 35 percent ballast/displacement ratio. In light air, we would expect to see better than average performance due to her sailplan and semi-light displacement. When the wind pipes up, her form stability, low-slung ballast and efficient rudder will provide great control. It is important, however, to keep designs of this nature sailing upright and not over on her ear.

We do have two concerns with the underwater profile, though. The rudder, while obviously very effective, is nearly as deep as the keel and is, thus, susceptible to damage from grounding. We would also like to see some form of skeg to provide a second bearing point and not be 100 percent dependent on the rudder-post for strength. The underwater profile of the Farr 50 does not show a lot of lateral plane, which will make her less able to properly heave-to, putting her more beam-to the wind and allowing the boat to make excessive leeway. Certainly, the intent is to design a hull that will sail as well as possible, not one that will heave-to as well as possible, but having been out there when lateral plane was an asset, we would like to see a bit more of it. Also, the draft of 7 feet 6 inches will prohibit certain cruising grounds.

Accommodation

The interior of the Farr 50 has definite pros and cons, which is no surprise. The pilothouse has great merit under way because of the truly protected area directly adjacent to the cockpit. Here, a proper watch can be stood with the entire nav area at hand. The large pilothouse windows allow great visibility, but may need storm shutters for offshore work. Permanent fasteners for them should be molded into the house. Numerous manufacturers of designs with large windows some with compound curves have had problems with leaking due to thermal expansion and contraction, and this area should be monitored closely. However, a reputable yard like Najad will probably have worked out the bugs with the large windows, using resilient sealants and window frames that allow contraction and expansion.

The sculpted settee is great for dining, but we would like to see an arrangement that would allow a berth in the pilothouse for an off-watch crewmember on standby. Existing berths below are quite removed from the cockpit; whereas, if one could sack out in a sea berth in the pilothouse, this would lend some peace of mind to the helmsperson in heavy weather. At the very least, the raised saloon table and settee could be retrofitted with a leeboard to create a serviceable watch berth. We also note the lack of any wet locker near the cockpit, forcing crew coming off-watch to slog through the boat to hang up wet gear. In port, the pilothouse becomes a terrific living space, close to the galley and providing a great view of that long dreamed of anchorage.

The elevated pilothouse creates a logical space under the sole for engine and mechanical systems. However, on a 50-footer, one would expect to have a more generous space dedicated to equipment that requires frequent maintenance. It is difficult to envision just how the access is achieved on the port side of the engine, which looks very hard to get at indeed. Three heads are a lot, and more common on a charter boat than on a blue water passagemaker with small crews. Why not use that volume for extra stowage?

With centerline double-berths fore and aft, the accommodation plan suggests to cruising scenarios: (1) for two-couple coastal cruising or (2) for a single couple voyaging in anticipation of guests joining them at most every landfall. In the first case, we hope that an alternative arrangement offers two single staterooms foreword in the event crew or visitors are not inclined to sleep together. For instance, a couple with two children would opt for two singles forward. In the second case, the upper-and-lower berth tucked into a small cubby on the port side will be used by the solo couple while at sea, and the forward double, sharing the same head, will be used while in port. Our experience with small upper-and-lower berth cabins is that ventilation is a big issue, but clearly good sea berths are essential, and the centerline doubles do not work well (except perhaps with a bundling-board arrangement down their middles).

The galley — a modified L — appears to be most seamanlike, with not a lot of room to be thrown around in a seaway and places in which the cook can wedge himself. However, we'd have a galley belt and padeyes to keep us in front of the range and sinks in heavy weather.

We see the classic dilemma, here, of trying to have a full-blown, live-aboard arrangement while at the same time incorporating vital offshore features. Fifty feet is a squeeze for both, and what we have here is a major compromise to achieve both.

Cockpit and Deck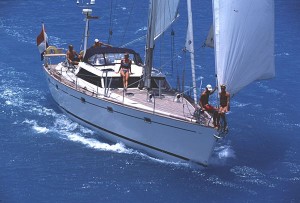 As with all designs, the deck affects the interior, and the interior affects the deck arrangement. We see this in the cockpit, which appears quite shallow to allow more headroom in the aft stateroom. While this in itself is OK, it does put the centers of gravity of those in the cockpit well above the coaming, and the seat backs become short, catching you in the small of the back. We spend a great deal of time in the cockpit, and it should be as ergonomically designed as the rest of the boat. It looks like a raised seat or hump for the helmsman will be needed to comfortably sit behind the wheel.

The mainsheet is behind the cockpit, so a Bimini can be rigged for the tropics and the sheet is handy to the person steering. A low dodger should be fitted to provide additional shelter behind the pilothouse. While there is good deck storage on the aft deck, it is non-existent in the cockpit again a concession to the interior plan. However, sail storage in the forepeak is sensible, and it appears there is room up there to stow a lot of other lightweight gear. A windlass fitted in the well forward keeps the entire foredeck clean and easy to move around on.

Construction and Rig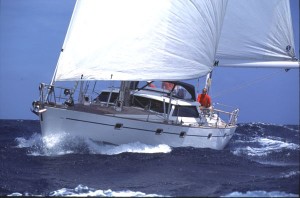 As with the Farr 60, construction is by Najad in Sweden, a well-respected Old World builder. We expect the quality of finish to be exceptional. Balsa is used above the waterline, but the layup is solid below the waterline, which will give as much protection as a fiberglass hull can provide should grounding occur. We are a bit concerned that, in the event of a hard grounding, the rather short root of the keel where it attaches to the hull (combined with the molded keel stub) might be a weak point. We would like to see a slightly larger keel attachment area. As previously mentioned, the freestanding rudder is also a concern, both due to its deep draft and lack of supporting skeg.

The rig is simple and straightforward with a removable inner forestay. While many voyagers like to retain a hank-on capability, we would consider fitting a second roller-furling unit on the inner stay so that a variety of sail combinations can always be set with the crew off the foredeck when reducing sail. In-mast furling would also simplify reefing.

Blue Water Thoughts

We feel that lighter displacement is the wave of the future in blue water boats, so with this in mind, the Farr 50 is very attractive. We all like to make fast passages, and when in the company of other boats going in the same direction, the competitive juices begin to flow, sheets are tweaked and concentration becomes intense. Without a doubt, the Farr 50 is a great sailing boat and well built to take the rigors of the ocean. Daily runs in the 200-mile range will be the norm, making for fast passages and exciting sailing. Additionally, when dealing with dicey weather patterns, the extra speed can make a huge difference when trying to avoid bad weather. A small crew can easily handle her, yet she has very comfortable accommodations for guests when at anchor. Her draft does limit her ability to explore thin water, but this is a key ingredient in her upwind performance.

All in all, the compromises needed to blend offshore sailing features with living aboard comforts have been dealt with very well. If the designers and builders offer some latitude for personal preferences in the arrangement, this may well be an ideal passagemaker for many offshore sailors.

Specs: Farr 50
| | |
| --- | --- |
| LOA | 50'6" |
| LWL | 43'11" |
| Beam | 15'5" |
| Draft | 7'6" |
| Ballast | 13,200 lbs. |
| Displ. | 37,400 lbs. |
| SA | 1,238 sq. ft. |
| B/D | 35% |
| D/L | 197 |
| SA/D | 17.7 |
| Fuel | 225 gals. |
| Water | 156 gals. |