See more articles
Best New Fishing Boats Under 25K In 2021: Affordable Fishability
We have cherry-picked the best fishing boats in the affordable bracket. All ten boats are strong contenders for anybody looking for budget friendly fishing boat.
If you're on a budget and looking for the best new fishing boats in 2021 that will get you the most bang for your buck under 25K in terms of fishability, here's a list for you to consider.

1. Mako Pro Skiff 17 CC
2. Element E18
3. Carolina Skiff 162 JLS
4. Robalo R160
5. Boston Whaler 130 Super Sport
6. G3 Gator Tough 18 CC
7. Lund Renegade
8. Tracker Pro Guide V16 SC
9. Lund Angler
10. Lowe FS 1700

What Do You Want From A Fishing Boat?

Fishing features on a boat that are a prerequisite for any angler include these three basic features:



Storage: An abundance of storage for fishing accessories and fish storage (rod holders, rocket launchers, tackle stations, livewells and fish boxes)


Fishability: Space to move around the boat for casting (wide passageways, ample casting decks, minimal places for lines to get snagged or tangled)


Power: A reasonably powerful engine to enable anglers to zoom from one fishing spot to another quickly and efficiently.



Virtually all new fishing boats in 2021 offer additional 'nice-to-have' features that are possible to add on when you are ordering your boat from a dealer - such as a circulating livewell, premium bait prep stations, high performance engines, retractable shades, advanced electronics (fish finders and chartplotters), premium upholstery, wide windshields, insulated coolers and refrigerators, in-console marine toilet/head, dive and transom doors, etc. All of these add-ons are designed to make your fishing experience more comfortable and enjoyable. Depending on your budget, you may choose to upgrade the add-ons in installments.

Fishing Boats: Aluminium or Fiberglass?

Consider whether you would prefer a center or side console and prefer to opt for either an aluminum or fiberglass hull.Anglers tend to overlook aluminum fishing boats. But they're less expensive, easier to tow, and require less power (which means less fuel) to operate. The biggest complaint about aluminum is that it doesn't look as good as fiberglass. Historically, this has been the case, but these days modern baked-on enamel paint jobs have seriously changed their look and finish.

Affordable Fishing Boats: Our Top Ten

Here we've researched and rounded up ten of the best budget-friendly, new day fishing boats in 2021 that tick the anglers requirement list, cruise well and are well regarded among the fishing community. Our ten top-rated affordable day boats for fishing boats won't break the bank, as we've chosen a price point of $25,000 or less. If you're able to finance a boat loan, these vessels can be quite reasonable for many families. So have a look and get shopping for these fishing boats so you can enjoy more memory-making days out on the water with family and friends.

Mako Pro Skiff 17 CC

The 100%-composite MAKO Pro Skiff 17 CC is a best selling model because it packs in a massive amount of fishability into a nimble, modest package. The fiberglass-infused transom with high-density composite core is exceptionally robust. The Advanced Inverted V (AIV) hull design provides a quick holeshot (which is not also the case with fishing boats), and a smooth, dry ride with great maneuverability. It's ideal for all types of inshore fishing. It offers 360° fishability. If you want a solid boat that you can rely on, this is the strong contender.



Some of the standout fishing features that make the MAKO® Pro Skiff 17 CC standout include a raised bow fishing platform with a non-skid surface & lockable storage compartment, 5 vertical flush-mounted console rod holders, bow & aft casting decks with lockable storage in the bow (including an anchor/cast net locker), a removable foam-filled helm seat, a cooler with superior ice-keeping ability, and a high-speed baitwell water pickup.

Starting at $24,000 USD.

Browse Mako Pro Skiff 17 CC boats for sale right now on boats.com.

Bayliner Element E18

The Bayliner Element E18 is an all rounder, it's a bowrider deck boat that is great for watersports but you can also throw at fish from her spacious cockpit making a workable fishing boat as well. Thanks to a 115 HP outboard she can cruise at fast enough speeds to get you where you want to fish quickly, or if you choose to do some skiing or wakerboarding while you're out there, even better. Here you have a real "fish and ski" type of boat that is comfortable as well as fishable, even if that isn't her main focus. We would recommend upgrading to hydraulic steering to optimize steering control.

The M Hull design incorporates a deep central vee with sponson-like outboard vee's along each chine. It's a great design for a day boat because the side walls are cleverly extended outwards to maximize the interior space.

Its sociable layout is perfect for family day trips, comfortably seating up to nine guests. The split swim platform is positioned so that it angles away from the outboard to provide more space on board the craft. This pocket rocket is the perfect entry price point, allowing more budget-sensitive boaters a chance to enjoy the water.



Starting at $21,108.00 USD.

View Bayliner Element E18 boats for sale on boats.com today.

2021 Carolina Skiff 162 JLS

A powerboat built by Carolina Skiff, the 162 JLS is a center console vessel that is ideal for fishing due to her simplicity and uncluttered layout. Carolina Skiff 162 JLS boats are typically used for both freshwater fishing and saltwater fishing and can make nice day cruisers as well when needed. The 162 JLS safely fits up to four people and is rated for 90 horsepower.

These boats are built with a fiberglass modified-vee delivering a smoother, more comfortable ride for everyone onboard. The Caroline Skiff provides easy handling and maneuverability, versatility in bays, creeks, rivers, and beyond. The 162 JLS comes equipped with diamond-pleated upholstery, stainless steel hardware, molded-in storage compartments, a 18-gallon livewell. There is also a 3-step telescoping stern ladder that makes getting in and out of the water easy and safe.

Add-ons available include hull color upgrades, maxi flow recirculation system, AM/FM bluetooth radio with USB, iPod and AUX Plugs, and a Bimini top to name but a few.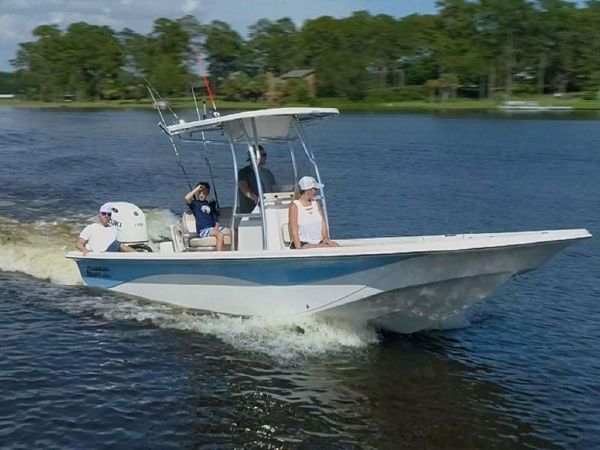 Starting at $18,972.00 USD.

Browse Carolina Skiff 162 JLS boats for sale on boats.com today.

Robalo R160

The Robalo R160 is a mini yet remarkably somehow still spacious center console that is perfect for plying calmer bay and inland waters in search of your favorite fish species. And because she feels so roomy, it encourages people to move around, despite her compact size. The boat comes with an abundance of insulated stowage, demountable icebox, and upholstered seats which lift to reveal the plumbed live tank. A sextet of rod sockets is a nice touch for anglers. The windscreen is a welcome addition to protect you from the elements.

The sturdy fiberglass hull comes with a ten-year hull warranty. The medium 15 degree deadrise is enhanced by the 'Hydrolift' multi angle bottom with extended V-plane. It has good sea handling skills and stability. When you are cruising in the Robalo R160 you can feel assured that you're in safe hands.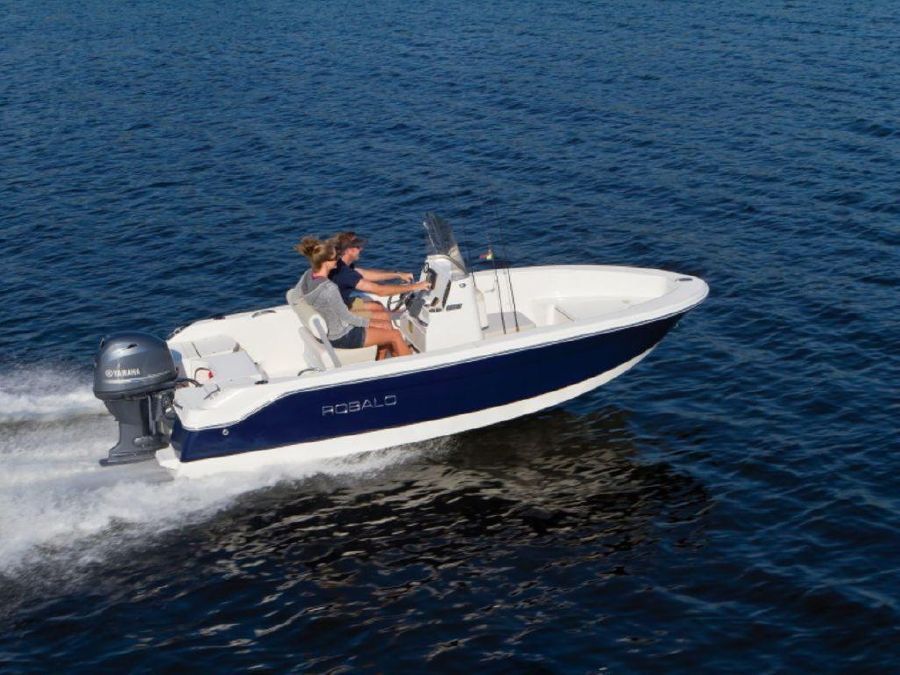 Above: The 2021 Robalo R160 is a small, easy to handle center console that makes a great entry level starter boat for fishing and fun. Photo: Robalo Boats.

Starting at $23,495 USD.

Browse Robalo R160 boats for sale right now on boats.com.

Boston Whaler 130 Super Sport

The old adage 'good things come in small packages' rings true where the Boston Whaler 130 Super Sport is concerned. She can carry a maximum of four people and features a nice side console helm station for driving in comfort. The boat also has a lockable storage compartment, 12-volt power socket, two drink holders, a stainless steel steering wheel and side-mounted engine throttle box along with a removable cooler/ice box to name but a few of its features.

At the aft there is enough space to stand and fish from the stern of the boat. Two optional rod holders affixed to the side rails, cockpit drain plug and a telescopic boarding ladder are nice features. She handles the water like a larger boat, yet her size makes her nippy and nimble. Her acceleration is not particularly quick from a standing start, but once the boat is up and running on plane she has ample power. Although slightly more expensive than comparable models, this boat is well built, finished and outfitted nicely. Perhaps most importantly, she is immensely safe and seaworthy. Plus she can reach top speeds of up to 31 mph so you can get to your fishing grounds and back quickly!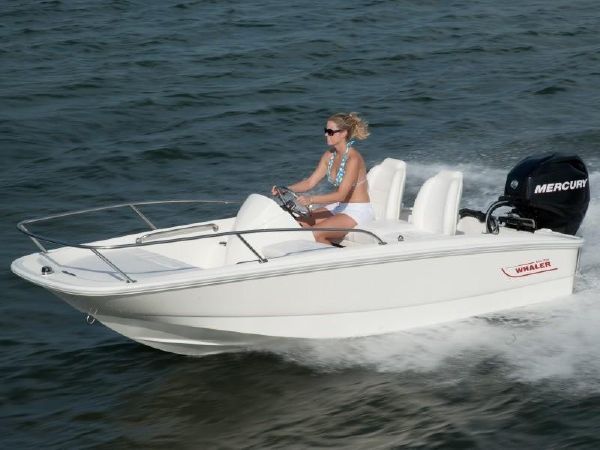 Boston Whaler 130 Super Sport. Image credit: Boston Whaler

Starting around $16,000 USD for a base model.

Browse Boston Whaler 130 Super Sport boats for sale on boats.com now.

G3 Gator Tough 18 CC

The G3 Gator Tough 18 CC is "breaming" with fishing features (see what we did there?) and includes a 16-gallon livewell, vertical console rod racks and a raised forward casting deck, plus more. The camo finish and low draft look stylish, making her the type of boat Crocodile Dundee might be seen cruising around on in the outback. The aluminum hull is light and super sturdy and can take a beating. The console is constructed from fiberglass- allowing her to come in at the lower end of the affordability budget on our list.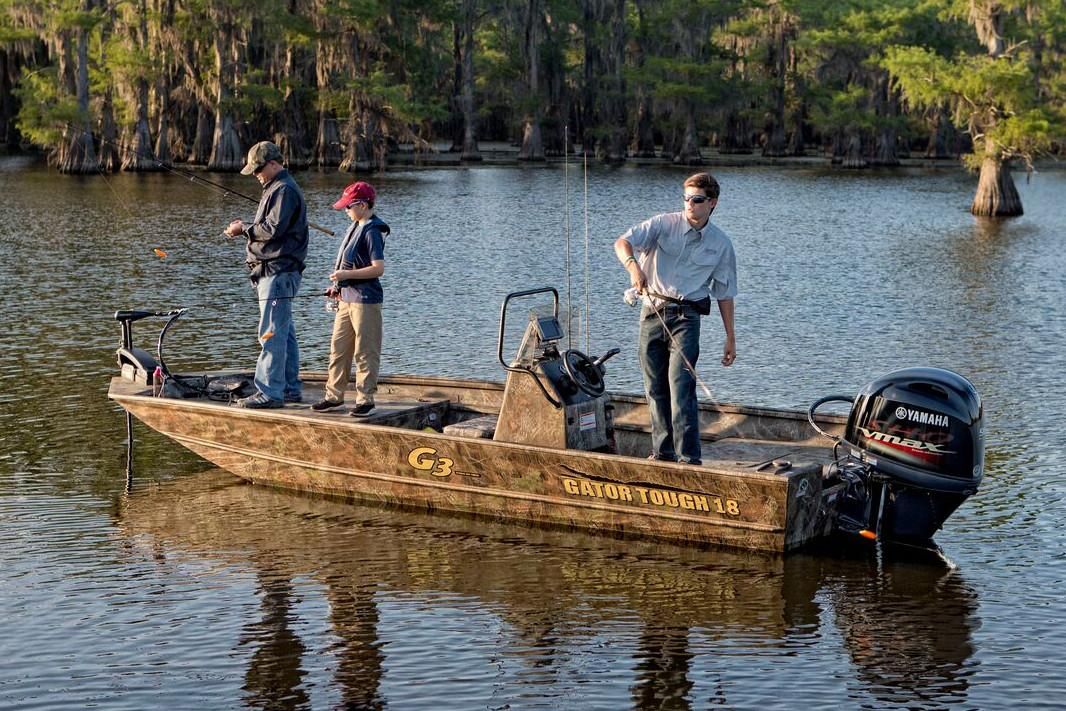 Starting at $18,929 USD.

Browse G3 Gator Tough boats for sale on boats.com today.

Lund Renegade 1775 Impact XS Sport

When you imagine a boat dedicated to family fishing, this is what you get. The Lund Renegade includes a center rod locker, two livewells, large casting decks and even a ski pylon options for family fun. There's even a boarding ladder and rear flip seats to accommodate family and friends.
Lund's aluminum hull design features a pronounced center keel which provides impressive stability and durability.

Serious anglers will want the available bait well, mounted on the deck surface- a worthwhile upgrade.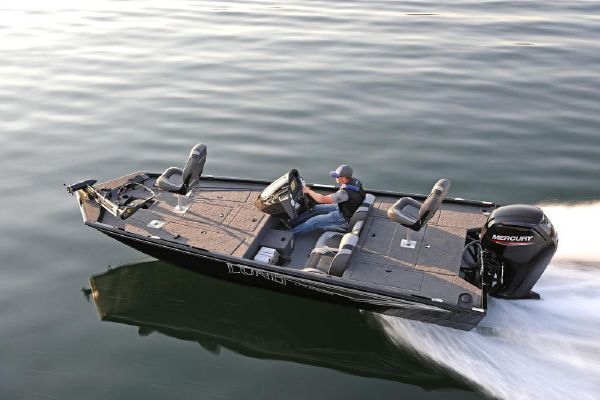 Above: A 2021 Lund Renegade 1775 Impact XS Sport boat powering across a lake at high speed. Photo by Lund Boats.

Starting at $20,897 USD.

Browse Lund Renegade boats for sale on boats.com right now.

Tracker Pro Guide V16 SC

The beauty of aluminum fishing boats is that they are low maintenance. This 16' side-console boat is designed specifically with anglers in mind. Buy it with 25 horse Merc and you can cruise comfortably at 20 MPH, while topping speeds around 25 MPH. We recommend upgrading to a much larger outboard, enabling you to cruise in the upper 20's and a top-end in the low to mid mid 30's.

The Tracker is well rigged, with a 23-gallon aerated/divided livewell in the bow, two locking eight-foot rodboxes, rod hold-down straps, a 12-V 42-lb thrust Minn Kota electric trolling motor, two pedestal seats, and six seat pedestal bases. You can add Versatrack mount-kits with items like rod holders, downrigger brackets and cutting boards. The boat includes a standard fishfinder, but it's a Lowrance Elite 3x, which is a beginner's unit. Any halfway serious angler will want it upgraded to at least an Elite 5 HDI.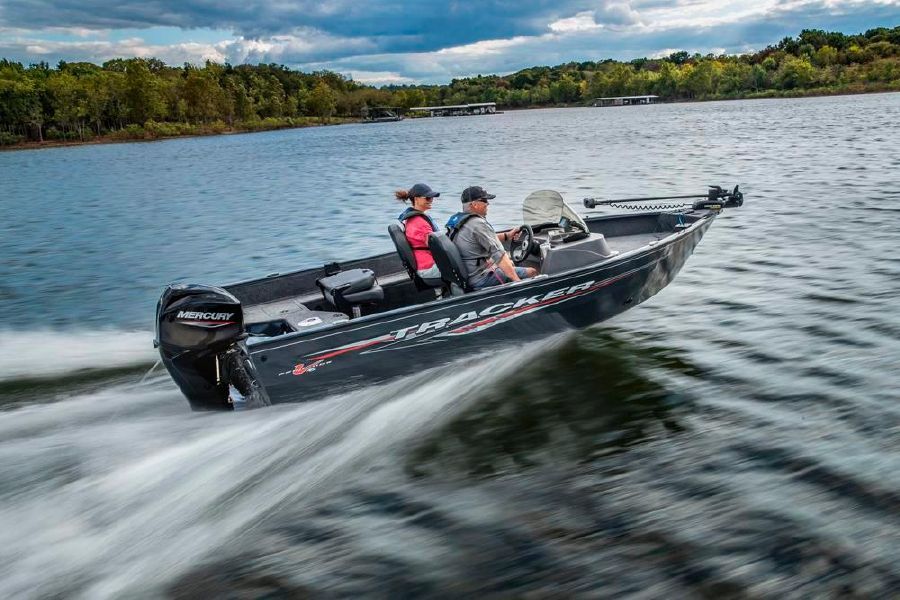 Tracker's "NO HAGGLE NO HASSLE"" National Price: $20,995 USD.

Browse Tracker Pro Guide V16 SC boats for sale on boats.com today.

2021 Lund Angler

If you're looking for the perfect aluminum fishing boat the Lund Angler has everything you need for angling success. The Lund Angler is a powerful 16-foot fishing boat with a full side console, a spacious cockpit and a 50 HP Mercury engine.

The Angler features include two side rod lockers that hold a maximum rod length of 8' 9", a 16-gallon bow livewell, and four bow storage compartments to house all your tackle and gear. The 1650 Angler also contains Lund's innovative SportTrak/ProTrak accessory mounting system for easy access to tools, cup holders, rod holders or other fishing accessories. Retailing at just below $15,000, this is one of the most affordable fishing boats on the market.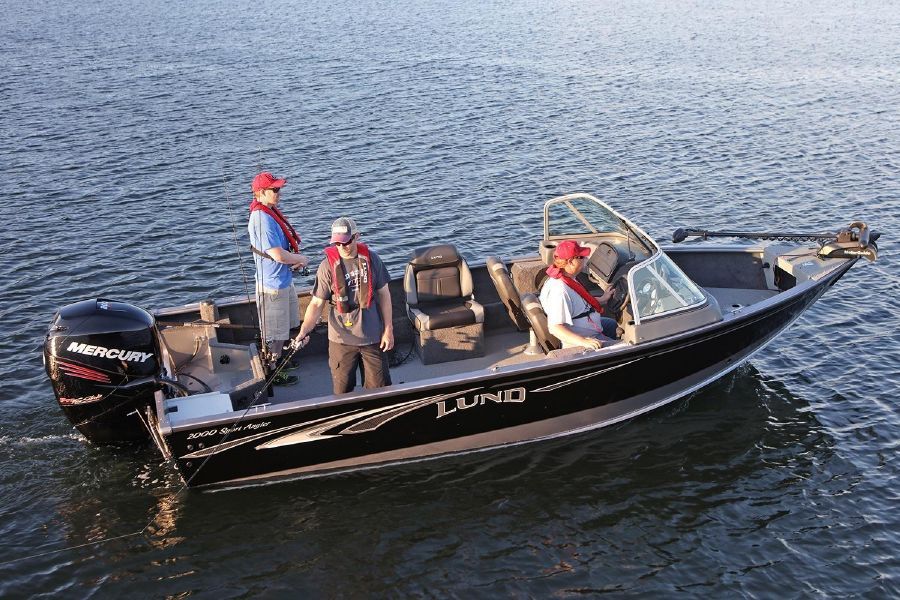 Lund Angler. Image credit: Lund

Starting at $14,647 USD.

Browse Lund Angler boats for sale right now on boats.com.

2021 Lowe FS 1700

If you're looking for the perfect aluminum fishing boat the Lowe FS 1700 has it all. The Lowe is packed with features with anglers of every need, with cup holders, a recirculating livewell at the aft (24 gallon), rod lockers with tubes (4 - 6'6"), and gear and rod storage boxes. The fishing decks also feel extremely spacious. But this boat isn't just for keen anglers, it is perfect watersports too thanks to her Mercury power engine. The 3- step swim platform is perfect for family fun, providing a safe mount/dismount from the boat into the water.

She looks pretty stylish too, her sleek silhouette of her full body feels like she's about to take off as she carves through the water. The Lowe FG 1700 is a great all-rounder who will put a smile on the whole family's faces.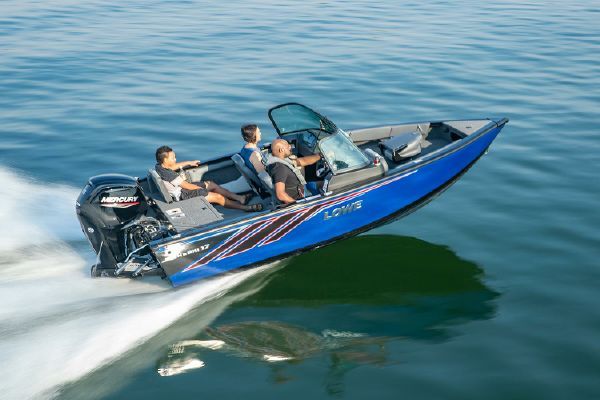 Lowe FS 1700. Image credit: Lowe Boats

Starting at $23,495 USD.

Browse Lowe FS 1700 boats for sale on boats.com now.

Looking For Something Bigger?

If these boats don't tickle your fancy and you are looking for a boat that you can go to an exciting new place every weekend, all summer long for long for overnight trips- a cruiser might be the right choice for you.