See more articles
Five PFD Tips for Labor Day Weekend
If you have inexperienced boaters with you this weekend, here's some sage advice from the National Safe Boating Council.
Is summer really over?

Now is the time many families take one final chance to get some R&R with family and friends on our nation's waterways. And for every person who treats their boat like a second home, there are many more who get on a boat once or twice a year. So the safety steps that are old hat to you may be over the heads of your guests.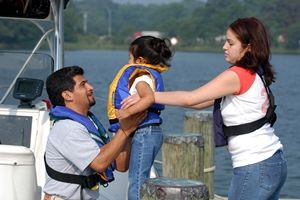 Make sure kids' PFDs are properly fitted and fastened snugly.

That's why the U.S. Coast Guard partners with boating safety organizations, including the National Safe Boating Council, to raise awareness on boating safety. Here is a simple five-step checklist we may take for granted that can help those novice boaters stay safe on the water this holiday weekend.



No matter what water activity you have planned, always remember to wear a life jacket.


Test your life jackets in shallow water under safe and supervised conditions at least once a year.


Ask if your guests know how to swim. The U.S. Coast Guard created this brochure to explain which life jackets work best for people who can't swim.


Take the time to ensure a proper fit. Check the manufacturer's label to ensure that the life jacket meets your size and weight. Snug is good.


Life jackets meant for adults do not work for children, who should wear properly fitted, child-sized life jackets. Check the "User Weight" on the label to make sure you have the right fit for children. To work correctly, a life jacket must fit snugly and not allow the child's chin or ears to slip through.



Nationally, more than 80% of drowning victims were not wearing a life jacket. This checklist helps you help recreational boaters choose a safe boating lifestyle will become second nature. That protects you, your loved ones and others on what should be one of the most enjoyable weekends of the year. Stay smart. Stay safe. Always wear a life jacket on the water.

- National Safe Boating Council