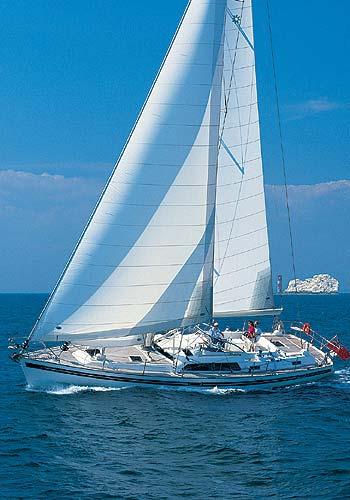 Here's a nice big cruising boat designed for Moody by Bill Dixon - The Moody 54. The drawings show a rig with in-the-mast furling, so we can assume this design is aimed at carefree cruising.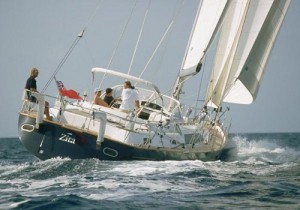 The D/L of this design is 201 and that's on the light side for a boat of this type. Beam is moderate. Overhang forward is fashionably short. There are two keels offered: one with a 7-foot 6-inch draft, and another shoal keel that draws 5 feet 11 inches. The hull shape looks reasonable, although I don't have a lines plan. The deck plan forward looks full, which would be consistent with other Dixon designs. This design has an attractive, gentle spring to its sheerline.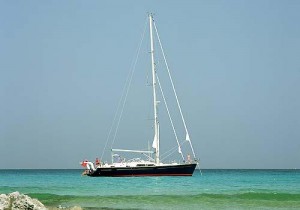 The rudder is a partially-balanced spade on a short, partial skeg. This allows for a lower bearing for strength. This is an oddly shaped rudder blade. Note that the leading edge is almost vertical. I'm going to guess this was an attempt by the designer to get more balanced area forward of the rudder stock to relieve steering pressure.

Once you get the LOA into the mid-50s you get the volume you need for a spacious three-stateroom boat. Unfortunately, the pressure to expand the accommodations falls on the forecastle and lazarette. Both these utility areas have been reduced to the minimum.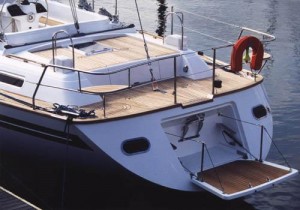 This is a very nice accommodation plan. The galley looks good with counter space on each side of the range for pots and pans. The sinks could be moved aft a foot. The big, curved dinette looks roomy, but I don't think you could seat more than four in comfort. Note the wet locker location and the handy sea berth in the passageway aft. I think the foot of the sea berth tucks into the aft cabin. Sleeping areas are roomy and have plenty of hanging locker space. The small stateroom forward has upper and lower berths and a small vanity. It's tight, but adequate. There is access from the forward stateroom to the head and shower.

Rig fashions come and go, but the good old cutter rig seems to still be the cruiser's rig of choice. I should correct myself: a cutter is defined more by the mast location than the number of headsails. This rig is really a sloop with extra headsails. The staysail will be used for heavy air and reaching. There is a track just forward of the mast indicating that the staysail will be self-tacking. Note the swept spreaders combined with fore and aft lowers.

The sail area-to-displacement ratio for this design is 16.49. This number is low by today's inflated ratios, but it is where it should be for a yacht of this type. Remember that a big, powerful rig will be more demanding on the crew and the gear. Family-type cruising boats are better off with modest rigs and an SA/D between 16.5 and 19.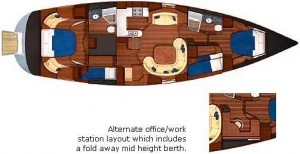 The deck is laid out with all halyards and lines led back to the cockpit. This means you will be able to unfurl the main from the cockpit. The windshield is a good feature. The swim step looks to be on the small side, but any more area devoted to it would have to be subtracted from the lazarette, and I'm not sure that would be a good trade-off.

This is a very "normal" cruising boat in every respect. There are no surprises and no novel features. It is obviously designed to have wide market appeal.

Forgiving cruiser with lots of comfort.

Boat Specifications
| | |
| --- | --- |
| LOA | 53'11"; |
| LWL | 46'1"; |
| Beam | 15'11"; |
| Draft | 7'6" (fin), 5'11" (shoal); |
| Displacement | 44,132 lbs.; |
| Ballast | 14,960 lbs.; |
| Sail Area | 1,288 sq. ft.; |
| SA/D | 16.49; |
| D/L | 201; |
| L/B | 3.4; |
| Auxiliary | 105-horsepower Volvo or 100-horsepower Yanmar; |
| Fuel | 180 gals.; |
| Water | 252 gals. |

This story originally appeared in Sailing Magazine, and is republished here by permission. Subscribe to Sailing.