Available in mens' sizes from small to triple extra large, Connelly's new waterskiing vest features motocross graphics and styling. The Coast Guard-approved vest can also be used for wakeboarding and personal watercraft riding.

Construction highlights include a durable, quick-drying nylon exterior, a comfortable soft foam interior and a four-strap buckle system for additional support.

For More Information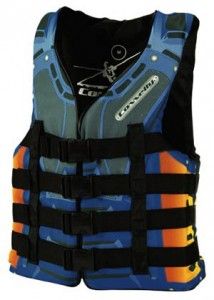 The vest, shown from the front, features a four-buckle system.

Connelly Skis
P.O. Box 716
Lynnwood, Washington 98046 USA
(425) 775-5416
infobox@Connellyskis.com