See more articles
Going Big: the Super Air Nautique 230
Correct Craft's specialized towboat is meant for riders who want to take it all the way.
As much as the tow boat market is geared toward interdisciplinary boats that do everything pretty well, it's important to remember that wakeboarding is what drove market demand for multisport models in the first place. Those boats are great for a lot of reasons, but when all you want to do is go wakeboarding, you really want a boat that's designed specifically for—and only for—pulling wakeboarders.





At that point, the Correct Craft Super Air Nautique 230 should be on your short list. Here's why.

The 230 is the official boat for the Air Nautique wakeboard national championships and the masters tournament. Its ballast tanks have been enlarged for the 2010 model year, and there are three—two at the stern, one in the belly amidships—which allow you to tailor the wakes for everyone, from beginners to pros.

"The Super Air Nautique 230 is the premier wakeboarding boat with phenomenal wakes for wakeboarding, wakesurfing, and it was designed for riders with an affinity for having a lot of fun!" said Bill Yeargin, Nautique president and CEO.



Its Flight Control Tower 4 can be fitted with a number of handy stowage and stereo options, yet it still folds to windshield height to allow it to fit in your garage. Options include swivel board racks, which are a snap to use and really help free up cockpit space. The bimini top is another great option, with more board stowage on the tower. There is also room for boards beneath the sunpad on either side and under the observer seat. Bring as many people and as many boards as you want. This boat will swallow all of them.

Correct Craft specs say it holds up to 16 people, which seems like it would be crowded, but the 230 has abundant seating, and an optional reverse cockpit setup that creates a veritable stadium behind the driver and observer. Both side lounges get back rests as does a center filler cushion so lots of people can watch the action behind the boat. Of course the entire bow seating area is surrounded with upholstered cushions so forward passengers also face the rear.



Options make any boat better, but it's nice to know that Correct Craft has included more than a few thoughtful standard features and construction methods. For example the 230 has fuel filler caps to port and starboard, so no matter what your tow vehicle, you can fill them both from the same side. Snap-in carpeting is standard as is a tunable rudder and a floor locker, a built-in cooler and another cooler you can remove.

Gas struts support all stowage compartment lids, including the glove box. There's a rubber-matted walk-through to the maintenance-free fiberglass swim platform, which also is covered in rubber mat, and two stowage compartments on the transom. They're ideal for tow ropes and gloves. One of them even has a dedicated tray for binding lube.

Even the standard engine, PCM's fuel-injected 343 hp Excalibur, is plenty. As expensive as engine upgrades can be, it's comforting to know you have enough power to do what you want. If you want to go really big, you can get up to 409 horsepower.

The 230 is also available in Correct Craft's Coastal Edition, which lets you safely explore brackish and saltwater environments. The engine is fitted with a freshwater cooling system, which means the saltwater never enters your power plant. The Coastal Edition package also includes such things as sealed steering cables, a stainless-steel steering tube with lubrication fittings, zinc sacrificial anodes and a tinned copper wiring harness.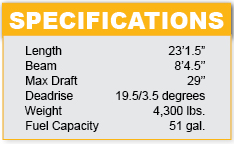 Correct Craft also offers a couple of neat options packages, but the hardcore riders will want the Team Edition package.  The neatest feature is the LINC system that displays all vital engine functions (rpm, fuel level, voltage, oil pressure, and water temperature) as well as speed and the level of water in the ballast tanks. On boats equipped with the Coastal Edition package, LINC also displays navigational charts, complete with channel markers and water depths.

In standard trim or fully optioned, the Super Air Nautique goes every bit as big as you can. Correct Craft doesn't publish retail prices. For more information or to find a dealer that can quote a price, visit the Nautique website.