See more articles
Hunter HC50: Going the Distance
Hunter's HC50 a breakthrough long-distance express cruiser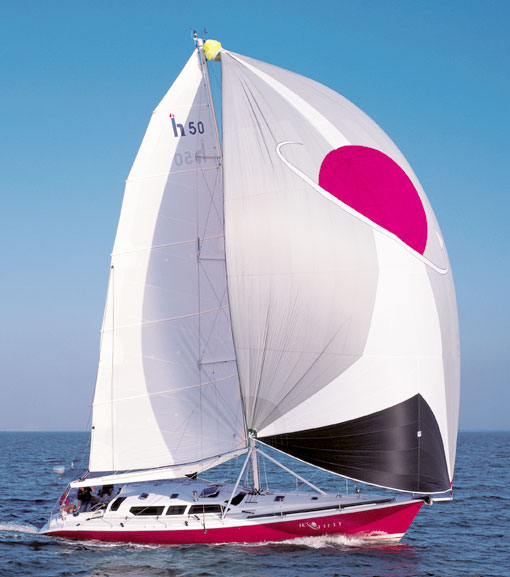 The new Hunter HC50 is a breakthrough long-distance express cruiser that incorporates many of the design elements used in Hunter's Child, the offshore racer sailed by Steve Pettengill in the 1994-95 BOC Race around the world. These include the hull shape, protected cockpit area, water ballast and the B&R rig with tripod support.

The B&R rig uses swept-back spreaders that eliminate the need for any backstays and allows for a large roach area in the mainsail. With a larger, more powerful mainsail, the foresail sizes are smaller, which significantly reduce crew workloads and makes shorthanding easier. There are two jibs — a 95 percent working jib set on a fractional forestay and a hanked-on light-air jib set on the masthead forestay. Both jibs have high clews to clear the forward leg of the tripod used to support the mast. The shrouds are brought out to the far edges of the deck, allowing tight sheeting angles.

There is an optional hydraulic headstay, and while roller furling is not currently available for the light-air jib, this is being considered. The staysail has roller furling.

The mainsail is loose footed with the fixed height boom "bent" to allow the foot to tack easily. The boom is supported by a rigid vang and has a flaking system with boom rack.
The traveler is placed atop Hunter's trademark aft radar arch.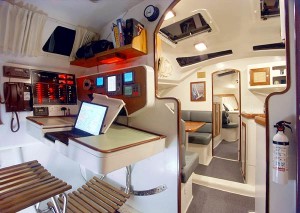 The standard interior includes a gimbaled nav station (another feature adopted from Hunter's Child), a master berth forward with head and shower, and two aft berths with a head. Other standard features include a two-burner LPG stove with oven, a refrigerator with separate freezer and hot/cold water pressure system. Interior joinery in the standard configuration is mahogany, but Hunter will build the interior to suit the owner. Teak and cherry are available.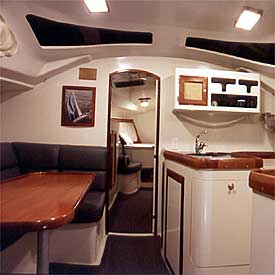 There are forward and aft anchor lockers and a fixed bowsprit with integrated anchor roller. An electric anchor windlass with drum and chain gypsy (chain stores in the keel sump) is also standard equipment.

The standard engine is a 38-horsepower Yanmar with Saildrive with an optional 47 horsepower available. There are two keel options: a shoal draft of 6 feet and full keel of 8 feet.

| | | |
| --- | --- | --- |
| Length Overall | 50'0" | 15.24 m |
| Length - Waterline | 45'0" | 13.72 m |
| Beam | 15'0" | 4.57 m |
| Draft (shoal keel) | 6' | 1.78 m |
| Draft (full keel) | 8' | 2.37 m |
| Disp. (fully loaded) | 18,000 lbs. | 8,172 kg |
| Disp. (light ship) | 16,000 lbs. | 7,264 kg |
| Ballast (either keel) | 6,000 lbs. | 2,970 kg |
| Water Ballast (per side) | 2,700 lbs. | 1,226 kg |
| Sail Area (actual) | 1,350 sq ft | 125.46 sq m |
| Sail Area / Displacement | 34.15 | |
| Displacement / Length | 78 | |
| Mast HT. (fr dwl) | 63'0" | 19.20 m |
| Headroom | 6'6" | 1.98 m |
| Berths | 6 | 6 |
| Water Heater | 6 gal. | 23 l |
| Water Capacity | 50 gal. | 189 l |
| Aux Power (Yanmar) | 38hp | |
| LPG (2 tanks) | 20 lb | 9 kg |
| Standard. Diesel | 38 hp | 28 kw |
| Fuel Capacity | 150 gal. | 567 l |

Hunter Marine Corporation
P.O. Box 1030
Alachua, FL 32615
(904) 462-3077
www.hc50.com