See more articles
Grady-White 330 Express: Used Boat Review
As the saying goes, good things come to those who wait. And sometimes those "things" are boats.
As a youngster David Miko had to patiently work his paper route in Niantic, Conn., to save up the money for his first command. But it was worth it. The 16- foot skiff he bought — with a "little Merc outboard," he fondly recalls — got him started on a lifetime of boating. His latest boat took a while to get, too. But now that he's found it, the 56-year-old elementary school principal is as happy as that 10-year-old skipper fishing on Niantic Bay.





The boat he bought is a Grady-White 330 Express, hull No. 14 of the popular midcabin, twin-outboard model, which debuted in 2001 and is still in production. The boat was in good shape and needed only a hardtop repair, which was taken care of by the builder. The price was $155,000.

It's a boat he's had his eye on. "I'd been looking at the 33-footer for a number of years, since it first came out, in fact," says Miko, who's owned two other Grady- Whites, a 20- and a 23-footer. "A few years ago I asked the salespeople at my dealership to keep their eye out for a good used one with 4-stroke engines. Well, one came around last year. It was in good shape, with the right power and the right price. It was, in today's parlance, a "no-brainer."

Why the 330? More range and more room when measured against the 23-footer the bigger boat has replaced. When your passions involve serious Atlantic canyon fishing up to 100 miles off Montauk, N.Y., and a desire for comfortable family cruising, both of those factors are important, says Miko. "The 23-footer could handle the canyons, but it could get a little [rough] out there," he says. "And we just didn't have the range we really needed."

The creature comforts of the 330 Express — well-appointed for overnighting — are hard to compare to those of a 23-footer, says Miko, who cruises to Block Island, R.I., Greenport, N.Y., and other destinations around eastern Long Island Sound with his wife, Lisa. "The 330 is large, with plenty of beam. It sleeps five and it has all the family amenities," he says. "There's an enclosed head, the microwave and stove, the TV, and plenty of room. All these things are appreciated by the family."



Miko and his fishing friends appreciate the boat's fishability, which shows up in the little things, he says. "The cockpit is 80 square feet, the beam is more than 11 feet, and there's a couple of inches more freeboard [than the smaller boat]," he says. "All these things add up."

The cockpit has room for a 314-quart fishbox, a 45-gallon live well, and a baitand- tackle station. Miko's Grady has a set of 24-foot outriggers and a full slate of electronics, including a 10-inch GPS/plotter and a 48-nautical-mile radar. "This boat is fully geared," he says. "I need to get a better fishfinder and add a rocket launcher — that's about it."

Power comes from a pair of 2-year-old 250-hp Yamaha 4-strokes for a cruising speed of around 25 to 30 mph and a top end close to 40 mph. "I had a single 225- hp outboard on the 23-footer, and I like having two engines now. It's a safety plus," says Miko. He's doubled his range to more than 400 miles, too, thanks to the 330's 350-gallon fuel supply. "We were pushing it in the 23-footer, and we had to stop and fuel at Montauk, which took up fishing time. No more of that."

Miko plans a long relationship with the 330 Express. Its range, stability, fishability and comforts make it a "good fishing-and-family boat," one that will get him out on the water, which is where he likes best to be. "I love the ocean," he says. "I grew up living right across the street from Niantic Bay. I could throw a stone into the water from my house. I guess the water is in my blood."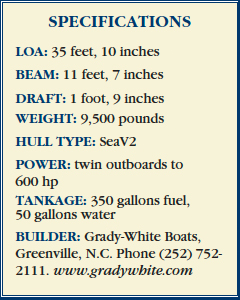 WALKTHROUGH
The 330 Express was introduced in 2001 and was Grady-White's biggest boat, upstaging the popular 280 and 300 Marlin (in production since 1989) with more cabin comforts. The profile is classic Grady, with plenty of flair forward, a gentle sheer with a subtle break abaft amidships, a swept-back express-style helm, and a reverse-transom/ outboard well. The boat rides Grady-White's variable-deadrise hull, which has 19 degrees of deadrise at the transom.

The 80-square-foot cockpit is laid out for fishing, and standard gear includes a live well, fishbox, bait-prep station, transom door and cockpit coaming. The raised bridge deck, covered by a hardtop, is set up with the helm station and pop-up instrument panel on centerline. The companionway is to port and a lounge seat to starboard.

Below, the 330 sports a midcabin layout with an enclosed head with shower. There's a large V-berth forward and a double midcabin berth aft, which can be closed off with a privacy curtain. The galley (with sink, cooktop stove, microwave and undercounter refrigerator) is at the foot of the companionway, handy to the deck area. The L-shaped dinette is to starboard, with an adjustable-height table that turns it into a single berth. Other amenities include air conditioning and an entertainment center. Wood trim accents and a teak-and-holly sole are standard in the cabin.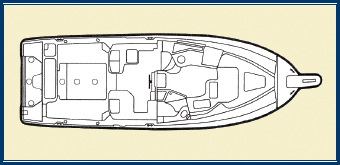 AVAILABILITY
Grady-White boats span the country — a testament to their popularity — and the 330 Express shows up in such disparate locations as the Southwest, New England and the Gulf states. The boats aren't inexpensive, with prices starting at around $150,000 and fetching as much as $200,000 for models with extras and in good condition. A 5-year-old Florida boat was listed at $179,000, with a pair of 225-hp 4-strokes, a GPS/plotter and fishfinder.

Another 2002 boat, "clean and spotlessly maintained," was for sale in Texas for $179,900, with 225-hp outboards with just 100 hours. In Alabama, yet another 2002 boat, priced at $179,900 — for sale by the original owner and in "pristine condition" — came with a pair of 225s, a full enclosure, outriggers, a dive ladder, freshwater washdown, and a hot-water heater. A 2004 model in New York for $199,990 was powered by twin 250 4- strokes and included outriggers and rocket launchers, a color GPS/plotter, autopilot and radar.



Steve Knauth is a contributing writer for Soundings Magazine. This article originally appeared in the August 2007 issue.