See more articles
Grady-White Freedom 285: Dual Console Delight
As the dual console offerings from Grady-White continue to grow in size and number, the 285 provides enough beef for offshore anglers and enough comfort for the entire family.
Dual console popularity just seems to grow and grow, and as it does Grady-White Boats continues to expand their DC line-up, including the new Freedom 285. This model was introduced at about the same time as Grady's flagship DC, the Freedom 335, to fill the gap between it and the older Freedom 275. And this model line's moniker says it all—these boats are designed to give you the freedom to do whatever you want, from fishing to water skiing, to scuba diving, to day-cruising.




Console Head

One of the consistent character traits of the DC genre is the use of the port-side console as a head compartment. This is evident on the 285, but with some additional space in there, Grady-White took the console cabin concept one step farther. Duck inside, and you'll find more than a stuffy little box with a commode. There's an extended stowage area with rodracks for your fishing rods, mesh stowage pockets lining the sides, and a bulk stowage area forward of the head. Added bonus: there's plenty of elbow room to stretch while you're doing your business.

Cockpit

In the cockpit, Grady-White definitely departed from the norm. The most surprising feature is the passenger's lounge. Folded up it's a back-to-back chair with fore and aft facing seats. But when you press a button, the aft facing seat's base hums quietly as it extends out into a lounger. More seating pops out from a folding bench seat at the transom, and of course, as with most DC's the bow cockpit also features additional seating on both sides. Another perk is the teak-trimmed pedestal-mounted table, which fits into bases in both the cockpit and the bow cockpit. Watersports lovers will add on the ski tow pylon, and anglers will opt for the 32-gallon lighted livewell.



Fishy Features

Wait a sec—a Grady-White that doesn't come with a standard livewell? Yup. We think this feature should be a given on a Grady, but evidently some folks don't consider a livewell a must-have on a dual console. Luckily, Grady-White doesn't forsake those other features which anglers drool over: a pair of insulated, overboard-draining fishboxes (135 and 185 quarts), four gunwale-mounted rodholders, cockpit coaming bolsters, a raw washdown, and cockpit toe rails are all included on the standard features list. Of course, you'll lose the 360-degree fishability you'd have with a center console, and there's a bit less fishing space in the cockpit than you'd find on a dedicated fishboat. But you have to give up something to get something, and that's the entire concept of the DC design—it may not be the ideal for any one specific activity, but it works well for many different activities that the entire family will enjoy.

So, what's in it for those folks who aren't either fishing or watersports enthusiasts? Check out the six-speaker MP3-ready stereo system, the freshwater transom shower (with 20 gallon freshwater tank), and the optional sunpad filler cushions. There's even a wet bar/outdoor galley, which features an electric grill. That means blackened redfish and grilled grouper are just a few casts away—which should be enough to make 'em rethink that anti-angling attitude.



Performance

Whether you'd use the Freedom 285 for angling, watersports, or all-around family fun, one thing you're sure to enjoy is this boat's performance. When I ran the 285 rigged with a pair of F-300 Yamaha four-strokes, we blasted up to over 55-mph at top-end, and cruised comfortably at about 40 mph (4500 rpm) while getting 1.4 mpg. Pulled back to a mild 25-mph cruise (3000 rpm), fuel economy nipped at the two mpg mark. Considering that the boat carried 600 roaring horses on the transom, that's pretty good efficiency. More importantly to most of us, however, is how this boat handled the choppy waters. At 28' LOA and with a mass approaching five tons including engine and passenger weight, the Freedom 285 has plenty of beef to squash waves and buffer impacts. Most DC's are smaller, lighter, and simply don't have the heft to handle rough conditions.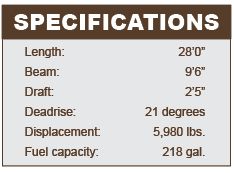 Credit for the ride also goes to the Ray Hunt designed variable-degree deadrise hull, which starts off with a razor-sharp entry, tapers down to about 30 degrees amidships, and then to 21 degrees at the transom. And let's not forget about construction, either. If a boat isn't solidly built it won't run well, since vibrations will travel through the fiberglass and right to your core. No such problem, on the 285. Its hull is formed with all hand-laid fiberglass, stringers are glassed in while the hull is still in its mold (to ensure it retains its shape), belowdecks voids are filled with sound-absorbing foam, and hatches are RTM (resin transfer molded) to ensure the ideal resin-to-fiberglass ratio.

Put all of these attributes together, and it's no wonder Grady-White keeps expanding their dual console line-up. When versatility is the main mission, this design is tough to beat. Spend some time on a 285, and we bet you'll agree—it does, in fact, give you more Freedom.

Other choices: You won't find many DC's this fishy or this large, but one that comes close is Pursuit's DC265. World Cat also makes a jumbo dual console, the 290 DC.

For more information, visit Grady-White Boats.