See more articles
Grand Entrance: Chaparral's 186 SSi Wide Tech
New for 2010, this entry level model is anything but bare bones.
First- and second-time buyers face a similar prospect, the notion of whether to buy a new boat that's affordable—but perhaps not as fully dressed—or a used model that's a couple of years old, but has more features.





It happens all the time, and Chaparral has addressed the problem with its new-for-2010 186 SSi WT, a new runabout with the room you need and the features you crave at a price that's very attractive. How affordable is it? The boat starts at $28,564, but if you want a trailer, that will cost a bit more.





The WT stands for Wide Tech, a bit of design trickery that lets four adults sit side-by-side on the aft bench in a boat that still measures just 8 feet abeam. There is also a ton of room up front and lots of freeboard in the bow area. How do they do it? In the cockpit, Chaparral designers made the gunwales and hullsides narrower, which in turn let them deliver more interior room. In the bow, the Wide Tech technology becomes a bit more visible. It looks a bit like the pickle-fork designs that are permeating the market, again, but it's quite a bit more understated and—some might say—better looking. In terms of function, the flared bow area creates wider seats and stowage underneath, more legroom and floor space, and a wide platform, which is handy for disembarking.



Though passenger room was a priority, the 186 SSi also has ample stowage space under all the bench-style seats, in the gunwales, beneath the sole and on either side of the engine under the hatch. Engine choices are, well, minimal. You can get MerCruiser or Volvo-Penta V-6's, from 190 to 225 horsepower. They are solid powerplants, and it is comforting to note that they do produce the same horsepower as base V-8s from as little as 10 years ago. And because the boat weighs less than 3,000 pounds and features Chaparral's proven Extended V-Plane hull, the boat's performance is ample.



Standard trim will be sufficient for many buyers, but Chaparral offers options to help tailor the boat to each owner's tastes and preferences. For watersports enthusiasts, the wakeboard tower is a good choice. Another good but little appreciated option are pull-up cleats, which are as much a safety item as a convenience. If you've stubbed your toe on a cleat or snagged a fishing line on one, you understand. One option group that is pretty appealing is the convenience package, which includes a compass, depthfinder, amidship cleats, and switches at the transom for the stereo and drive trim.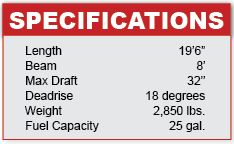 The 186 SSi also offers a few standard items that make ownership and maintenance easier and more convenient. For example, the hull and deck is one piece with a draining system that lets owners hose out the interior. It comes with a 25-quart removable cooler, a satellite-ready AM/FM CD stereo with an MP3 jack, a 12-volt power outlet and tilt steering. In addition, the boat weighs just 2,850 pounds so you probably can tow it with the car you already own. It's nice to know that Chaparral has dug deep enough to know what buyers face, and designed a product to alleviate those challenges. The 186 SSi is roomy, affordable, handsome and offers ample performance to those just getting into boating or those moving up from their first boat. Call it a grand entrance into the boating world.