See more articles
Greenline 39 Hybrid Motor Cruiser
This diesel-electric hybrid yacht offers a swanky design with a small carbon footprint.
Swanky design with a small carbon footprint

Whether we're harbor cruising, distance voyaging or swinging to anchor in blissful silence, hybrid technology is changing the way we go boating and that may be why a Slovenian boat builder, Greenline, is shaping our future.

Guilt-free boating has a lot of appeal to anyone with a concern for the environment and the Greenline's chic styling evokes thoughts of driving a Tesla on the water. We were fortunate to be able to test and compare the Greenline 39 & 40 back to back but more on that later.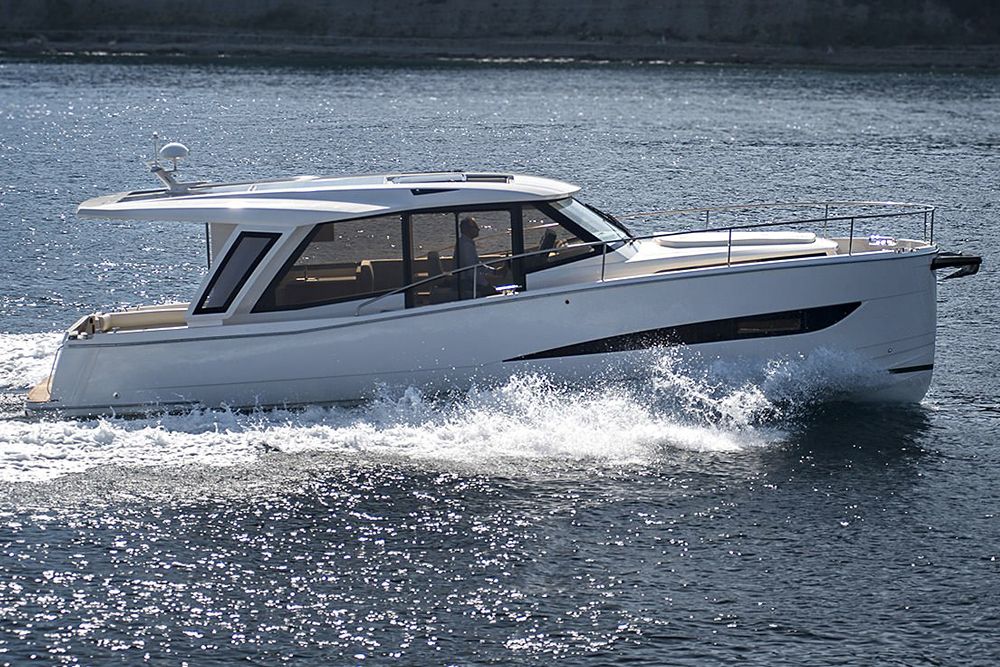 Greenline 39 Hybrid Yacht. Photo: Greenline Yachts.

Propulsion Options

The Greenline 39 is available in three versions: "Diesel only" with a 370-hp Yanmar or 220-hp Volvo Penta, "Solar" with diesel propulsion but significant solar capability to power all onboard systems via batteries and panels, and the "Hybrid" that marries diesel and electric drive propulsion.

How The Solar-Diesel Hybrid Drives Work

Our test boat was the Hybrid version that combines a single Volvo Penta 220-hp D3 diesel with a Mahle 10 kW electric drive motor. The integrated 7 kW generator charges a 600 Ah bank of lithium-polymer (LiPo) batteries that are a lithium ion derivative but with a semisolid (gel) polymer electrolyte. These batteries are smaller and lighter than wet cells, need no maintenance, are rated for thousands of cycles and have a life expectancy of 10 years.

In hybrid drive, the diesel engine powers the generator that manages a full charge in 2.5 hours. In electric mode, the propulsion runs on purely zero-emission battery power. The boat can do 4.5 knots for 2.5 hours or around 12 nautical miles although the company touts up to 20 miles. Nevertheless, that means you can harbor cruise for happy hour without smoke, noise or vibration and since diesels like to be under load, you won't be putting low rpm hours on your engine.

Fuel Savings and Lower Maintenance Costs

Greenline estimates that boats with the hybrid system put 1/3 fewer hours on their engines, which translates to less maintenance, less fuel and less overall cost. Combine that with silent cruising and "guilt-free" boating and there's much to like.

The real beauty is life without the cord. Arguably, if you've cruised with the diesel during the day, you won't need to plug into AC power back at the slip. That saves on your monthly marina bill and it may open up a greater variety of slip options including those where electricity isn't available.

The Boat's Solar Panel Array System

With the 300-watt solar panels on the coachroof, at anchor in a sunny climate, you may never have to run the diesel to manage your house loads, which include refrigeration, lights, entertainment, microwave, and to a degree, even air conditioning. The panels are connected to the inverter/charger, which was upgraded to 5,000 watts on our test boat. The inverter is located in a compartment under the helm footrest, which is large enough to climb into. Dial up the charger for times of greater electrical needs or keep it in a steady trickle charge mode to keep the batteries topped up. Running appliances through the inverter means they are all household AC devices so there's no need to use specialized 12V versions, which keeps things less expensive and simple.

Switching between electric and diesel drive is a matter of putting the engine in neutral and turning a switch. It's that easy.

On Deck

Greenline is all about simplifying the onboard lifestyle and you can see that right at the aft boarding platform. There's a 15-inch traverse behind the transom so you can cross from side to side but for the full effect, just lower the transom into the extended 29-inch swim platform (measured from the hinge). The platform is raised and lowered via a line and an electric winch so there's no need for hydraulics aboard and that makes things simpler, cleaner and less expensive. In case of power or winch failure, it's possible to raise the transom manually.

The cockpit is 6' 6" deep and has a straight settee to port and a corner seat to starboard. Below the cockpit sole, you'll find an impressive amount of stowage space so you can carry just about everything for distance cruising or all the toys for weekending.

The entire aft bulkhead is mirrored and opens in two ways: the sliding door opens to starboard while a window on port lifts up. A small counter extends outward creating an inviting indoor/outdoor feel that connects the lounges outside with the galley inside. This effect makes 39 feet seem a lot longer.

The Greenline 39 is asymmetrical with the port deck 6 inches wide and the starboard side deck 15 inches wide. That means you can still walk up either side but you'll most likely prefer the starboard. Handholds and railings are of adequate height as you move from the cockpit to the bow and the side decks and the cockpit benefit from the protection provided by the extended composite coachroof.

On the bow, our boat had the optional double sun pad with integrated headrests. Farther forward, there's an opening undivided anchor locker and an electric windlass. The bow cleats are massive but they're up on the gunwale and frankly too close to the chocks to be used easily. Getting a line on quickly may be a knuckle-busting affair.

An excellent feature is the full-sized opening door at the helm. It's perfectly positioned for single-handed docking or allowing the driver to assist when catching a mooring or managing the windlass. It may seem like a small detail but access to the side deck right from the wheel instead of needing to go aft and around can save the day in some situations.

Onboard Living

As mentioned above, the salon inside is a lovely continuation of the cockpit with one-level living. The galley is aft to port with a full-sized refrigerator and freezer across on starboard. The U-shaped settee is also to port with cabinetry and a pop-up TV on the other side. The engine is accessed via the cockpit sole mid-salon.

The helm is to starboard with a 12-inch Raymarine MFD, the diesel/electric drive switch in the middle and the bow and stern thruster controls outboard of the wheel. These controls are positioned well for the driver to reach them when docking. In this position, you can see both forward and aft and also down along the side of the hull to the dock.

The helm seat is a tight double or a spacious single, which means that the companion needs to sit at the dinette when keeping the skipper company under way. A cup holder and a good handle are integrated into the dash. That handhold helps when it's bumpy out and someone is descending to use the head or go to one of the two cabins below.

There's a small, integrated footrest at the helm or you can opt for a full-sized board, which folds down so shorter drivers can stand and see out. One thing that's troublesome is the placement of the VHF, which is tucked down on the left side of the dash in a way that makes it hard to reach it. Greenline needs to find better placement for this important piece of equipment.

Overhead are twin electrically-actuated hatches for light and ventilation. And speaking of light, the Greenline 39 has large windows running down both sides of the cabinhouse plus a full-glass uninterrupted winshield that makes driving seem like you're watching an IMAX production.

Accommodations and Berths

Accommodations include the master in the bow with a double bed that can scissor to create two bunks. That adds flexibility for guests who may or may not be a couple. There are two levels of side windows here as well as a large overhead hatch. A direct-access head is shared with the guest cabin, which is to port. Here you'll find twin beds, a round opening hull port, and an overhead slider that opens onto the salon and adds light below. For privacy, it can be closed.

Sea Trial Test Drive

Although we ran both the Greenline 39 and 40 on the same test day, we focused on the single-engine 39 on which we zipped around in electric mode and topped out at 6.1 knots on flat water. Using the electric drive, you can hear the motor whir but it's significantly quieter than running the diesel. We then switched to diesel mode, got up on plane in 6.8 seconds, topped out at 18.8 knots at 4050 rpm, and finally settled in for a steady cruise at 15 knots where we burned 10.5 gph. When cruising at just under seven knots, the Greenline 39 has a range of 1,000 nautical miles in diesel mode so this boat has long legs and isn't just a gunkholing coastal cruiser.

Periodically, we made strange S-turns but attributed that to a poorly calibrated autopilot. Because the seas were flat, we spun up a few wakes and noticed how the 39 deep-V hull sliced right through and sat fairly steady even when put parallel with the waves. There is room aboard for a Seakeeper gyrostabilizer and it is an option. It's hardly necessary but if it makes the difference between boating alone and boating with family, it will be a worthwhile investment.

The Greenline 39 makes wide, very arcing, slow turns at speed so despite her knife-like shape, there's no stomach-tightening lean. The wheel is a bit stiff and has six turns lock-to-lock and that takes some getting used to, especially when maneuvering in close quarters, which can feel a bit counterintuitive. The best way to dock was to line up with the slip and then let the bow and stern thrusters push sideways. Greenline models are offered in a straight shaft configuration only (no pod drive) so the stern thruster is an important option.

The Greenline Offering

The Greenline 39 and 40 are built on the same hull but the 39 has adopted a newer and more contemporary aesthetic. Her profile includes a plumb bow, a sharp forefoot, a slightly reverse transom, hard chines brought all the way forward to knock down spray, and a sleeker coachroof than her sister. Beyond looks howver, there are other differences. The 40 has twin diesel engines with two accompanying electric motors, a higher top speed and about 70% of the range at seven knots primarily due to the fact that the tankage is the same on both models. The 40 also has a companion seat (more of a perch), a full electric sunroof over the helm and salon, and two extra solar panels on the roof.

The choice between the two models really comes down to how you boat. Do you need twin engines to go faster and do you prefer more traditional styling?

Expectation Management

Life is about managing expectations and after sea trialing a Greenline, it's unlikely that you will feel disappointed with the propulsion of the future. Hybrid boating is less expensive, less intrusive to both the environment and our onboard lifestyle, and somewhat guilt-free (within reason). Whether or not you drive a Tesla, you'll appreciate all that these two Slovenians have to offer.

Specs for Greenline 39

Designer: J&J Design
Length overall: 39' 5"
Beam: 12' 4"
Draft: 2' 11"
Dry weight: 17,000 lbs.
Water: 106 gallons
Fuel: 185 gallons
Engine: 1x 220-hp Volvo
Price as tested: $616,160

Standard Equipment

Volvo Penta 220-hp engine, Mahle 10 kW electric drive motor with integrated 7kW generator, 4 x 300-watt solar panels, 600 Ah lithium polymer house battery, bow thruster, microwave, induction cooktop, and more.

Optional Equipment

Upgraded engines, stern thruster, upgraded 5,000 watt inverter, sliding hatches over helm, teak decking in cockpit, A/C and heating, electric head, and more.

Builder

Greenline, Slovenia; greenlinehybridusa.com.