See more articles
Hanse 545: A Serious and Stylish Offshore Performance Cruiser
The sleek, powerful new flagship of the 5-Series turns heads at the dock and on the water.
The Germans know how to do it right. Just look at the purposeful appearance of some BMWs and imagine all that fast-forward seriousness translated to a boat. What you might see is the new Hanse 545, a no-nonsense, brawny speedster out of Greifswald, Germany.





The 545 is the new flagship of the Hanse fleet and is considered a performance cruiser. She benefits from the unique focus on speed by its designer, Rolf Vrolijk, the mind behind the lines of the America's Cup winner Alinghi. Boats have been built in Greifswald since the 1300s, with the Hanse factory employing the local craftsmen for the past 20 years.

Key Characteristics
The most marked characteristic of the Hanse 545 is its bold styling and understated simplicity. The deck is completely clear, with flush hatches and a low, stylish coachroof. There are very few things that interrupt the flow of the lines from stem to stern. From the opening anchor locker on the bow, wide side decks run aft to a large, social cockpit free of clutter, and on to twin helms. An opening transom drops to form a swim platform and gives access a garage big enough to accommodate a 12-foot dinghy. Even the pop-up cleats help streamline things, helping prevent line snags and stubbed toes.





Significant in size in every way, the Hanse displaces 41,226 pounds, sports a massive double-spreader fractional rig, and is balanced by a bulb keel with a nine-foot draft. That's right—the standard keel reaches down a bit more than three yards, while the optional shallower-draft keel is six feet.

The self-tacking jib is really a life-saver when sailing the 545 shorthanded. You can tack all day with minimal effort, and since all the lines are led aft to the dual helms, theoretically you could singlehand as well. There are no winches on the coachroof. Instead, there are two sets aft—a set for sheets, and a set for halyard and reefing controls, with two sets of stoppers all within reach of the skipper. A flip-up, 45-degree footrest at the helms is a nice touch, and a must when sailing heeled over for any length of time.



Large sheet bags are conveniently placed ahead of the wheel pedestals so control lines stay out of the social area of the cockpit, where there are two long settees and a folding table topped by handholds. The end of the table holds the compass and the chartplotter, so again, everything is neat and tidy and very German in efficiency.

Accommodations
The sleek, practical design continues belowdecks, where clean, minimalist lines and very functional spaces and furniture complete a chic and contemporary living space. The saloon is five steps down from the cockpit, but it doesn't feel like a cave thanks primarily to four vertical, almost superyacht-like hull windows that let in light and provide an exciting view of the water rushing by when underway. To port is an L-shaped settee with a large table, and to starboard a straight settee which can make a good seaberth.

The L-shaped galley is to starboard and provides large working surfaces so the chef and a prep-cook can work simultaneously. There are dedicated spaces for a microwave and a coffeemaker, both optional, with efficient access to each. Opposite the galley is a head with a stall shower that could serve as wet locker. Just ahead is a forward-facing nav station with lots of room for the installation of electronics.





The standard configuration is a three-cabin layout that has the master cabin with its centerline island berth forward, and two guest cabins aft. The master has plenty of stowage space and a good-sized head with shower. However, there are numerous layouts available, including two or four cabins and even crew quarters in the bow, where there's normally a sail locker. Owners can specify two cabins forward or aft, the master forward or aft, and even a master forward with the head in the bow and a Pullman double berth to port.



Stowage throughout is excellent, the berths are long, and the coachroof provides good headroom over 6'4". The finish, in beech or cherry, is elegant, angular, clean, and very practical with no space wasted.

Options
The options list is long and varied, with goodies available above or belowdecks. A six-kilowatt genset and air-conditioning will ensure comfort at anchor, as will interior blinds, a flat-screen TV, stereo, extra batteries, and that always-important coffeemaker.



On the outside, add-ons include in-mast furling, a hydraulic assist with remote for the garage door, pushpit seats, teak decking, an anchoring package, bow thruster, three-bladed folding prop, and cockpit shower. Electronics, of course, are always optional, as are carbon-fiber steering wheels.

What She Does Best
Even at the dock Hanse yachts look fast and serious, and the 545 is no exception. The flush decks and low coachroof give it a sense of speed, and the enormous mast (86 feet above the water) hints at what she can do.

Also, for a production boat, the Hanse 545 is unusually customizable. There are dozens of variations in the interior, from fabric choices to layout and configuration. Owners can personalize their vessels ad infinitum, which makes for good customer feedback. This, in turn, leads to suggestions for future improvements, and a feeling of involvement and heightened individual attention.



Tradeoffs
The Hanse 545 is a big boat. With nearly 1700 square feet of sail area, a 16-foot beam, and over nine feet of draft, she can be a handful both to sail and to maneuver into a berth. According to Hanse, a couple can manage this boat on their own; the question is, in what kind of conditions? Of course the electric winches, self-tacking jib, and in-mast furling help a shorthanded crew manage a real muscle boat.

The 545 might be a blue-water sailing boat, but with a 100-gallon fuel capacity she may be challenged in long periods of calm on offshore passages. A discussion with a dealer might yield some ideas on the possibility of adding tankage. Also, with a nine-foot draft, keeping an eye on the depthsounder will be important.



Performance
Even with all that displacement, the 545's generous sail area and tall rig should make her power up quickly and let her move nicely even in light air. (Her sail area/displacement ratio is a performance-oriented 22.6.) And she should do especially well as the breeze builds. According to data supplied by Hanse, the 545 will point to 30 degrees in calm water, but in order to hold speed in lumpy seas it would be best to crack off to 45 degrees. In 18 to 20 knots of true breeze on the beam, the boat will shoot to 11 knots and still hold over 9 knots when close-hauled in a small chop.

Under power, the Volvo 72-hp diesel with Saildrive will push her at 8 knots. But with over 40,000 pounds of displacement, it might be wise to consider the upgrade to the 110-hp Yanmar, especially for pushing into bouncy seas.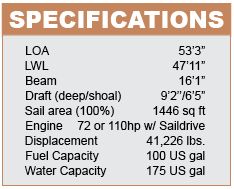 The big spade rudder makes for responsive steering, but the high freeboard could make for exciting maneuvering in a cross breeze in tight quarters. A bow thruster would be a high priority on the options list.

Similar Boats to Consider
The base price of the Hanse 545 FOB Baltimore is $440,000. With a navigation package, delivery and commissioning, a sailaway price will be over $500,000. If you're looking for comparable boats of a similar size, you might consider a Dufour 525 both for similar styling and ballpark pricing. The new Jeanneau 53, about 10,000 pounds lighter than the Hanse, might also fit the bill.

Where To Learn More
For more information on the Hanse 545, visit the Hanse Yachts website.



Zuzana Prochazka is the President of Boating Writers International (BWI) and the Technical Editor for Latitudes and Attitudes magazine. She contributes regularly to Boats.com, Yachtworld, Lakeland Boating, and Sea Magazine. She hosts Latitudes & Attitudes Television and launched her boat and gear review website, Talk of the Dock, in 2010. She is the Chair of the BWI New Products Committee and has repeatedly judged NMMA Innovation Awards and NMEA New Product Awards. She is a USCG 100 Ton Master and serves as a judging chair for the BWI Annual Writing Contest.